Go Digital for £5.40!
Are you short of time and can't wait for the postman, especially if buying from overseas?
Do you want to purchase a downloadable version of a musical or nativity, and access it on the same day while you wait for the physical product to arrive in the post?
Need a PDF (read only) or MP3 format of the musical or nativity you have purchased or just need a backup copy?
Well now you can have them all, with the
Out of the Ark Go Digital Add-on Packs
.
These online products are
ONLY available to order from our website
and with the purchase of the physical product and Instant Performance Licence.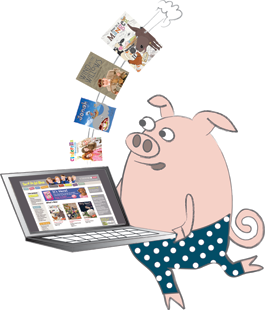 Purchase any of our nativities or musicals online from our website, and access a Digital Add-on version of the title for only £5.40 more!
After placing your order online, you will be able to download your digital version of the title instantly from your confirmation email or by logging into your online account. You have 3 attempts to download your digital version of the title so you must SAVE then open the

 

zip-file containing the read only PDF format of the book and the MP3 files of the vocal and backing tracks to your computer.  
You get all the benefits of having the songs in an MP3 format, so you can start sharing the titles straight away with your pupils and staff.  (Within your school setting only).
You can manage all of your Out of the Ark Digital Add-on packs in your account on our website – just log in and away you go!
You still have the benefit of having the physical book and CD which will be sent to you in the post, together with your paper copy of the Instant Performance Licence.
Legally you will be covered to use our PDF version of a book, MP3 song files or backing tracks within your school.
Words on Screen™ files are NOT available or included in our Digital Add-on packs.
UK primary schools and LEA nurseries can pay on invoice - just select the Purchase Order payment option at the checkout.
For Terms & Conditions, click here.