Songs For EVERY Singing School
by Mark and Helen Johnson
Ages: 5-11
Songs For EVERY Singing School contains 15 brilliant new school songs written especially to get everyone singing! Now with a brand new activity songbook and available with Words on Screen™ v2.

Scroll down to listen to song clips
Availability: In Stock
Details
About The NEW Songs For EVERY Singing School
Songs For EVERY Singing School
focuses on the experience of singing itself and features some of Mark and Helen Johnson's finest songs to date. With rounds, part-singing and different styles for children to enjoy, this fantastic range of
school songs
is ideal for singing in the classroom as well as assemblies.
Sing when you're happy, sing when you're sad; sing when you're laughing, sing though it's mad.... Just sing!
About The NEW Songs For EVERY series
The Songs For EVERY Series was created by Out of the Ark Music co-founders Mark & Helen Johnson and has provided enjoyment and inspiration for many years. These tried and tested songs continue to have a hugely positive impact upon countless schools and children everywhere, and our belief in their values and potential has led us to produce this refreshed and updated version of the series that gives you a whole lot more.

What's New?
Knowing how much potential there is in these fabulous songs, we've added a feast of original and new exciting music activities for you to use alongside them in the new activity songbook. We want to help you to grab hold of EVERY musical possibility contained within each and EVERY song and enjoy the learning opportunities they bring. Additionally, our imaginative ideas pages will open up the thematic content of the songs by linking with the wider curriculum and beyond. Our aim is to provide inroads towards creative music education using material that we know will equip, give confidence and inspire everyone.

All of the titles in the NEW Songs For EVERY Series are now available with Words on Screen™ v2 allowing you to display song lyrics on any whiteboard, computer screen, television or interactive touchscreen. The lyrics synchronize with the music as it plays making them easy to teach and easy to learn!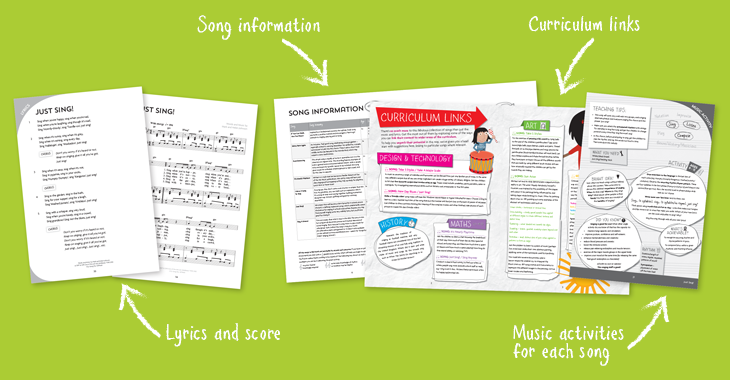 Additional Information
Series
Songs for EVERY…, Words on Screen™
Ages
5-11
What's Included

Activity Songbook with:

Audio CD with:


Vocal tracks sung by children
Professional backing tracks

Words on Screen™ v2 CD ROM with:


Extractable MP3s, printable lyrics, scores & additional resources
Words on Screen™ v2 versions of songs so that you can display song lyrics on any whiteboard, computer screen, television or interactive touchscreen. The lyrics synchronize with the music as it plays making them easy to teach and easy to learn
Enhanced operation features including 'double-click' to hear and teach a single line
Words on Screen™ v2 PDF user guide and player Quick Tour
Single-User licence
Licence & copyright details

Words on Screen™ Online with:
(Available with the purchase of Words on Screen™ v2 Premium and Upgrade packs only)

An online copy of your product to stream or download on-the-go
Flexibility to create an expandable library of Words on Screen™ v2 song collections, nativities and musicals in your Out of the Ark online account
All the features of your Words on Screen™ v2 CD ROM
Free fully signed video of the song I Have A Song To Sing to stream from your online account.

Extra FREE resources are available to download for this title:

Solos/Parts
Songs with Rounds, Part-Singing and Solos:

We're Here Again
Good Morning
I Have A Song To Sing
Sing A Round
School Is Nearly Over
Thank You Lord
We Are One

Songs with Harmonies:
Words on Screen™ v2
What is Words on Screen™ v2? - For more information click here.
Words on Screen™ v2 System Requirements
Windows

2.33GHz or faster x86-compatible processor, or Inter® Atom™ 1.6GHz or faster processor for netbooks
Microsoft® Windows® XP (32bit) or later, Windows® Server 2008 (32bit)
Internet Explorer 7.0 or later, Mozilla Firefox 4.0 or later, Google Chrome, Safari 5.0 or later or Opera 11
512MB of RAM (1GB RAM recommended for notebooks); 128 MB graphics memory

MAC OS

Intel Core™ Duo 1.83GHz or faster processor
Mac OS X v10.6.8 or later
Safari 5.0 or later, Mozilla Firefox 4.0 or later, Google Chrome, or Opera 11
512 MB RAM; 128 MB graphics memory

My Words on Screen™ Online

If you have purchased a Premium Pack online which includes Words on Screen™ v2, you will also have received a Words on Screen™ v2 eSongbook in your
Out of the Ark online account. There, you can instantly access your Words on Screen™ songs, activity songbook PDFs and audio MP3s, and stream your signing video at no additional cost*. Simply:

Log in to your online account and select My Words on Screen™ Online
Open the online streaming player
Click on All eSongbooks in the left hand menu and select your eSongbook

The eSongbook is where we bring together all of the digital resources available for your product. As well as being able to play the Words on Screen™ versions of your songs and stream your signing videos, you can also instantly access PDFs and MP3s for your product. You will find these under eSongbook Resources in the left hand menu of your eSongbook.




From there, you can choose to extract and save All Audio MP3s, All Lyrics PDFs and All Score PDFs. If you just want the MP3s, lyrics or music score for one song, then select the song in the library and use the buttons in the Song Extras area at the bottom of the screen.




You can access these files in the same way if you are using the S!ngchronize™ player that you have downloaded and installed from our website. Simply refresh your player and select your eSongbook. For a downloaded player, you will need to download the eSongbook to your player before you can extract and save the PDFs and MP3s. You will also need to have installed S!ngchronize™ player version 2.0 or above.




* Streaming is free for the first 12 months; after that a current annual Digital Site Licence or Performance Licence will be required.

Signing Videos

We believe singing should be inclusive, so we have created some fabulous signing videos to link with the Songs for EVERY Series, for you to stream from your online account. Each video will allow you to easily follow the lyrics as they synchronise with the music in our fantastic Words on Screen™ format, AND at the same time follow the trained BSL interpreter. We have adapted our signs so that they are clear and easy to follow to make them suitable for children so EVERYone can sing and sign our songs!




Snippet of FREE signing video from Songs for EVERY Singing School:




Each Songs for EVERY series title has one free signing video. Click here for more information.

Licence Information

Words on Screen™ User Licences




¹Included with this option is a single user licence, allowing the Words on Screen™ CD ROM to be installed on ONE computer only.




²To license the installation of the CD ROM onto network servers and/or two or more computers, please select the annual Digital Site Licence option.




Digital Site Licence




With so many songbooks and audio files purchased in digital format, teachers need a legal way to install or distribute copies for use around the school. Out of the Ark's annual Digital Site Licences are the perfect solution!




Cost-effective and flexible, our digital licences give you peace of mind so that you know you are covered for all kinds of digital usage including permission to:

Install songs or Words on Screen™ on a network or on multiple computers on the school's premises
Upload digital content to the school's intranet or learning platform
Copy MP3 audio tracks to your computer music library (eg iTunes)
Continue to stream Words on Screen™ v2 songs on multiple devices on an annual basis (beyond your free period)
Permit usage of software at home for teachers for preparation purposes
Burn copies of CDs for rehearsal purposes

You will need to purchase an annual Digital Site Licence for each individual title and renew your licence each year.

ISBN
9781901980820 Book & CD / 9781901980837 Book & CD ROM