News
October 2016


Sparkling reviews for Lights, Camel, Action
and Christmas Counts
We're thrilled to have received some fantastic reviews from Teach Early Years for two of our newest Christmas titles! Review by John Dabell



As every teacher knows, being at least one step ahead of the game is vital for staying sane. That's why Christmas is on the agenda from a planning point of view early into the autumn term. You may already be thinking about staging your own version of the Nativity…
The Nativity is one of the central stories of the Christian faith, and schools around the world perform it to proud parents every Christmas. But which way do you go? Do you take the traditional route, or go upbeat and hit the fun button. I think there's definitely room for both, but if I were unsure about which route to take then I wouldn't have to look very far to find ready-made, easy-to-stage shows that tick every box…
Introducing Out of the Ark Music, which has just released two fabulous modern Nativities that have the Christmas message at their heart. First up, the glitzy
Lights, Camel, Action!
.... Written by a highly experienced musician and composer, it's wonderfully fun and is perfect for the 4–9 years age group. It's based around the idea of the BBC – the Bethlehem Broadcasting Company –recording a special edition of their dance show in the very stable where Jesus was born. The stable is basically transformed into a dance studio, and the cast is made up of all the traditional Nativity characters, who return to Bethlehem to recall their roles in the miraculous Christmas story.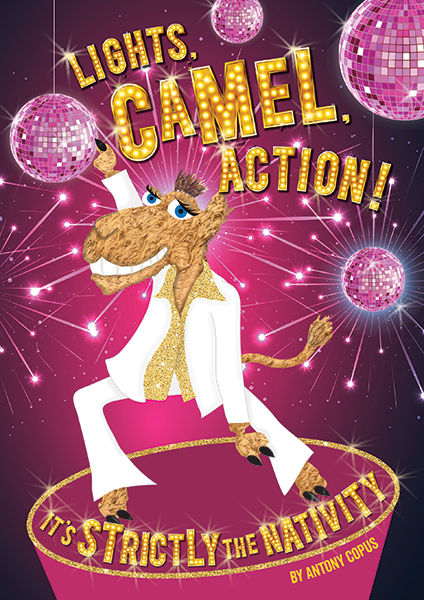 Lights, Camel, Action!
comes with a script, piano music and lyrics, together with a character list and notes on staging for a 40-minute show. It also comes with a CD featuring all the songs, which have been professionally arranged and sung by a children's choir. There are backing tracks included too and a 'Words on Screen™' version, so children can follow the words as they sing.
The character list for this production includes hosts, floor managers, a voiceover, a donkey, camels, wise men, shepherds, sheep, innkeepers, backing singers, Mary and Joseph, townspeople and more. The three judges are Caesar..., the donkey and the innkeeper's wife. It's perfect for a large production, with 21 speaking parts available that you could easily adapt. The dances that make up this production have fun written all over them, and the website suggests choreography and includes hugely helpful dance videos for all of them should you need inspiration. The dances include a Nazareth line dance, a Camel funk, Disco Star, the Innkeeper's Tango and a Bethlehem hand jive. The script is written in a style that many children will be familiar with.... It's cheesy and wrapped in tinsel, but it works beautifully for getting the message across. A-MAZ-ING, darling!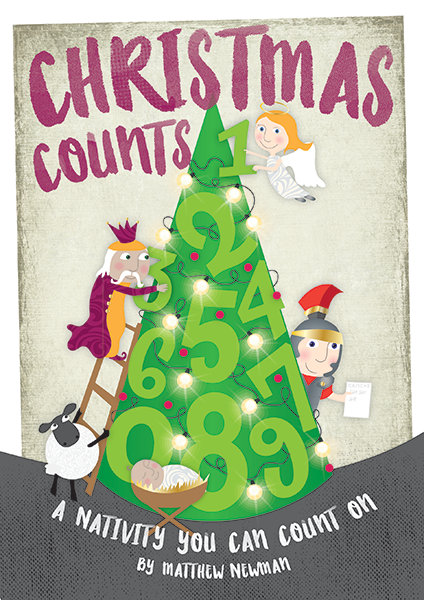 Christmas Counts
is another brilliantly inventive musical Nativity for young children,
a 20-minute masterpiece of thoughtful fun. It tells the traditional story of the Nativity from the perspective of a group of census-takers around Bethlehem on Christmas night, carrying out Caesar's commands that everyone in his empire should be counted. They count every man, woman, child and house, and almost fall asleep counting sheep. They couldn't, of course, count all the angels, but once they had counted everyone there was just one person left to be counted: Jesus.
This Nativity is far more traditional in spirit and delivers the message that just as rich and poor found Jesus in the stable, everyone can find him today and that Christmas counts for everyone. There are eight songs as part of the resource, and the book comes with a character list, some helpful curriculum links, a modest script, music score and audio CD with vocal tracks and professional backing tracks. This also comes with a Words on Screen™ option.
Christmas Counts
 might not have the same showbiz pizzazz, but what it does offer is professional production, quality songs, marvellous music and a well-developed script with percussion SFX suggestions and ideas for extension work. This is a safe bet.
Verdict:
Encore! Encore! Both
Lights, Camel, Action!
and
Christmas Counts
provide you with the chance to stage a really polished performance full of creativity, and starting at £19.95 you'd be Christmas crackers to try and write your own version when these catchy off-the shelf musicals have been crafted and created by professional musicians. They are both colourful, diverse and inventive, with the power to breathe life, energy and fun into your Christmas production.
Out of the Ark has two more quality resources in its stable. Hurrah!

October 2016
October 2016
Even MORE Nativities with Words on Screen
™

v2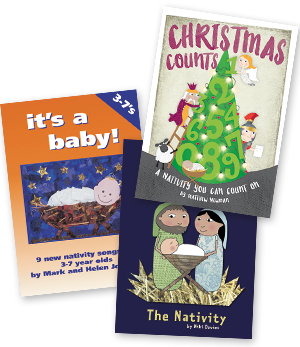 We've been busy this summer, working hard to provide you with even more ways to purchase our nativities and now we have a whopping 18 of our 43 nativity titles available in Words on Screen™ v2 format – where lyrics synchronise with the music as it plays making them easier to teach and learn! Click here to find out more about Words on Screen™ v2.

If you order your Words on Screen™ v2 nativity online via our website, you can instantly access:
Vocal and backing tracks
Printable nativity performance resources including scripts and song lyrics
Stream or download from your Words on Screen™ Online account and create an expandable library
Create playlists
Your physical products you've purchased will be sent to you in the post too!
October 2016
23 Seconds to Make You Smile!
Have a quick look at our new Songs for EVERY video:
 
September 2016


Out of the Ark Blog
Out of the Ark are launching a brand-new blog for a brand-new school year! Each week we're going to bring you some great ideas, fantastic singing tips, fabulous suggestions for activities you can use in your classroom, inspirational ideas for teaching music and lots of weird, wonderful and wacky facts for you to share with your colleagues and class. From cows to conkers, warm-ups to taking applause with aplomb, lunar cycles to little black dresses, you'll find the answers here to questions you never realized you needed to ask!
We'd love to hear from you too, so feel free to add your own comments and suggestions and generally get involved.
See you in post one!
July 2016


Early Years Offer - Buy 2 Titles, Get A Third FREE!
Place any three qualifying titles from the Niki Davies Collections For Younger Voices in your basket and the third title will be FREE! Which titles will you pick?

Click here for more details on this fantastic offer!

Offer valid until Friday 30th September 2016. 
July 2016
BRAND NEW Resources for the Autumn Term
This Is Me!
What's There Not To Like?
By Mark & Helen Johnson and Stewart Henderson
Ages 5-11
Celebrating who we are with confidence, this collection of 10 wonderful assembly songs is the result of an exciting collaboration between award-winning poet Stewart Henderson and Out of the Ark's founding writers Mark and Helen Johnson. Including themes that unpack the
diversity, wonder, creativity and uniqueness in all of us
, these songs sing loudly of the breadth of mind, body and spirit found in each and every one of us - '
a carnival of light
'.
Fantastically fun and packed full of imagination, songs from
This Is Me
comically, cleverly and creatively celebrate the theme of what it means to be 'me'. With terrific teaching tips, a playground of poetry hints and further curriculum ideas for learning that shine a spotlight on literacy and PSHE,
what's there not to like? 
Book, Audio CD & Words on Screen™ v2 CD ROM £39.95
Book & Audio CD £22.95
IN STOCK!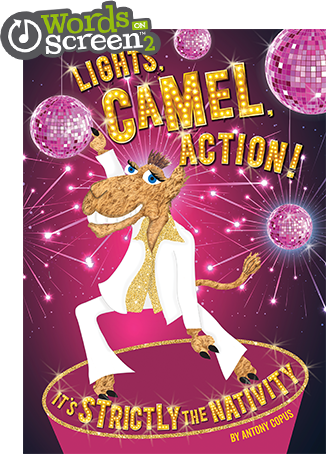 Lights, Camel, Action!
It's Strictly The Nativity

By Antony Copus
Ages 4-9

The Bethlehem Broadcasting Company is recording a dazzling dance show to celebrate the special occasion of Jesus' birth and the cast is jam-packed with nativity celebrities. Personalities, including some funky camels and a disco star, have come together again to recall their roles in the miraculous story. It's a Christmas celebration like never before, with dance styles ranging from tango to line dancing and ballet to disco. The judges have gathered their scorecards, dancers are waiting in the wings and the audience is assembled for Lights, Camel, Action!

Great fun – a marvellous variety of songs and spectacular dancing, but always… strictly the nativity! 

Book, Audio CD & Words on Screen™ v2 CD ROM £39.95
Book & Audio CD £22.95
Instant Performance Licence £15.90

IN STOCK!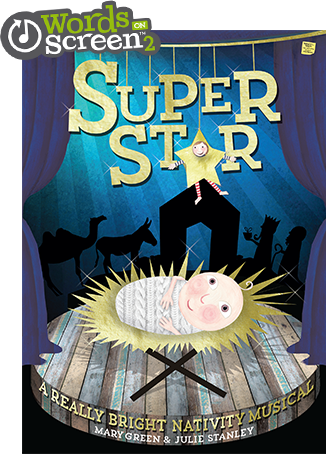 Superstar
A Really Bright Nativity Musical
By Mary Green & Julie Stanley
Ages 5-11
The school Celestial Choir all want the chance to shine in this year's nativity, but who will dazzle music teacher Mr Marrz enough to be given the title role of Superstar? It quickly becomes clear that it's not all about being the musical's main focus, but about playing the role of the amazing star that showed the way to the stable where Jesus was born. As the special performance unfolds, the children shine a light on the traditional nativity story and point to Jesus being the true superstar of Christmas.
With 8 upbeat songs and a fabulous script, Superstar is a dazzling
nativity
for the primary age group.
Book, Audio CD & Words on Screen™ v2 CD ROM £39.95
Book & Audio CD £22.95
Instant Performance Licence £15.90
IN STOCK!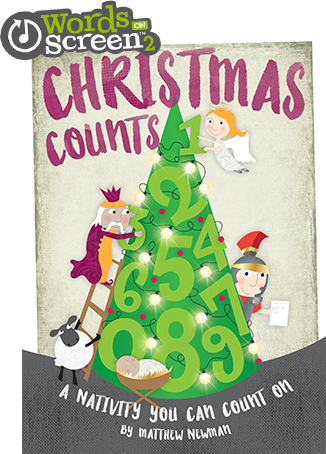 Christmas Counts
A Nativity You Can Count On

By Matthew Newman
Ages 3-6

It's the first Christmas night in Bethlehem and a group of census-takers are carrying out Caesar's urgent decree that everyone in his empire should be counted. They count the people of Bethlehem, the wise men and their camels and nearly fall asleep counting sheep with the shepherds. Then, a countless host of angels appear with the good news of Jesus' birth, which sends the shepherds running right to the stable to meet Mary and Joseph and one special baby. There they realise that Jesus being born shows how much God cares and how Christmas counts for everyone.

Book, Audio CD & Words on Screen™ v2 CD ROM £37.95
Book & Audio CD £19.95
Instant Performance Licence £13.80

IN STOCK!
June 2016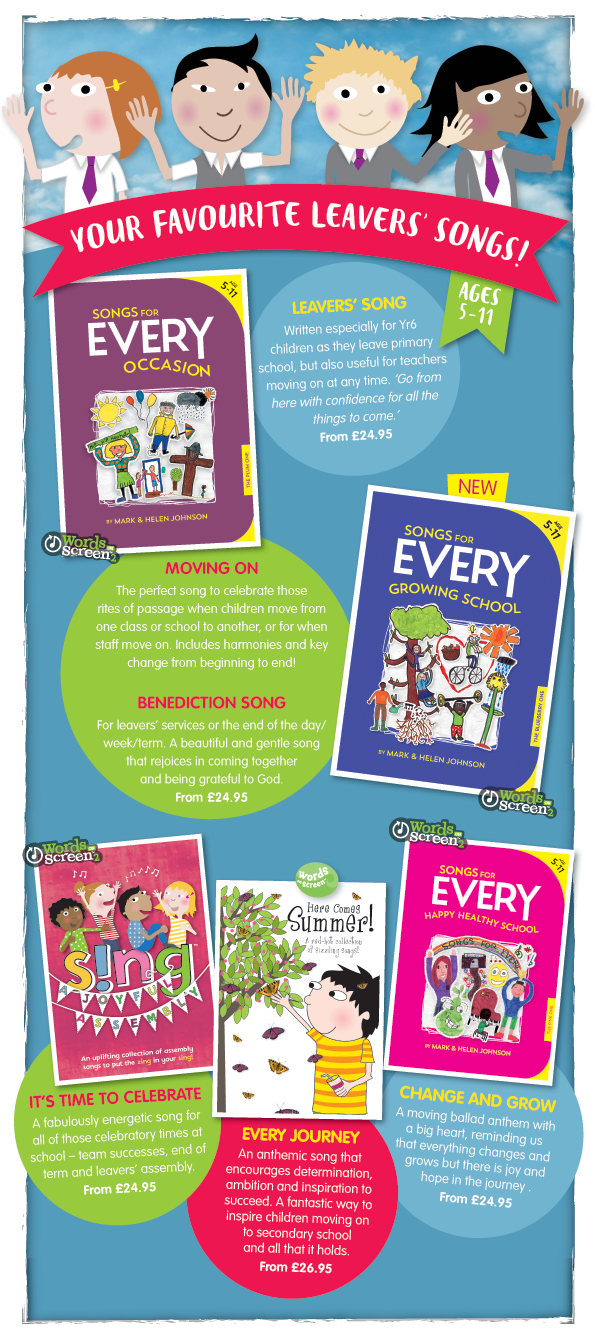 June 2016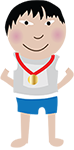 Hooray For The Olympians!
Check out our fantastic song, Hooray For The Olympians, perfect for celebrating the forthcoming 2016 Olympics in Rio. This song celebrates our Olympic heroes and the Olympic spirit as well as the dreams and achievements of all types of athletes.
Buy, download and sing along today!
 
May 2016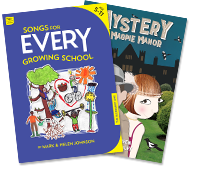 Teach Primary Tried & Tested Review - May 2016
We're thrilled to receive a glowing review for two of our newest products: Songs for EVERY Growing School and Mystery at Magpie Manor.
Check out the review here.

 
May 2016


Sensational Summer Offer!
Place any three titles from the My World series or That's What I Call A Class Assembly series in your basket and the third title will be FREE! Which titles will you pick?

Click here for more details on this fabulous summer term offer!

Offer valid until Thursday 30th June 2016. 
March 2016
Mystery At Magpie Manor
A Roaring 1920s Thriller NOW IN STOCK!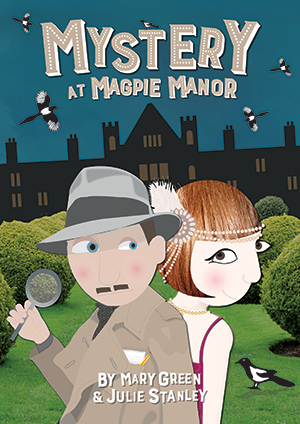 Mystery At Magpie Manor
By Mary Green and Julie Stanley
Ages 7-11

From the authors of our best-selling
That's What I Call A Class Assembly Series
 and
The Magical Christmas Jigsaw
.
Set in the 1920s and steeped in intrigue,
Magpie Manor is in a great state of disrepair. But when the plan to sell off the family silver goes wrong, will the thief be caught and can Magpie Manor be rescued from impending disaster?
Join the flapper girls and their family and Charleston your way through this pacy, energetic mystery.
Includes eight fantastic songs, a
humorous adaptable script
, suggested choreography and
'How To Charleston' videos online
. 
It's the most razzamatazztic musical of the season!

Book, Audio CD & Words on Screen™ v2 CD ROM – £39.95
Book & Audio CD – £24.95
Instant Performance Licence – £19.80
March 2016

The Greater Manchester Hub
Singing Challenge 2016!
Huge congratulations to the 710 primary schools across Greater Manchester who joined together at 2pm on the 8th March 2016 to celebrate Manchester being awarded European City of Science 2016.

Our very own Mark and Helen Johnson wrote A Certain Kind Of Imagination especially for the occasion. This fabulously catchy song not only highlights the amazing scientific and industrial developments coming out of Manchester, but also encourages children to develop their own imagination, curiosity and determination. 

A Special thanks to the 9 schools who sang the song so fantastically well at the Manchester Museum of Science and Industry - you all sounded amazing!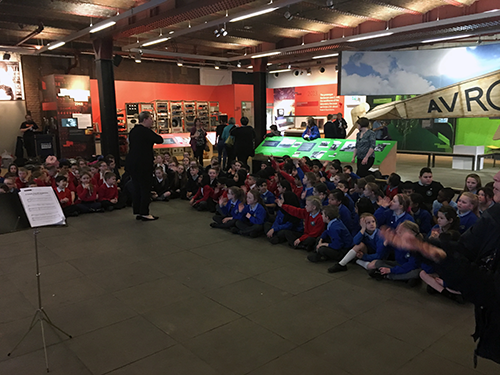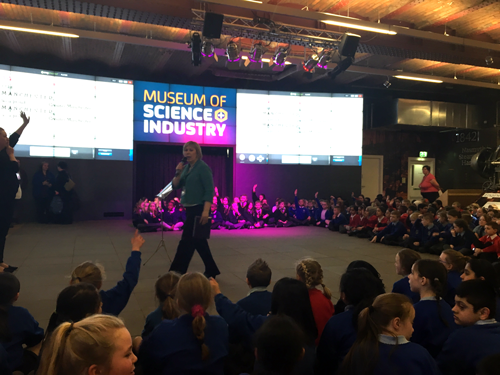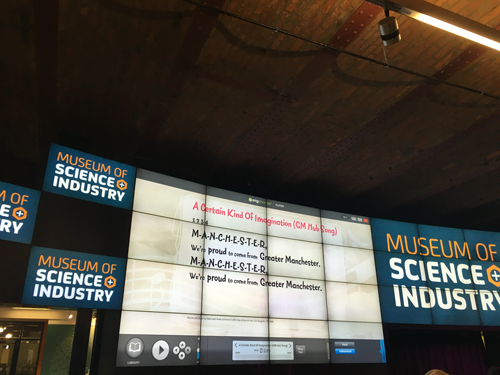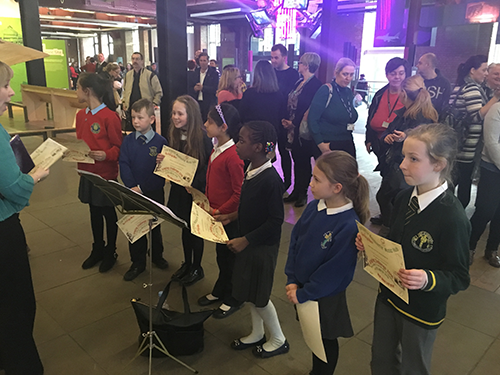 February 2016


Step It Up For Sport Relief 2016
Out of the Ark are delighted to be supporting Sport Relief 2016! Mark and Helen Johnson have written the fantastic song Step it Up For Sport Relief which you all loved so much for Sport Relief 2014. Here's your chance to download this fab song once more, FREE of charge! 

Click here to find all the resources you need to help your school or nursery get involved, including two NEW videos, an interactive Words on Screen™ version of the song and much more! 
February 2016


Exhibitions - Spring 2016
Out of the Ark Music are showcasing their products at the following exhibitions this spring:
Music Education Expo - 25-26th February 2016
Olympia, London 
Stand C9
Education Show - 17th-19th March 2016
NEC Birmingham
Stand C80-D81
Come and say hello and don't forget to look out for our exclusive show offers!
January 2016


 
Our BEST-SELLING musicals just got even better! 
With Words on Screen™ v2 options available to purchase on some of our spectactular musicals, you'll have everything you need to put on a great production!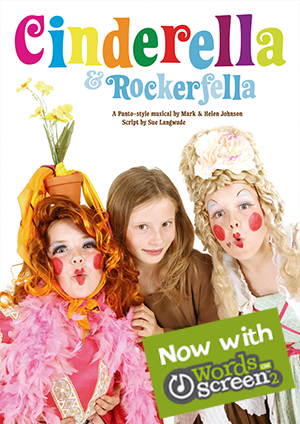 Cinderella & Rockerfella
A wonderful, modern reworking of the classic tale which includes all of the traditional characters: downtrodden Cinderella, Rockerfella (formerly known as Prince Charming!), Buttons, the Ugly Sisters and the Fairy Godmother, as well as music managers, paparazzi and good and bad fairies - all placed in a world of fame and celebrity.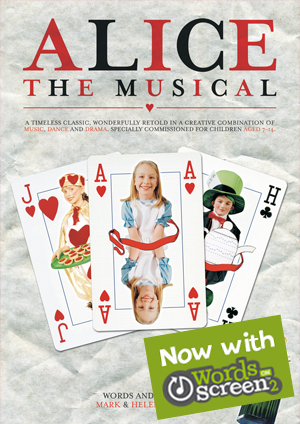 Alice The Musical
A timeless classic with a creative combination of song and dance, narrative and drama which provides plenty of opportunities for solos, unison and 2-3 part-singing and gives your school the opportunity to bring magical characters such as The Mad Hatter and The Queen of Hearts to life.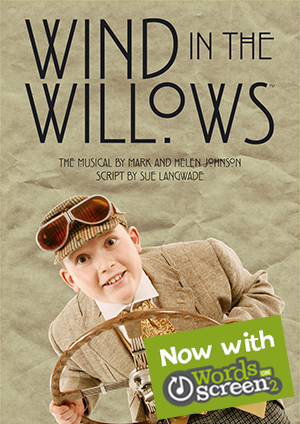 Wind In The Willows
Follow the escapades of Ratty, Mole, Badger and the infamous Mr Toad in this heart-warming musical adaptation of the Kenneth Graeme classic. Twelve fantastic songs with a Twenties flavour help bring this wonderful story to life.   
December 2015
Two NEW titles arriving January 2016!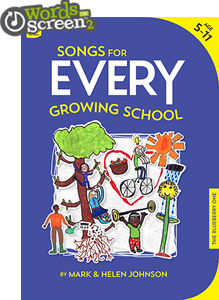 Songs For EVERY Growing School
By Mark & Helen Johnson
Ages 5-11
"LIFE'S FOR LIVING AND FOR GROWING, BECOMING ALL WE'RE MADE TO BE!"
Welcome to our
brand-new EVERY collection!
We're so excited to bring you these
15 fresh songs
all about growing – and we don't just mean beans, although they're in there too! 'Growth' in
mind, health, community, bricks and mortar, life, love, celebration and gratitude
are all intrinsic parts of this fabulous collection.
With a heap of invaluable themes, together with
two brilliant new leavers' songs
, and hugely relevant material for
PSHE learning
, you have everything you need truly to become a
Growing School
. As with all of our NEW EVERY collections, the songs in this album are the foundation for a
whole host of music activities
and curriculum-linked ideas that will take your teaching to a brand-new level. 'There's no telling where it's going, but it's full of possibility!'
Activity Songbook, Audio CD & Words on Screen™ v2 CD ROM: £42.95
Activity Songbook & Audio CD: £24.95
Words on Screen™ v2 Upgrade (Audio CD & CD ROM only): £29.95
IN STOCK

Out of the Ark ESSENTIALS: Easter Hymns
Traditional
Ages 5-11

This essential selection of 20 Easter hymns, packed with a fabulous mix of traditional and contemporary worship songs is perfect for Easter celebrations, assemblies and worship services.

Fabulous arrangements and backing tracks breathe new life into much-loved favourites including When I Survey The Wondrous Cross and Here Is Love Vast As The Ocean as well as hugely popular songs like Oh Happy Day and In Christ Alone.

Five contemporary Easter classics from Mark and Helen Johnson complete the collection making sure your school or church has everything it needs for contemplation and celebration at Easter time.

Available with a Words on Screen™ v2 CD ROM allowing you to display song lyrics on any whiteboard, computer screen, television or interactive touchscreen. The lyrics synchronize with the music as it plays making them easy to teach and easy to learn!

Book, Audio CD & Words on Screen™ v2 CD ROM: £42.95
Book & Audio CD: £23.95
Words on Screen™ v2 Upgrade (Audio CD & CD ROM only): £29.95

IN STOCK