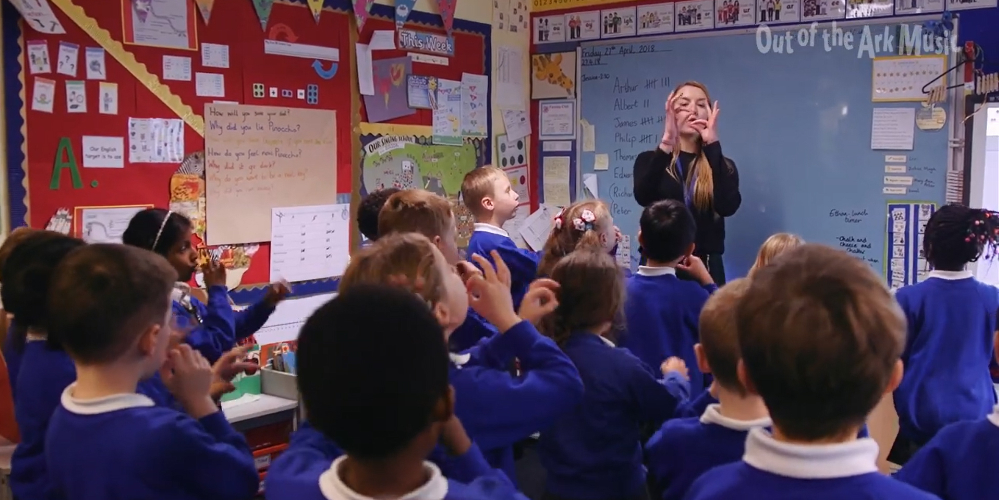 In 2017, in collaboration with Professor Susan Hallam MBE and the Milton Keynes and Sheffield Music Hubs, we worked with 24 primary schools, offering them simple training for all their staff alongside free, unlimited use of our entire catalogue of songs and all associated resources. We wanted to measure the impact that fully integrating singing into the school curriculum could have on a range of measures, including well-being, social inclusion, pupil and teacher confidence, as well as academic attainment across the general and music curriculums. The study extended to 24 schools, 300 teachers and nearly 9,000 children. The results surprised even us! View the findings and data here. 

Laura Dolan, a class teacher who was involved in the Singing Schools' Research Project, talks to us about her involvement and how it impacted her teaching and her school. 
Laura picks up on the story... Two years ago, we opted to be part of the Out of the Ark Music
Singing Schools' Research Project
. I was selected to become the school music co-ordinator, leading the project in our school. For me, this was a very daunting prospect and one that I questioned Paul Quinton, my Headteacher, on. When I'm with friends, I'm usually the person who is asked to stop singing altogether!
I am very thankful that I was chosen to be part of this project and that I was pushed out of my comfort zone. The school was very lucky to be given access to the Singing Schools' Research Project resources from Out of the Ark Music and all the staff received some CPD too. They helped me gain confidence both as a teacher and as a subject leader. I quickly learnt that with Out of the Ark Music you don't have to be musically gifted or, in my case, able to sing in tune to be able to provide enriching musical learning experiences.
I teach the Foundation Stage, where the children are four or five years old. When I told my class that Out of the Ark Music had asked me to join them at a conference last year to talk about my experience of this project, I saw thirty little hands in the air and each child wanted to tell me their favourite Out of the Ark Music song. Those children had only been at school for a matter of months. What really stood out to me were the smiles on their faces when they were talking about songs. It reinforced to me how much of an impact singing has had in our school.
The only drawback I can find with Out of the Ark Music is the fact that the children can't stop singing - sound travels around the school! When my class hear the other classes singing, it doesn't matter what we're doing at that point, the children will just break into song! I wouldn't dream of stopping them though, because I see how much joy and happiness they get from singing.
In our school, we have a KS1 and KS2 singing assembly each week and this is when the children get to sing for pleasure. They can choose their favourite Out of the Ark Music songs and we add actions for every song. This really enhances the experience and helps the children to remember the lyrics but also ensures that everyone is engaged and actively participating.
We have used Out of the Ark Music resources for so much more than just singing in the classroom and in assemblies. Recently we have used the Christmas concert resources to put on amazing performances in Foundation Stage, Year 1 and Year 2. The nativity 
Christmas Counts
is a personal favourite of mine.
A lot of staff viewed music as a dreaded subject to teach and it's now most definitely a firm favourite because we have a tool that supports learning and is easy to use. Staff are now volunteering to take the singing assembly because it's such a happy and fun occasion. No child or adult leaves the hall without a smile on their face. It's just such a lovely way to start or finish the day.  
Written by Laura Dolan - Foundation Stage Class Teacher at Caroline Haslett Primary School, Milton Keynes and the Out of the Ark Music Team
Find out more about how singing has influenced Caroline Haslett Primary School in
part two of Laura Dolan's blog
.

USED IT? LOG IT! Most schools have a CWCL licence from Christian Copyright Licensing Limited (CCLI) - more information can be found here. This licence grants permission to display song lyrics and music from Out of the Ark Music's Words on Screen™ Singchronize™ Player and CD ROMs, on any projection screen as well as download and share lyrics and music. Whenever you use our songs, please make note of your usage and then log your songs on your CCLI copy report, so that song writers and copyright holders are paid for their work.
Out of the Ark Music has been providing schools across the country – and world – with wonderful primary school musicals and primary school songs for nearly 30 years. Our Christmas musicals and nativity plays make children sparkle and shine, year after year, as they proudly perform their school Christmas play. Our extensive collection of fun and joyous Easter songs, harvest songs, school assembly songs, leavers songs and even space songs, fill schools with laughter and give students and teachers alike, a reason to sing every day of the week. We're glad you're supporting us in our dreams of creating the best music for schools around the globe. Read more about us here.
Click here to post a comment.