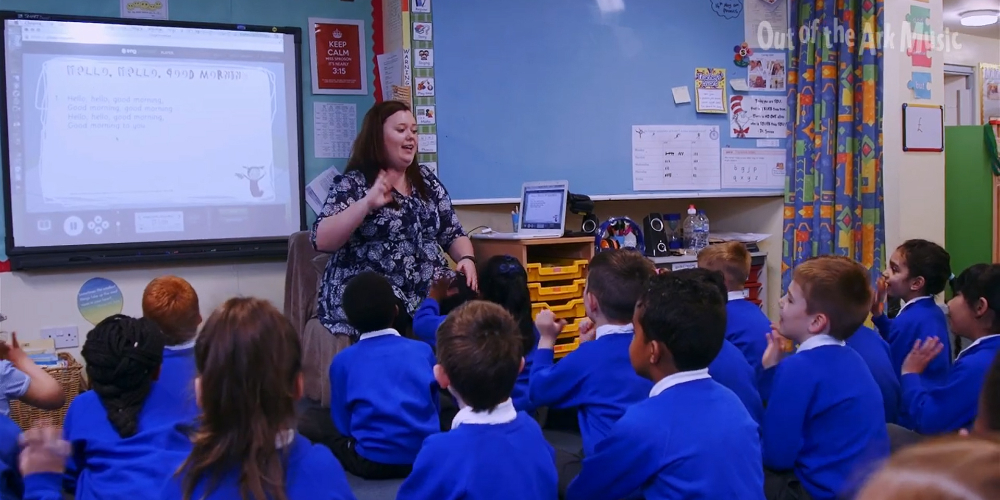 In 2017, in collaboration with Professor Susan Hallam MBE and the Milton Keynes and Sheffield Music Hubs, we worked with 24 primary schools, offering them simple training for all their staff alongside free, unlimited use of our entire catalogue of songs and all associated resources. They wanted to measure the impact that fully integrating singing into the school curriculum could have on a range of measures, including well-being, social inclusion, pupil and teacher confidence, as well as academic attainment across the general and music curriculums. The study extended to 24 schools, 300 teachers and nearly 9,000 children. The results surprised even us! View the findings and data here. 

Laura Dolan, a class teacher who was involved in the Singing Schools Research Project, talks to us about how the children in her class benefited from different songs. Read part one of this blog here.
I was telling Antony (Head of Education at Out of the Ark Music) that we talk about the fact that adults take Out of the Ark Music resources and expand on them, but this is also the case with the children.
I was teaching a maths lesson and the children had to count objects. Children in the Foundation Stage are taught that putting the objects in a straight line helps to avoid confusion when counting. Suddenly, I had a little boy singing
Line Up, Line Up
whilst he arranged his plastic frogs in order to count them. He had taken the song and applied it in a new setting.
We also used Out of the Ark songs to establish boundaries and routines.
The School Rule Song
is a prime example, it is such an upbeat and fun song to sing but it also allows us to introduce rule expectations at school. But we get to do it in a fun way and therefore the children engage and respond well.
Getting 30 four and five year olds to form a straight line was always the equivalent of mission impossible! Well, that was until we found the song 
Line Up, Line Up
 and life suddenly became a lot simpler and stress-free. We host a teddy bear picnic in the first few weeks of term, as a social event for children and parents. I think it would be fair to say that the hall was nothing other than chaotic with 60 children and their families there. However, when we wanted the children to line up to collect their lunch, all we had to do was ring the tambourine and start singing the words
'Line up, line up, how straight can you be?'
without any music, and lo and behold we had the most beautiful straight line of children. 120 adults stood with their mouths wide open, surprised at the power of music.
When we're learning something new the children will often turn around and say 'maybe there's a song about it, let's check' and nine times out of of ten there is a related song. We use the
Firefighter's Song
when learning about people who help us, the song
Robot
for position language,
It's Great When You Know The Alphabet!
and
Lunchtime Queue
. I could probably stand here all day and tell you the songs that I use in my year group alone. I know that any of my colleagues would be able to do the exact same but with an entirely different list of songs.
The singing just doesn't stop there though, it continues all the way home and further afield. I have had parents ask me to clarify lyrics and to find out where they can get access to the songs their children are singing.
We use an online programme called
Tapestry
. It allows parents and staff to share photos and videos of learning experiences. Last week the children were learning how to tell o'clock times and we had used the song
Big Round Clock
to support the maths learning in school. On Thursday last week I received a notification that a parent had posted a video titled
'Clock Song'
, I clicked in to view the post and the caption was
'Emily teaching us her clock song she has learnt at school'
. Just another example of the songs going home and becoming part of the school community life.

Written by Laura Dolan - Foundation Stage Class Teacher at Caroline Haslett Primary School, Milton Keynes and the Out of the Ark Music Team
Click here for more information on the Singing Schools Research Project
.

USED IT? LOG IT! Most schools have a CWCL licence from Christian Copyright Licensing Limited (CCLI) - more information can be found here. This licence grants permission to display song lyrics and music from Out of the Ark Music's Words on Screen™ Singchronize™ Player and CD ROMs, on any projection screen as well as download and share lyrics and music. Whenever you use our songs, please make note of your usage and then log your songs on your CCLI copy report, so that song writers and copyright holders are paid for their work.
Out of the Ark Music has been providing schools across the country – and world – with wonderful primary school musicals and primary school songs for nearly 30 years. Our Christmas musicals and nativity plays make children sparkle and shine, year after year, as they proudly perform their school Christmas play. Our extensive collection of fun and joyous Easter songs, harvest songs, school assembly songs, leavers songs and even space songs, fill schools with laughter and give students and teachers alike, a reason to sing every day of the week. We're glad you're supporting us in our dreams of creating the best music for schools around the globe. Read more about us here.
Click here to post a comment.