At a school, somewhere not so far from you, excitement levels are reaching fever pitch with thoughts of the plentiful presents and parties that the Christmas season will bring. It's clear to Mr Potts, the caretaker, that something may have been overlooked. With the assistance of some helpful mice, he sets to work to create some beautiful baubles for the bare, forgotten Christmas tree and helps the children to rediscover the true meaning of Christmas. With quirky characters such as directionally challenged wise men, a moody donkey and a sheep that sleeps through an angelic visitation, this is a tinsel-tastic nativity like never before.
Extra! Extra! Read all about it! There is great excitement in heaven when the Angel Express newspaper announces that Jesus is about to be born. The angels decide to learn a song for the big event to welcome the very special baby into the world, but there's not much time and there's a lot of practising to do! Between rehearsals the newspaper gives the angel choir updates of Mary and Joseph, the kings, the shepherds and the great big star, and everyone knows that Jesus will be born very soon, but will the angel choir be ready in time?
Knowsley Music Education Hub in Merseyside, with the support of Out of the Ark Music are working in partnership to provide each school in Knowsley with 5 fabulous songs. Each school will then have the opportunity to take part in the Knowsley Schools Singing Challenge and Sing4fun this summer.
Each school has been provided with 5 fantastic fun Out of the Ark songs (worth £19.80) to download from our songcalendar.co.uk website. Their challenge is to learn one, two or all of the songs and perform them at a fantastic venue of their choice – could be in a playing field, at a local train station..... the more creative the better!
Performances will be videoed and then judged by Mark and Helen Johnson, and 3 lucky schools will win £100 worth of fabulous Out of the Ark singing resources for their school.
This joint project is to encourage the development of singing in schools and all the benefits that singing can bring, but also to promote and strengthen links with local schools in the Knowsley area.
May 2014
National Smile Month 2014
In a nutshell,
National Smile Month
is the UK's largest and longest-running oral health campaign. Together, with thousands of individuals and organisations, National Smile Month promotes three key messages, all of which go a long way in helping us develop and maintain a healthy mouth. They are:
Brush your teeth for two minutes twice a day with a fluoride toothpaste
Cut down on how often you have sugary foods and drinks
Visit your dentist regularly, as often as they recommend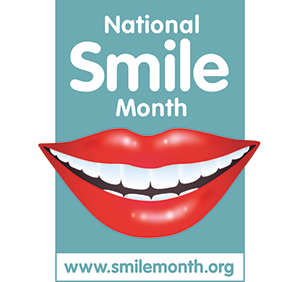 The aim of National Smile Month is to ultimately improve the UK's oral health. Organised by oral health charity, the British Dental Health Foundation, the campaign hopes to raise awareness of important health issues, and make a positive difference to the oral health of millions of people throughout the UK.
With the help and enthusiasm of those who are passionate about health and wellbeing, National Smile Month 2014 will see hundreds of events and activities up and down the UK educate and engage local communities about the importance of a healthy mouth.
Get involved with National Smile Month by downloading our fantastic song Put On A Smile available now on our Song Calendar.
Includes vocal and instrumental tracks with interactive lyrics, score and lyric PDFs and fantastic teacher's notes.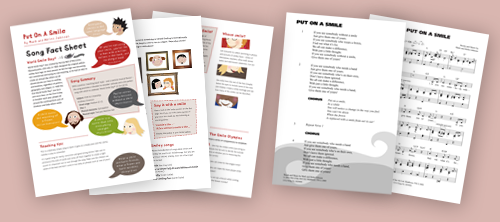 April 2014
Teach Primary - Aladdin Trouble Review
Have you read the glowing review for our latest musical, Aladdin Trouble? Now in print in the latest copy of Teach Primary (8.3).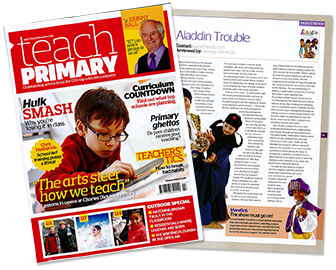 April 2014
Sing for the fun of it!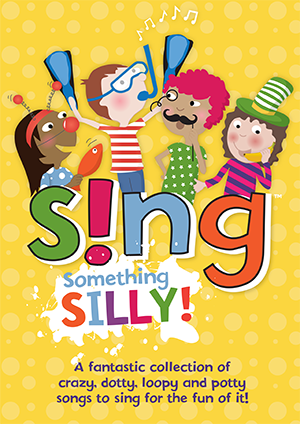 By leading children's writers
Ages 5 - 11

Perfect for fun assemblies, choir sessions or encouraging singing just for the fun of it! This wacky "fun-tastic" collection is jam-packed with songs for a bit of light relief or a show-stopping performance - perfect for any time of year to support your school's singing strategies.

Available NOW!
April 2014
The New Catalogue Is Landing!
Our fantastic new summer catalogue is landing now! Packed with all of our latest resources, fantastic summer offers and a brilliant article about singing by Helen Johnson.

If you haven't received yours, email music@outoftheark.com and we will pop one in the post! Alternatively, view the online version of our catalogue here.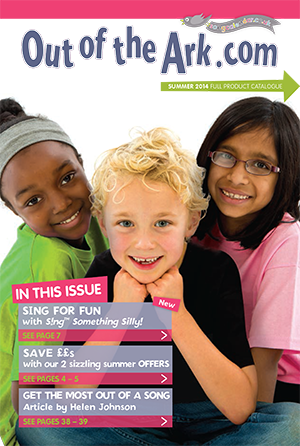 Summer Term Offers: Wednesday 16th April - Friday 20th June 2014
Our Summer Term offers are now finished but you can read our terms and conditions for both offers below:

Terms & Conditions

Terms & Conditions
Offer valid from Wednesday 16th April until Friday 20th June 2014
Available from Out of the Ark Music via the website, telephone, post, fax or email
Limited exclusively to the purchase of a Book, Audio CD & Words on Screen™ CD ROM (£39.95) or for the Book, Audio CD, Words on Screen™ CD ROM and Extension Licence (£69.90) for the following products only: Songs for EVERY Assembly, Songs for EVERY Happy, Healthy School, Songs for EVERY Singing School, Songs for EVERY Occasion, Songs for EVERY Day, Songs for EVERY Season, Songs for EVERYbody, Songs for EVERY Easter, Songs for EVERY Christmas
Cannot be used in conjunction with ANY other offer, voucher code, or Words on Screen™ discount offer
Postage charges are applicable
Not available to trade customers
Only available to UK customers

 
March 2014
Sport Relief 2014 - Thank You!
Out of the Ark would like to thank everyone who watched, downloaded and sang Step It Up for Sport Relief, the official Sport Relief 2014 Schools' Song. We hope you had lots of fun using the song to raise money for a great cause!
 

We've seen some great videos and pictures across the web of schools performing
Step It Up for Sport Relief
– If you'd like yours to be featured here on our website, or simply want to let us know what you thought of the song, please email
digital@outoftheark.com
.
Thank you to Broadhempston Primary School for their great version of Step It Up for Sport Relief!
We'd particularly like to thank the children from
Francis House Prep School
 who sang brilliantly on the recording of
Step It Up for Sport Relief, 
and also the children and staff of
Rustington Primary School
for all their help in making the official video for the song
,
as well as singing live on BBC Sussex when Mark and Helen Johnson were interviewed. They were fantastic!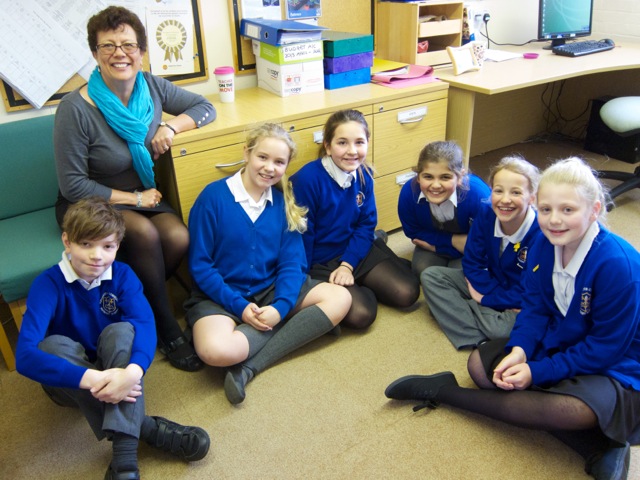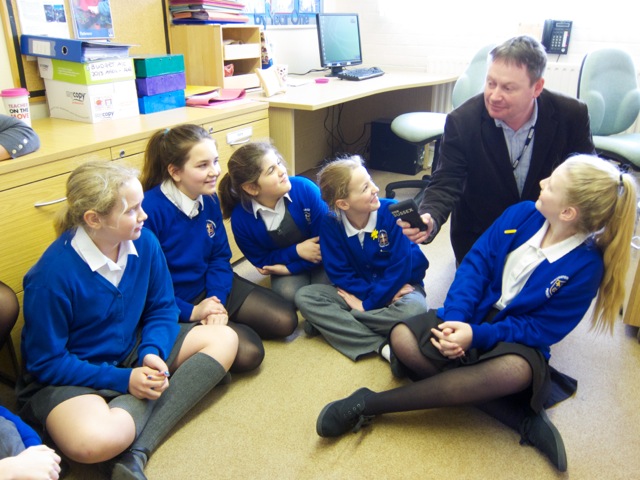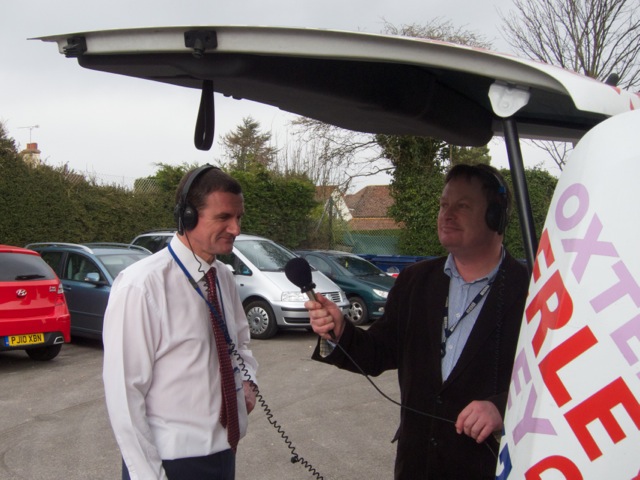 March 2014
Celebrate Shakespeare Week with our brilliant new song for KS2!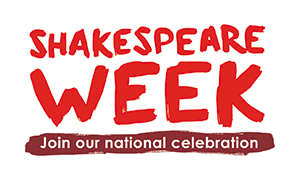 Shakespeare Week
is a new national, annual celebration, to inspire primary school children and their families through creative and cultural experiences. The first Shakespeare Week will be celebrated in 2014, the 450th anniversary of Shakespeare's birth. Shakespeare Week will give every primary school child in Britain the opportunity to be inspired by Shakespeare's stories, language and heritage. Out of the Ark are really excited to be a partner in Shakespeare Week, and what better way to celebrate over involvement that with a new song!
Who Was William Shakespeare?
, by Mary Green & Julie Stanley, has been specifically written for KS2. The song details all of the key facts about the great man and includes many of Shakespeare's plays – and it is incredibly catchy! Head over to the
Song Calendar
and download it now with full interactive song lyrics and fantastic teacher's notes to help you to unpack the subject further.
Head over to
www.shakespeareweek.org.uk
and find out how your school can get involved with all of the exciting events happening up and down the country.
Out of the Ark & Sport Relief featured in Education Today Magazine
Education Today Magazine has published a great article detailing our work with Rustington Community Primary School to produce the Step It Up for Sport Relief song video. Click here to read the full article.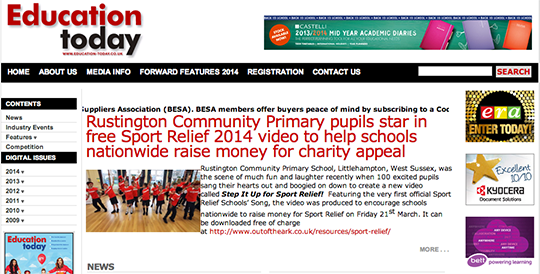 February 2014
Brand New Song for World Book Day
– Now Available!
Head over to Songcalendar.co.uk where you can download our wonderful new World Book Day inspired song by Mark & Helen Johnson. I Like Books is available now and comes with fully interactive lyrics that work brilliantly on a whiteboard or projected on to any screen. The song also comes with an inspiring set of Teacher's Notes so that you can explore the topic even further.

We are delighted to be supporting Sport Relief 2014! Our own Mark and Helen Johnson have written a fantastic new song to help your school raise some money, what's more – it's FREE to download!
Step It Up For Sport Relief!
is a wonderfully contagious song that features a fun and simple dance routine, sure to bring everyone together. Expect to have plenty of fun and laughter while you raise money for this fabulous cause.
For more information, including song downloads, videos, interactive whiteboard lyrics, teaching ideas and MUCH more, click on the button below:

WINNER of the Out of the Ark
Poetry Competition 2013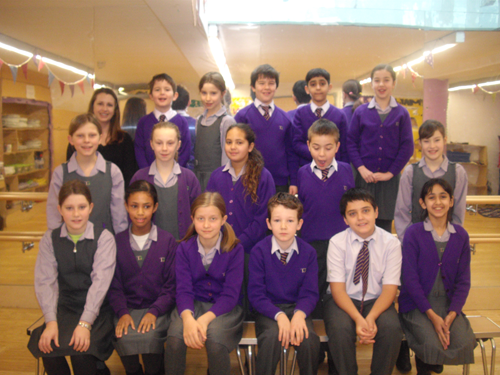 The winner of the Out of the Ark Poetry Competition 2013 is William Stone, who is in Year 5 at The Gower School in North London. William's fantastic poem
'What Lurks in the Deep End'
has been brought to life and illustrated by our wonderful illustrator, Amy Kendall.
As part of the prize, our Poet in Residence Stewart Henderson, will be visiting William's school to hold an inspiring poetry workshop. Well done William!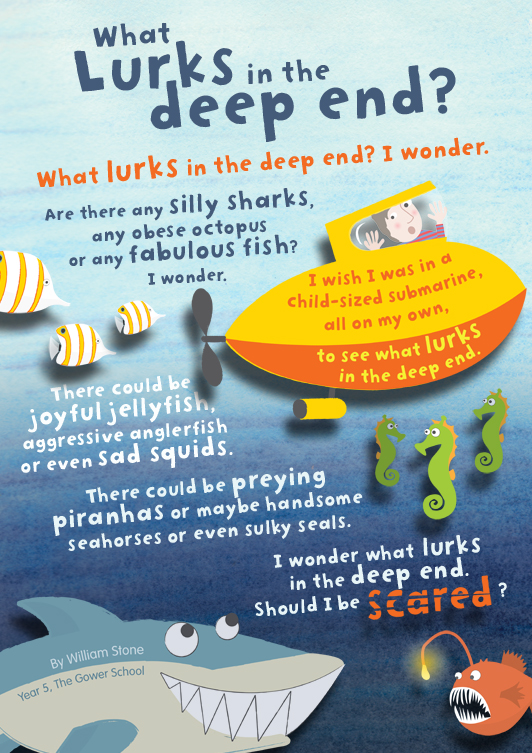 The Niki Davies Book of Lovely Literacy Songs – NOW IN STOCK!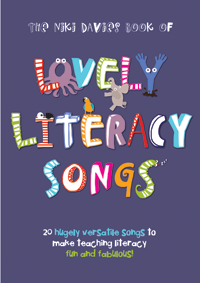 The Niki Davies Book of Lovely Literacy Songs

By Niki Davies

Bring literacy to life with this exciting collection of 20 catchy songs which are fun to sing and easy to learn. Written specifically for 3 – 7 year olds, this wonderful variety of literacy-themed songs will have your class rhyming, segmenting, blending and creative-writing in
no time!

With scope for including children's own rhymes and words, this valuable resource is packed full of phonemes, onomatopoeia, homophones, verbs and compound words, and if that's not enough to get you H, H, H, H, H, Huffed Out, the selection also includes a delightful journey to Rhyming Land and a fabulous hunt for an octopus.

So whether you want to give yourself a P-A-T on the back and a T-A-P on the knees,
or learn a few of those difficult-to-spell words, this really is a fantastic selection of lovely literacy songs!

Ages 3-7        
Book & Audio CD £23.95

 
The Vikings - NOW IN STOCK!
That's What I Call a Class Assembly! — An exciting series of mini musicals that bring history to life!

Each book and CD package is designed to support and reinforce learning from key topics - bringing the curriculum to life! Through performing the catchy, fact-based songs and the short play, children will find it easy to retain the information they have been learning.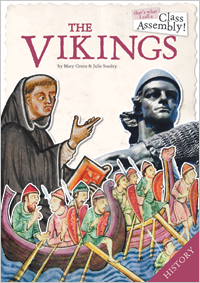 That's What I Call A Class Assembly! - The Vikings
By Mary Green & Julie Stanley

Come aboard the longship as a group of Viking men and their songs prepare to go a-Viking, crossing the sea to invade the Lindisfarne monastery. Take part in a choreographed invasion set to exciting music and learn all about how the Vikings raided, the important role of the Viking women and the Vikings' legacy.

Ages 7 - 11
Book & Enhanced CD - £16.95





What's Included?
Teacher's Book with:  Key facts • Four pages of exciting curriculum ideas and extension work • Script for a mini musical/assembly to showcase what has been learnt • Music score and lyrics for 3 songs • Percussion and recorder parts
Enhanced CD with:  Vocal and backing tracks • Song lyrics synchronized with vocals in our Words on Screen™ format for use with a computer, projector and screen • Printable PDF of the lyrics and script
January 2014
 
Aladdin Trouble - NOW IN STOCK!
Aladdin Trouble, our highly anticipated new KS2 musical by Mark & Helen Johnson,
has arrived!
 

Welcome to the captivating world of 1001 Arabian Nights where our marvellous, panto-tastic version of Aladdin is set! Scheherazade, our story teller, launches us into a tale of good versus evil, a magical lamp complete with three wishes, witty banter and buffoonery and, of course, love conquering all.

Aladdin Trouble features all your favourite characters including Princess Jasmine, the wicked Abanazar, the hilarious Widow Twankey and the fabulous Genie - and plenty more besides.

With 11 amazingly catchy songs and a brilliant script, be prepared to boo, hiss, laugh and cheer along to this rip-roaring musical, from the incredible writing team who brought you Cinderella & Rockerfella.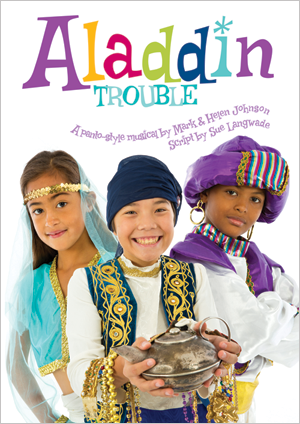 Book & Audio CD - £28.95
Book, Audio CD & Instant Licence - £52.95
Book, Audio CD & Words on Screen™
CD ROM - £39.95
Book, Audio CD, Words on Screen™
CD ROM and Instant Licence - £63.95