Celebrate Shakespeare Week with our brilliant new song for KS2!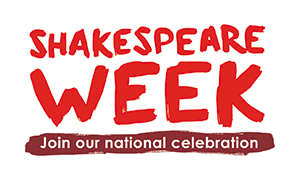 Shakespeare Week
is a new national, annual celebration, to inspire primary school children and their families through creative and cultural experiences. The first Shakespeare Week will be celebrated in 2014, the 450th anniversary of Shakespeare's birth. Shakespeare Week will give every primary school child in Britain the opportunity to be inspired by Shakespeare's stories, language and heritage. Out of the Ark are really excited to be a partner in Shakespeare Week, and what better way to celebrate over involvement that with a new song!
Who Was William Shakespeare?
, by Mary Green & Julie Stanley, has been specifically written for KS2. The song details all of the key facts about the great man and includes many of Shakespeare's plays – and it is incredibly catchy! Head over to the
Song Calendar
and download it now with full interactive song lyrics and fantastic teacher's notes to help you to unpack the subject further.
Head over to
www.shakespeareweek.org.uk
and find out how your school can get involved with all of the exciting events happening up and down the country.