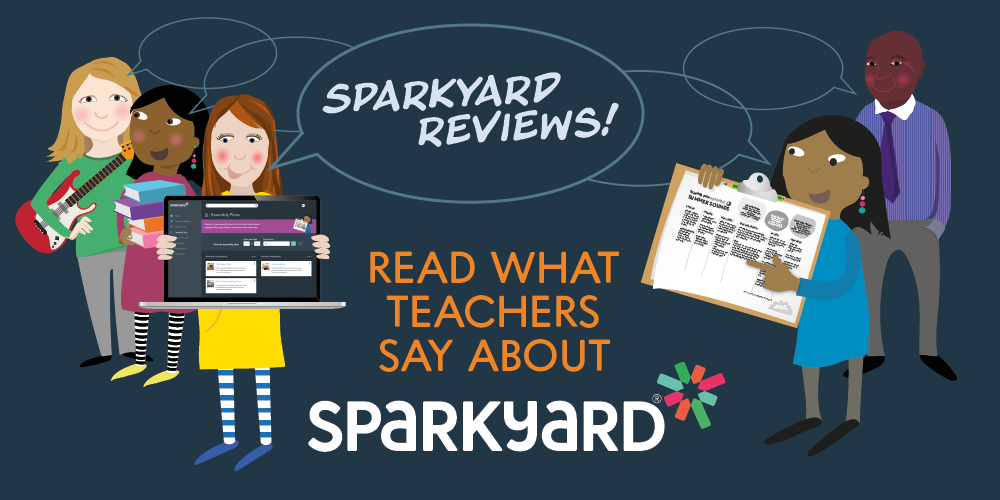 We're SO excited about the launch of Sparkyard (you can read more about what Sparkyard is here), but who better to tell you about its amazing benefits than other teachers, headteachers and music leads?
Our beta programme ran for several months and here's what the participants had to say after using Sparkyard in their schools:
Using Sparkyard
"It has reduced teacher anxiety around the teaching of music and singing."
Sally Hay, Headteacher, Langwathby C of E School
"Because it's accessible instantly, I can have the classes singing within moments between non-music activities."
Emma Worthy, Music Teacher, Winscombe Primary School
"The wide selection of songs is a great resource throughout a school with a wide age range. It's easy to access and the words on a whiteboard are invaluable for both pupils and teachers."
Helen Rathbone, Music Co-ordinator, Oaklands School
"It has made my life so much easier!"
Lynsey Rix, Director of Music, Moorfield School
Sparkyard and Cross-Curricular Learning
"My Reception class can name all the planets in the solar system after learning a Sparkyard song!"
Sarah Bloxom, Junior Music Lead and Reception Teacher, St Gabriel's School
"Sparkyard gives easy access to a wide variety of songs to use across the curriculum that engage children and adults and help us learn and remember. Discovering the maths collection of songs has helped to bring rapid recall and vocabulary to life in lessons."
Mrs Ludlow, Teacher, St Andrew's C of E Primary School
Sparkyard and Assemblies
"It is particularly helpful for assemblies, as all teachers can access and work on songs without the music teacher being present. It is also helpful to see which songs fit in with particular assembly themes."
Lynsey Rix, Director of Music, Moorfield School
Sparkyard and The Music Curriculum
"The music curriculum lessons are comprehensive and provide opportunities to revise concepts that classes may be struggling with, but equally you don't have to complete every lesson if children are doing well."
Sarah Bloxom, Junior Music Lead and Reception Teacher, St Gabriel's School
"Resources are designed to support the teaching not only from a music specialist but mostly for the general class teacher. They will greatly gain confidence in teaching quality music education."
Hendrik Marais
Sparkyard and SEND
"A child with ADHD 1:1 finds it hard to stay within the classroom setting but I can log his LSA on to Sparkyard and they access activities and songs together at his pace."
Emma Worthy, Music Teacher, Winscombe Primary School
Sparkyard as a Transformational Tool
"The children are constantly asking for songs during the day and are singing them in their free time. Parents are telling me they go home singing the songs we have learnt."
D Postans, Acting Deputy Head, Ombersley Endowed First School
"My aim is to have a 'singing classroom' and Sparkyard is an ideal tool for supporting this – the knock-on effects for wellbeing and literacy/speech and language development are well-documented."
Myra Harris, Teacher, Meadowbank Special School
"It is wonderful to have at your fingertips a huge collection of songs which are written (and suitable) for children in a great range of subjects. This allows you to introduce music seamlessly into the school day."
Kathryn Davies, Classroom Teacher, Fernridge School
Sparkyard In The Press
"I'm making full use of my current Sparkyard preview, and it is fast becoming a staple of my daily teaching, much to the envy of my colleagues who are itching to incorporate the many songs into their classrooms as well. You will all know that now, more than ever, we cannot afford to not sing – Sparkyard gives us the exact resource we need to be singing our hearts out wherever we go."
Ruth Coles, Music Teacher Magazine Read the full review here.
"Sparkyard is an amazingly easy-to-use and adaptable teaching platform with an impressive number of lessons and tips for teachers to tap into. It's a great way for teachers to plan their music and singing lessons."
Jonathan Coy, Headteacher Chat Read the full review here.
Start Your Free 30-day Trial now!
All these benefits, and plenty more, are available for you to try for 30 days for free with a Sparkyard trial! Sign up now in seconds, with no obligation, and see just what all the fuss is about!
Click here to post a comment.