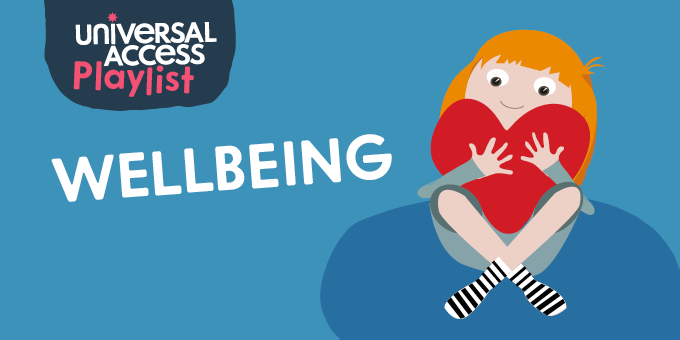 Every teacher knows the importance of ensuring the safety and wellbeing of their pupils. In fact, with the challenges that the coronavirus has brought over the last 12 months, for most schools, it is their highest priority.
Here at Out of the Ark we have always believed in the power of music to make a difference and enhance wellbeing. Here are a few of the reasons why...
Singing lowers cortisol and produces oxytocin, which relieves stress and tension. It also boosts confidence through the release of endorphins. So, singing makes you happy!
The act of learning a new skill, improving and being part of a group also helps to influence your confidence and self-esteem.
In our busy lives, both inside and outside school, singing is a mindful activity, allowing you to live in the moment.
Singing together as a group creates a strong sense of community and togetherness. It also provides an unthreatening way of expressing emotion.
Singing improves breathing and strengthens the immune system.
INTRODUCING THE 'WELLBEING' PLAYLIST
In addition to all the above, our songs can help you to deliver the physical and mental wellbeing aspects of the National Curriculum, teaching children that mental wellbeing is a normal part of daily life, in the same way as physical health. So to guide you through our extensive catalogue, we've put together a 'Wellbeing' playlist in Universal Access. To find this playlist simply open up your Words On Screen™ player, go to All eSongbooks on the left-hand menu and scroll down to the Universal Access playlists. If you do not have Universal Access you can
view the playlist here.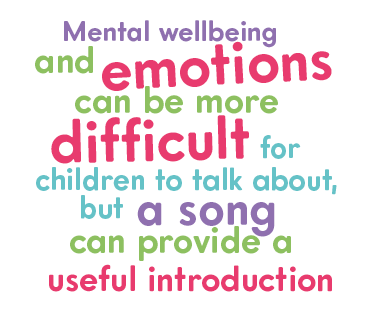 PHYSICAL WELLBEING
  At a most basic level, physical wellbeing starts with the importance of eating and drinking healthily, taking exercise and getting enough sleep. The songs A Healthy Life and Water, Food, Rest and Exercise will help us all to remember these elements and to make healthy lifestyle choices, as well as reinforce the link between physical and emotional wellbeing. (Keep an eye out for our forthcoming 'Get Active!' playlist too, which will be useful for covering the importance of exercise and spending time outside.
MENTAL WELLBEING
Mental wellbeing and emotions can be more difficult for children to talk about, but a song can provide a useful introduction and the lyrics a good starting point for discussions in PSHE or circle time. The song Sometimes deals with emotions and self-esteem: 'Sometimes I don't like myself, But then sometimes I do'.

For building confidence and self-esteem take a look at It's Good To Be Me:
'It's good to be me, Whatever I do,
I'm free to be who I am wherever.
With all of my faults (And there'll be a few!)
I'm happy to be the 'me' I am!'
You're This, You're That is about how to deal with bullying and the hurtful words other children might say:
'Don't you dare believe them,
Hold on to your freedom,
You're not what they say!'
Personal safeguarding may not seem an obvious topic for a song, but Keeper Of My Heart has a sobering but upbeat and affirmative message:
'I'm gonna guard my EYES,
Be careful what I'm watching,
Keep myself from seeing things I shouldn't see.
I'm gonna guard my heart,
It's worthy of protecting,
I'm making sure I'm taking care of me.'
"It has had a positive and uplifting effect on our class. We love to sing and it has improved everybody's confidence."
SONGS TO MAKE YOU HAPPY
And finally, for when you just need a big dose of positivity, look no further! Life Is Good! is a brilliant example of a song that will put you in a good mood for the rest of the day. Or the funky So Happy will get your toes tapping, and One Of A Kind is about living in the moment and making the most of today.
 
We hope that the 'Wellbeing' playlist we've put together helps you to really get the most out of Universal Access and enables you to bring singing into every aspect of the curriculum, including PSHE.
Written by Leigh Barnett - Senior Music Editor

USED IT? LOG IT! Most schools have a CWCL licence from Christian Copyright Licensing Limited (CCLI) - more information can be found here. This licence grants permission to display song lyrics and music from Out of the Ark Music's Words on Screen™ Singchronize™ Player and CD ROMs, on any projection screen as well as download and share lyrics and music. Whenever you use our songs, please make note of your usage and then log your songs on your CCLI copy report, so that song writers and copyright holders are paid for their work.
Out of the Ark Music has been providing schools across the country – and world – with wonderful primary school musicals and primary school songs for nearly 30 years. Our Christmas musicals and nativity plays make children sparkle and shine, year after year, as they proudly perform their school Christmas play. Our extensive collection of fun and joyous Easter songs, harvest songs, school assembly songs, leavers songs and even space songs, fill schools with laughter and give students and teachers alike, a reason to sing every day of the week. We're glad you're supporting us in our dreams of creating the best music for schools around the globe. Read more about us here.
Click here to post a comment.