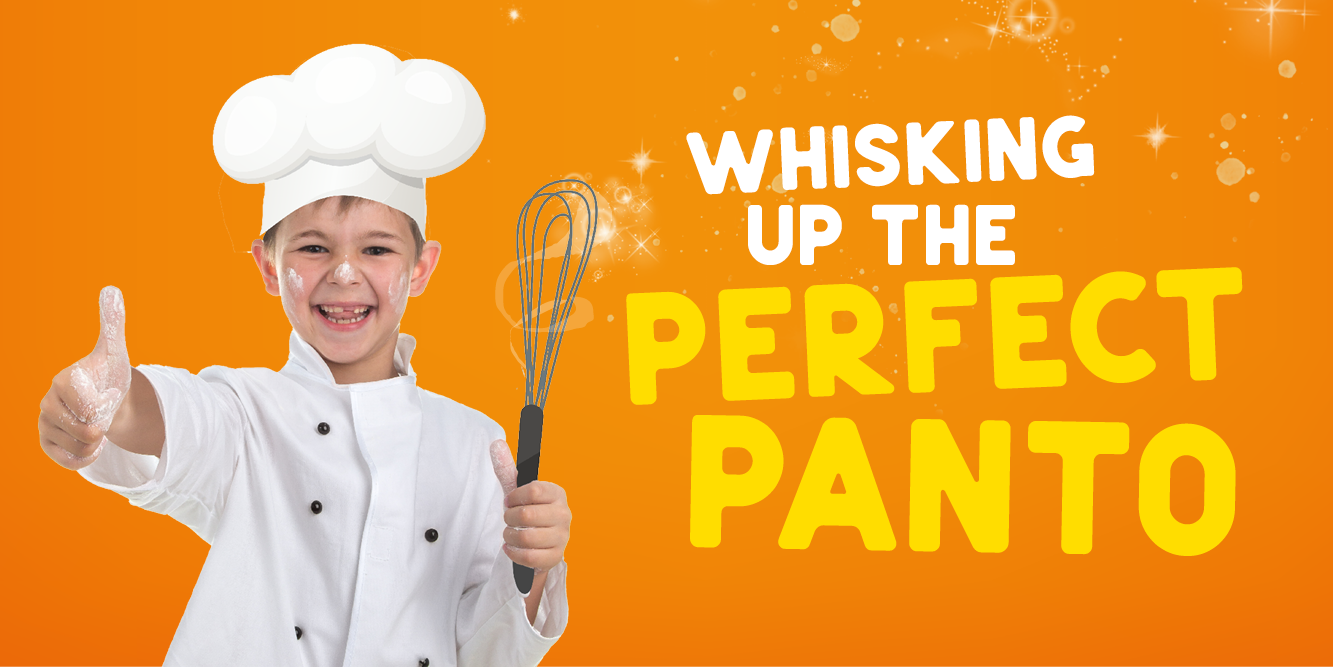 While there's no step-by-step, generic recipe for creating our pantos, there are certainly a lot of ingredients that go in, and each has its own flavour, texture and twist. From the songwriters to the audience, it takes a lot of people to pull everything together along the way. Some of the ingredients come in the box and others you'll need to provide. And just like a cake, things might not always go to plan, but that's part of the fun!
May Contain: Standing ovations, booing, hissing, cheering and toe-tapping, in true panto-style!
One Big, Zesty Idea
Starting a new project is always SUPER EXCITING, but it's sometimes hard to choose which story you'd like to dive into. Snow White is a classic that we just KNEW we could bring an Out of the Ark twist to. We've imagined up so much from suspicious apple recipes to a tiny cottage surrounded by a forest and in need of some serious home renovations, there is SO much scope for getting creative with this story, and that's exactly what we did! It's jam-packed with FUN, COLOUR and QUIRK. Finally, it's time to share this panto with you!
Four Seasoned Writers
In order to end up with a smooth final product with no lumps and bumps, our writing team is a tight-knit group! We've worked together for years now, so each of us brings our own complementary flavour to the process. Previous tried-and-tested recipes include Cinderella and Rockerfella, Alice The Musical and Peter Pan The Musical.
A Pantry Full Of Puns And Panto Jokes
With a script by Sue Langwade, you can be SURE this panto is chock-full of zingers and laughs to delight your audience. Getting the perfect balance of silliness, warmth and fun is something we ALWAYS endeavour to get right and A Hint Of Snow White is no different!
Eleven Sticky, Hooky Songs
We're SO excited for you to get your teeth into A Hint Of Snow White's eleven sweet sticky songs – these are key to giving the panto its amazing flavour! Sweet ballads, bold solos and warm group numbers all go in the mix and leave you feeling satisfied.
A Whole Bunch Of Fresh New Cast Members
A panto without its cast is like a cake without the flour! A Hint of Snow White has speaking parts for 54 cast members and these can easily be increased or decreased – we'll provide you with advice on how to do so. With a good glug of colourful characters old and new, there's an exciting variety of roles for your cast.
A pinch of direction
Whether you're a well-seasoned director with years of experience, or you're fresh to directing, we've got you! A Hint Of Snow White comes with staging ideas, cast info, a choreography video and more. If you purchase an Online Pack or Premium Pack that includes an eSongbook, you'll also have access to our Words-on-Screen software to make teaching songs and rehearsals even easier!
PLUS, that's not all – if you have a Sparkyard subscription, or a FREE 30-day trial, you can generate Share Links for the songs. This will allow you to give URLs to your students so they can access the songs and the Words-on-Screen lyric-view to practise at home!
Wait For The Audience To Rise
After all the planning, hard work and practice, a round of applause (or maybe even a standing ovation!) is a sweet reward. For some of your cast members, this might be the first time they experience applause for an on-stage performance, and how exciting is that? The icing on the cake!
Let It Rest
Phew! Putting on the perfect panto can take a lot of time and energy, and while it's important to rest, we know that often teaching life means having to jump straight into the next thing! But pulling the whole show off is a real achievement – soak it in and have a big ol' slice of cake to celebrate!
You can sample the songs from A Hint Of Snow White here, plus, view a sample script and find out some more about how we've adapted the story. This blog was particularly inspired by the song Take The Apple!, a funky song that details the recipe for the poisoned apple.
Click here to post a comment.