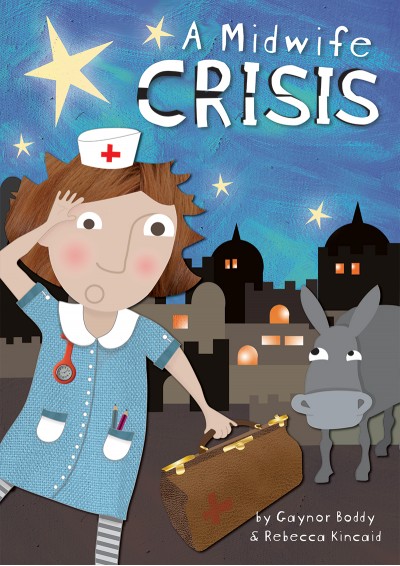 Try it for FREE with Sparkyard
For more detailed information, click here.
---
A Midwife Crisis is a delightful modern nativity play about a busy midwife.
With the help of a very flustered midwife and her put-upon donkey Steve, the Nativity story unfolds in a hilarious but thought-provoking script, which alongside six really fun, catchy songs makes A Midwife Crisis the ideal choice for your Christmas production. Now available with Words on Screen™.
An Annual Performance Licence is required to perform this title. For more information, please click here.
About A Midwife Crisis
In this
modern nativity play
, a very busy midwife who never misses an important birth is extremely excited when she hears that a king is about to be born in Bethlehem. She rushes out into the night in search of a shiny golden palace fit for a king. Her donkey Steve doesn't think he's ever heard of Bethlehem Palace, but the midwife is in no mood to listen – where else would a king be born?
On reaching Bethlehem, the townspeople, shepherds and kings that they come across haven't heard of Bethlehem Palace either and the midwife starts to panic. However, with the help of some gospel-singing angels and a very bright star, the midwife is led to a humble stable to find the very special baby already waiting for her.
With a hilarious script and six really fun, catchy songs, this
modern nativity play
is the ideal choice for your Christmas production.
Available with
Words on Screen™
allowing you to display song lyrics on any whiteboard, computer screen, television or interactive touchscreen. The lyrics synchronize with the music as it plays making them easy to teach and easy to learn!
Sample Script:
An editable script is available for this product when you purchase a package that includes an eSongbook.
Cast List:
View cast list (PDF 79KB)
Cast notes: There are 28 speaking parts that can be easily increased by splitting the narrator's, the census-takers' and the shepherds' lines between more children. To expand this play to include more performers, you could have as many townspeople, sheep and angels as you like.
For smaller groups, the least number of performers is 16. This would require a teacher taking the narrator's part as well as some performers doubling up their roles and reducing other character groups.
Running Time:
35 minutes approx.
(Total length of music: 11 minutes approx.)
Solos/Parts:
Song 1: What A Commotion! - part-singing
Song 3: Star Song - two solo verses for the Star
Song 5: God's Messengers - backing vocals
ISBN:
9781906988500 Book & CD / 9781911430094 Book & CD ROM
Licence Information
Annual Performance Licence Information - What You Need To Know
A current Annual Performance Licence is required to perform a musical or nativity to an audience (other than to pupils & staff), including an online audience, and irrespective of whether admission charges are made.
It is more cost effective to purchase an Annual Performance Licence as part of a complete product pack.
An Annual Performance Licence covers any number of performances of a particular musical or nativity within 12 months of the date of ordering. A separate Annual Performance Licence is required for each product title.
To renew your Annual Peformance Licence, log into your account if you have one and go to your My Licences section.
Find out more about what your Annual Performance Licence will legally cover you to do.

All of our eSongbooks come with a Single User Licence
This means you can install our Words on Screen™ software onto ONE computer only, or it can be streamed by a single user.
If you would like to install this software onto your network server and/or two or more computers, or allow multiple users to stream Words on Screen™ songs, this will be covered by your Annual Performance Licence which includes extended digital rights. For more information, click here.
The following items are available for this product:
Teacher's Book
Character list
Script with staging directions throughout
Music score and song lyric sheets for 6 songs (Piano music score, melody and chords)
Licence and copyright details
Audio CD
Vocal tracks sung by children
Professional backing tracks
Words on Screen™ eSongbook
An online Words on Screen™ product to stream or download
Extractable MP3s, printable lyrics, scores, scripts (including editable script*) & additional resources
Words on Screen™ versions of songs so that you can display song lyrics on any whiteboard, computer screen, television or interactive touchscreen. The lyrics synchronize with the music as it plays making them easy to teach and easy to learn
Flexibility to create an expandable library of Words on Screen™ song collections, nativities and musicals in your Out of the Ark online account
Enhanced operation features including 'double-click' to hear and teach a single line
Words on Screen™ user guide
Single-User licence (Please note a Performance Licence is still required to perform this musical)
Licence & copyright details
*For your convenience, we have provided an editable script in Word format for this nativity or musical. The purpose of the editable script is to allow you to adjust the allocation of speaking parts for smaller or larger cast sizes and/or to make minor changes to the text for staging purposes.
Rehearsal CDs
Vocal tracks sung by children
Professional backing tracks
Available in packs of 5, 10 or 20
Wonderful show for small schools.
We performed this musical in three small schools in the Pioneer Valley. It was very well received in each of our small schools. As a music teacher I found this musical very versatile and easy to teach with the resources provided. I would recommend this play and will definitely be using Out of The Ark plays and musicals again.
---
---
Brilliant
I did this for my production this year. I have a class of 29 and this was made for them.As I read the script I could allocate many children for the different parts. It was my first play in this school and I wanted to do something fun (a lively class so needed something they would enjoy). Isle space is needed and could you many more children as some of mine had two parts. They loved it and was always excited to practice or sing the catchy songs. The parents laughed and laughed too. I will definitely do it again someday. Thank you but not sure how I will beat it next year... How about a panto?
---
Just Wonderful
Performed by 24 children from our Sunday School as part of a Sunday Service and EVERYONE enjoy it so much. Children from 18 months to 12 years had lines with older children as the narrator. Our Steve the Donkey was nearly upstaged by a dad (a dance tutor) who, dressed as a camel, performed a sand dance during the kings song - amazing. Thank you for such a wonderful telling of the Nativity Story. The Rehearsal CD's were well worth the money - in fact excellent value all round.
---
I ABSOLUTELY LOVE this nativity! My 8 yr old did this and I giggled all the way through!!
I loved it!
---
Loving it!
We have so enjoyed rehearsing for this "nativity". The children and the staff have loved it. Lets hope the parents love it just as much!
---
What a fabulous production
My daughter was so captivated by this music. She couldn't stop singing it and was so excited to perform it. She had always been a bit shy before this with performances, but this seemed to completely captivate her imagination and really brought on her singing capability. fabulous fabulous songs.
---
Can't Wait!
Can't wait do do this with our infant school, the songs are amazingly catchy and the parents will all have a giggle at the title.
---
Add Review