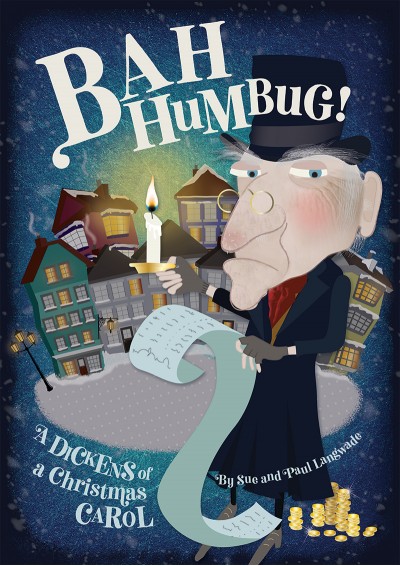 About Bah Humbug!
Written by the same writers as best-selling musical Dragon Days.
Particularly suitable for age 7-11 but can be adapted for a whole school production
2 great dance videos for Fezziwig's Shindig and Glad To Be A Chimney Sweep
It's Christmas Eve and what a night! Or so it proves for the miserable, miserly Ebenezer Scrooge, who finds himself visited by some rather unexpected characters! Through encounters with his former partner, Jacob Marley (deceased), and three very different ghosts, Scrooge is given the chance to revisit his past, weigh his present and glimpse his future. Will he take this once-in-a lifetime opportunity to change, or will he choose to remain in the bleak and lonely world he has created for himself, bound by chains of selfishness and greed? Find out in this fun adapted version of 
Charles Dickens' A Christmas Carol,
a fantastic
Christmas musical
for ages 7-11.
An Annual Performance Licence is required to perform this Christmas musical.
Sample Script:
An editable script is available for this product when you purchase a pack that includes an eSongbook.
Cast List:
Cast List and Staging Suggestions

There are 68 speaking parts in this production. This can be reduced to 44.
Click on the cast list and staging link above for more information on decreasing the cast.
Running Time:
Total performance: 60 minutes approx
Total length of music: 21 minutes approx
Licence Information
Annual Performance Licence Information - What You Need To Know
A current Annual Performance Licence is required to perform a musical or nativity to an audience (other than to pupils & staff), including an online audience, and irrespective of whether admission charges are made.
It is more cost effective to purchase an Annual Performance Licence as part of a complete product pack.
An Annual Performance Licence covers any number of performances of a particular musical or nativity within 12 months of the date of ordering. A separate Annual Performance Licence is required for each product title.
To renew your Annual Peformance Licence, log into your account if you have one and go to your My Licences section.
Find out more about what your Annual Performance Licence will legally cover you to do.

All of our eSongbooks come with a Single User Licence
This means you can install our Words on Screen™ software onto ONE computer only, or it can be streamed by a single user.
If you would like to install this software onto your network server and/or two or more computers, or allow multiple users to stream Words on Screen™ songs, this will be covered by your Annual Performance Licence which includes extended digital rights. For more information, click here.
The following items are available for this product:
Teacher's Book
Character list
Characters by scene
Props
Costume Suggestions
Staging
Warm-ups
Script
Song lyrics and music score for 9 songs (Piano music score, melody and chords)
Licence and copyright details
Audio CD
Vocal tracks sung by children
Professional backing tracks
4 carols for scene-change music
Words on Screen™ Online
An online Words on Screen™ product to stream or download
Extractable MP3s, printable lyrics, scores, scripts, & additional resources
Words on Screen™ versions of songs so that you can display song lyrics on any whiteboard, computer screen, television or interactive touchscreen. The lyrics synchronize with the music as it plays making them easy to teach and easy to learn
Flexibility to create an expandable library of Words on Screen™ song collections, nativities and musicals in your Out of the Ark online account
Enhanced operation features including 'double-click' to hear and teach a single line
Words on Screen™ user guide
Single-User licence (Please note a Performance Licence is still required to perform this musical)
Licence & copyright details
*For your convenience, we have provided an editable script in Word format for this nativity or musical. The purpose of the editable script is to allow you to adjust the allocation of speaking parts for smaller or larger cast sizes and/or to make minor changes to the text for staging purposes.
Rehearsal CDs
Vocal tracks sung by children
Professional backing tracks
4 carols for scene-change music
Available in packs of 5, 10 or 20
Magical play
What a wonderful play the childre loved it
---
By student
An amazing show! Loads of amazing songs, parts and lines. The Charles Dickens classic has gone to the next level! Amazing!
---
A magical, musical spectacle to celebrate the holiday season!
This is a fun adaptation of the Charles Dickens Classic and contains a creative script with warm-ups, props, costume ideas, staging and lyrics. The teacher's book makes everything stress-free because it is so well organised and doesn't over-complicate things. I'd highly recommend the Words on Screen™ version as it enhances the experience and makes learning songs easier and more enjoyable. Bah Humbug! is a Christmas must-have and is comical, haunting and thought-provoking.
---
Add Review