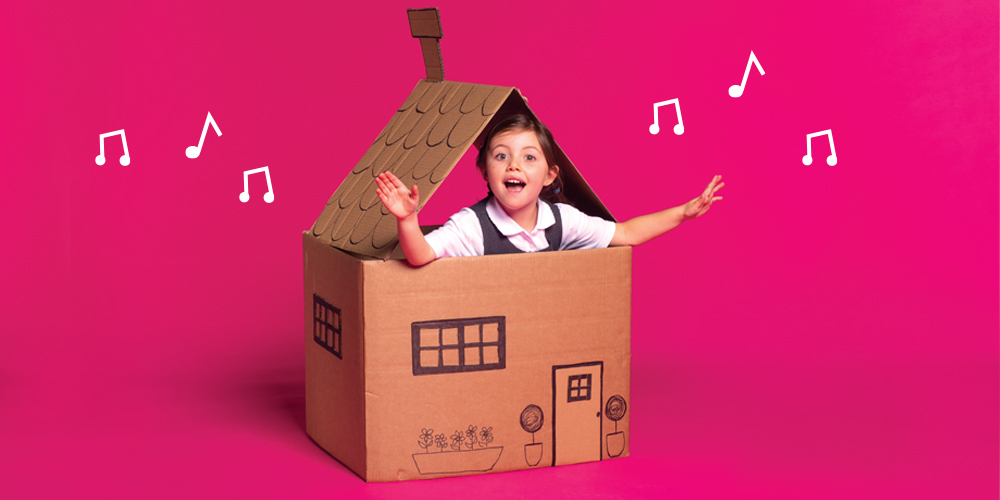 Social media is full of the highs and lows of homeschooling, lockdown and isolation right now.
This is an unprecedented and challenging time for parents and children, so here at Out of the Ark Music
we have made a selection of songs and downloadable resources available for free
to help families shape their own 'new normal' in these unusual times.
Our hope is that as you're squeezed and squashed together with no escape, you'll find joy and unity as a family. So here are our five top tips to help with that!  
FREE songs and resources that will shape isolation time into I-so-LOVE-this time for your family
Allow yourself and your children time to 'decompress'
It's a massive change from the busyness and stimulation of work or school life to being contained at home. All your routines (that you've worked so hard to get them on board with) have fallen away and everyone may feel a little lost at sea. Give them time and space and as much grace as you can! Be kind to yourself and take the pressure off. Don't let that parent-guilt creep in! Build in a routine that works for you as a family, and give everyone time to adjust to the new normal. Routine will help your kids feel safe and secure in a really shaky time, but it may take a while for them to settle in.
 
Watch our FREE song videos and download and use the additional activities and ideas
Use these songs to dance, be silly, make up actions and sing out all your pent-up emotions. Turn up the volume and sing along with the karaoke-style lyrics to stay in time! Each day of the week has its own theme, such as Move-it Monday or Thinking Thursday and includes a song and downloadable activity sheet bursting with ideas, facts and talking points. Click here to start singing!
 
Draw up a family timetable that includes fun, learning, creativity, downtime and songs
Use the newly found flexibility of life to work in your favour! Singing and dancing are huge stress relievers and make for some hilarious family moments so we fully encourage you to include these in your day. Download our free timetable here to customise and help you plan your week to fit your family. Don't try to do too much - make sure you include some downtime! If you're in need of any further inspiration, here's our fun list of ideas and activities to keep everyone smiling. Print it out and pop it somewhere visible to feel confident that you've got this covered!


 
Punctuate the day with more singing 
You can use songs to signal a change in focus as you move into another part of your daily routines and it will really help the children to make the transitions from one activity to another. Why not start the day with Clap Hands! Stamp Feet! (our week two Move-it Monday song) to start the day, before getting dressed and teeth-brushed and then Start The Day With Exercise before you join Joe Wicks and his daily P.E. lessons!
 
Stay connected 
Thank goodness for the internet! (said every parent in this country right now). Use Facetime, WhatsApp or Zoom to help your children stay connected with their friends and family. They'll have lots to catch up on and will be another reminder that although everything seems to have changed, there are constants - and friends and family are still available in this way.

We don't know how long this will last, or the personal struggles or pressures that each of us will have to deal with over the coming weeks, but we hope that you and your family will stay positive, and remember to value the precious time you are able to spend with each other.

Written by Pippa Tucker – Guest Writer and All-Round Creative Lady
 

USED IT? LOG IT! Most schools have a CWCL licence from Christian Copyright Licensing Limited (CCLI) - more information can be found here. This licence grants permission to display song lyrics and music from Out of the Ark Music's Words on Screen™ Singchronize™ Player and CD ROMs, on any projection screen as well as download and share lyrics and music. Whenever you use our songs, please make note of your usage and then log your songs on your CCLI copy report, so that song writers and copyright holders are paid for their work.
Out of the Ark Music has been providing schools across the country – and world – with wonderful primary school musicals and primary school songs for nearly 30 years. Our Christmas musicals and nativity plays make children sparkle and shine, year after year, as they proudly perform their school Christmas play. Our extensive collection of fun and joyous Easter songs, harvest songs, school assembly songs, leavers songs and even space songs, fill schools with laughter and give students and teachers alike, a reason to sing every day of the week. We're glad you're supporting us in our dreams of creating the best music for schools around the globe. Read more about us here.
Click here to post a comment.