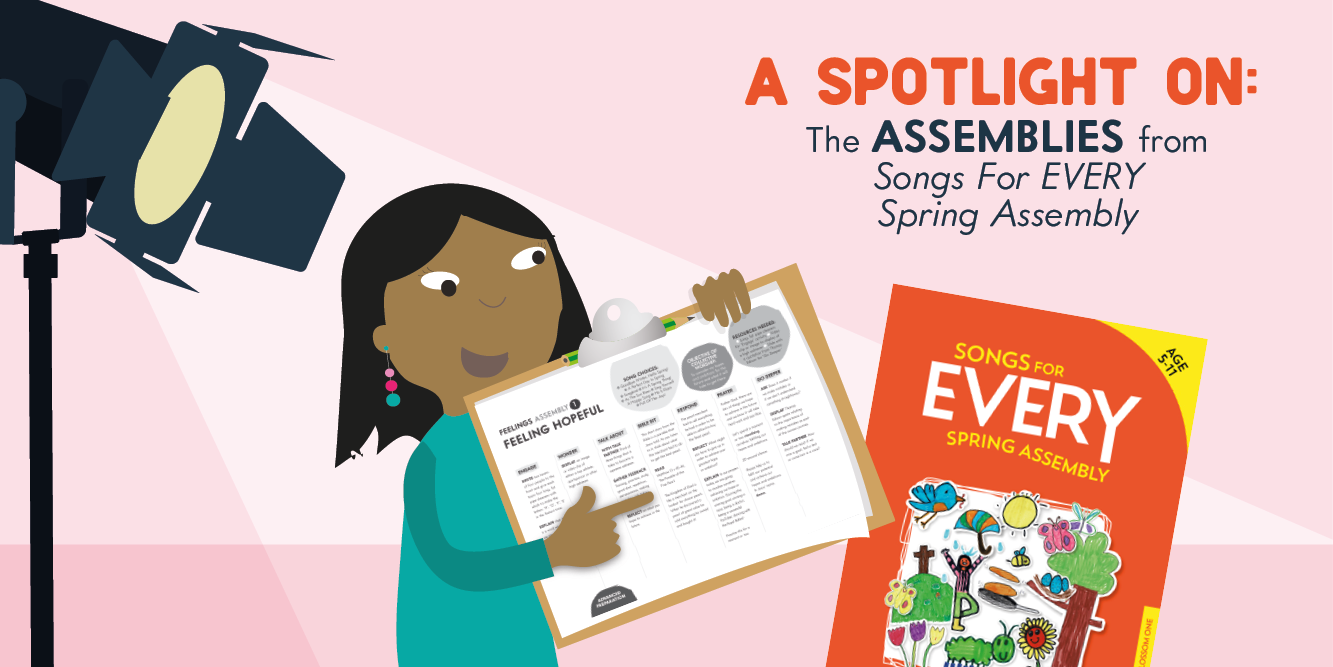 Mid-morning break at last. Time to get your bearings…
Healthy snack? – Check
Packed lunch in the fridge? – Check
10,000 steps? – Nearly done already!
Tomorrow's assembly plan?… Oh no!
No Need To Panic, The Good News Is...
With 15 ready-to-go assembly plans in our new Songs For EVERY Spring Assembly package, we have got you covered!
The assemblies are designed to be really flexible, allowing you to choose the sections that are most relevant to your school. Each assembly provides you with age-appropriate, content presented in an interesting way, encouraging children to develop their thinking, empathy, positivity and creativity, helping you deliver collective worship with ease:
Engage – to grab the attention of your audience
Wonder – to get children thinking
Talk About – to get them talking and sharing thoughts
Bible Bit – to provide a spiritual element
Respond – to allow a time for reflection
Prayer – to encourage children to engage in a positive response
Go Deeper – to suggest ways in which the topic might be further explored outside of an assembly setting
Fun without fuss!
At Out of the Ark, we believe that assemblies should be fun and enjoyable, whilst also giving children the opportunity to consider spiritual and moral issues, develop community spirit and reinforce positive attitudes. Keeping that in mind, in these assembly plans we have tried to use a wide range of approaches to avoid the assemblies becoming too predictable.
What sort of subjects do they cover?
Using examples drawn from spring themes, the assemblies help children explore aspects of life which link with most schools' values:
Responding to challenges and sharing each other's joys
Sharing and celebrating each other's experiences and talents
Fostering respect for both self and others
Developing an attitude of thankfulness
Reflecting on the need for resilience, mindfulness and a healthy attitude to physical and mental wellbeing
Practising being still and reflective
Do they require a lot of preparation?
On each assembly plan you can see at a glance the degree of preparation needed:
Any items you'll need are listed on the plan, as are suggestions for song choices, which underpin the theme of each assembly.
Minimal – requires some simple preparation such as sourcing a few images for slides
Moderate – mainly sourcing images or video clips from the internet (many of which are provided as links)
Advanced – gathering some simple physical objects or pre-preparing a helper or helpers
What if I don't have any time to prepare?
Pick an assembly requiring minimal or moderate preparation and if necessary, bypass the 'Engage' column and move straight to the 'Wonder' column. You may still need to access a YouTube clip, but where something very specific is needed, the links are given.
Do I need to know my way around a bible?
No, all texts are included in the body of the plan. In cases where there is a responsive story in place of a biblical text, these are given as appendices.
Can the assemblies be linked to our values?
Yes they can. Most of the values inherent in the assemblies will feature in one form or another in a school's chosen values. (Resilience; self-esteem; thankfulness; mindfulness; physical and mentalwell being; appreciation of our planet and its wonders etc.)
Can you give me an idea of the content?
The assemblies are grouped in threes under five different umbrella headings. Below is a brief explanation of each one:
Spring Into Life
Super Seeds – linking seeds to potential (Self-esteem)
Light and Colour – exploring the importance of light in seeing colour (Appreciation of nature)
Extra Energy – encouraging children to make use of the longer days to up their activities (Physical wellbeing)
Change
Turning Over a New Leaf – encouraging children to make positive changes (Perseverance/Challenge)
Metamorphosis – encouraging children to appreciate the benefits at each stage of life (Thankfulness)
It's Challenging – helping children to acknowledge that change can be difficult (Resilience)
Thankfulness
People Who Care – encouraging children to be thankful for the people who help them (Thankfulness)
The World Around – recognizing the 'wow' factor in the world around (Appreciation of nature)
Happy Endings – acknowledging that obstacles can be overcome! (Thankfulness/Resilience)
Feelings
Feeling Hopeful – encouraging children to consider their aspirations
Feeling awake – encouraging healthy habits (Wellbeing)
Feeling Good – reminding children of their uniqueness (Self-Esteem)
Festivals
Eggs Galore! – Easter or Pancake Day
Good or Sad Friday? – Easter
Easter Message – Easter
We really hope you will find these resources useful. Now there's only one key ingredient needed to bring them alive – YOU!
USED IT? LOG IT! Most schools have a CWCL licence from Christian Copyright Licensing Limited (CCLI) - more information can be found here. This licence grants permission to display song lyrics and music from Out of the Ark Music's Words on Screen™ Singchronize™ Player and CD ROMs, on any projection screen as well as download and share lyrics and music. Whenever you use our songs, please make note of your usage and then log your songs on your CCLI copy report, so that song writers and copyright holders are paid for their work.
Out of the Ark Music has been providing schools across the country – and world – with wonderful primary school musicals and primary school songs for nearly 30 years. Our Christmas musicals and nativity plays make children sparkle and shine, year after year, as they proudly perform their school Christmas play. Our extensive collection of fun and joyous Easter songs, harvest songs, school assembly songs, leavers songs and even space songs, fill schools with laughter and give students and teachers alike, a reason to sing every day of the week. We're glad you're supporting us in our dreams of creating the best music for schools around the globe. Read more about us here.
Click here to post a comment.