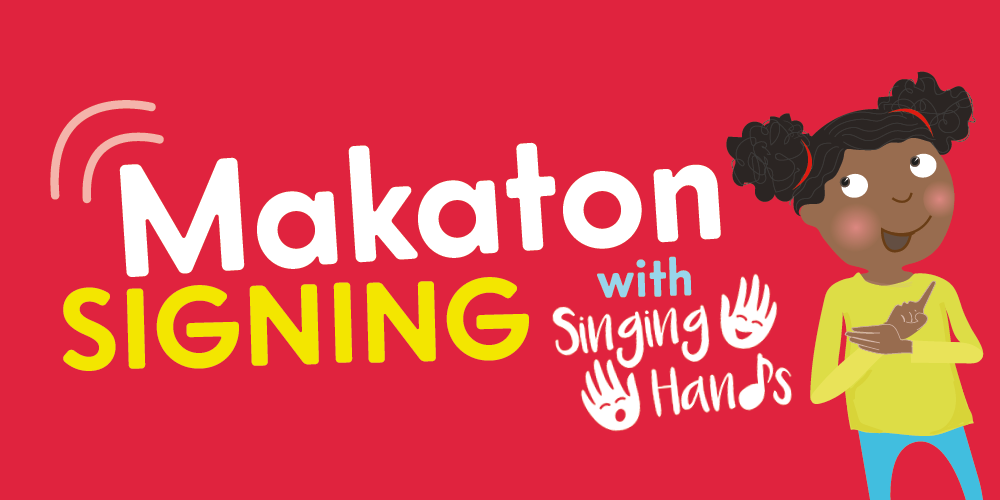 At Out of the Ark Music we believe that singing can and should be inclusive. With that in mind, we have worked closely with Singing Hands to produce Makaton-signing videos for some of our popular songs – you can view them here!
We asked our friends at Singing Hands, Suzanne Miell-Ingram and Tracy Upton (who were recently awarded with MBEs!), to explain a little bit about what Makaton signing is and why it is useful to use alongside songs:
What is Makaton?

Makaton is a language programme that uses a combination of speech, signs and symbols to communicate. Makaton signing helps convey meaning because it gives extra visual clues when speaking. Many of the signs are iconic i.e. they look like what they represent, and the signs are the same across the UK.  

How does Makaton help?

Makaton supports memory and understanding by providing additional visual information alongside speech. By reinforcing these main concepts in a message, it helps support language and literacy development. It can help pre-verbal or non-verbal children or those with SLCN (Speech, Language and Communication Needs) and other learning needs in specialist settings, but it can also be enjoyed by all children in a mainstream setting as a way to promote inclusion. Increasingly, Makaton is being used to support children with English as an additional language, to learn English.

Who are Singing Hands?

Singing Hands was established by Suzanne Miell-Ingram and Tracy Upton back in 2003. They are both parents of young adults with additional needs so have over 20 years' personal and professional experience of Makaton. Suzanne and Tracy have produced six DVDs in association with The Makaton Charity – from nursery rhymes through to pop songs, Christmas carols and festive songs. They have appeared on CBeebies' Something Special, with Mr Tumble, and they are Makaton tutors and patrons of The Makaton Charity. 

Why is Makaton good with songs?

Using Makaton with songs transforms singing into a multisensory learning experience, as the signs turn the lyrics into a visual performance, not just an auditory one. It is a hugely enjoyable way to include children who need to use signing for communication as the whole class, year group or school can join in too. Using Makaton with singing is a child-centred way to use and learn language, and makes learning fun. 

In addition to all this, using Makaton with singing includes key performance skills such as rhythm, placement, timing, awareness of the song structure and delivery of the signs to engage an audience.  Adding the gestures to the song makes it a whole-brain activity too! Importantly, during COVID-19, many mainstream schools who are no longer able to include singing as part of the curriculum, are finding that learning to sign songs is a great way to still enjoy music-making together. Why not give it a go?

Why did we choose these five Out of the Ark songs to sign?

These five songs with Makaton signing are a great starting point for your Makaton singing/signing journey. Each of the songs has an achievable tempo for signing, an uplifting, catchy tune and plenty of repetition to allow you to practise the new signs.  

Hello, Hello and Goodbye are a perfect way to introduce signing into your setting at the start and end of your day, whether you are teaching in person or remotely. 

To find out more about Singing Hands please visit www.singinghands.co.uk.  
To find out more about Makaton please visit www.makaton.org

USED IT? LOG IT! Most schools have a CWCL licence from Christian Copyright Licensing Limited (CCLI) – more information can be found here. This licence grants permission to display song lyrics and music from Out of the Ark Music's Words on Screen™ Singchronize™ Player and CD ROMs, on any projection screen as well as download and share lyrics and music. Whenever you use our songs, please make note of your usage and then log your songs on your CCLI copy report, so that songwriters and copyright holders are paid for their work.
Out of the Ark Music has been providing schools across the country – and world – with wonderful primary-school songs and musicals for nearly 30 years. Our Christmas musicals and nativity plays make children sparkle and shine, year after year, as they proudly perform their school Christmas play. Our extensive collection of fun and joyous school assembly songs, harvest songs, Easter songs, leavers' songs and even space songs, fills schools with laughter and gives students and teachers alike a reason to sing every day of the week. We're glad you're supporting us in our dreams of creating the best music for schools around the globe. Read more about us here.
Click here to post a comment.