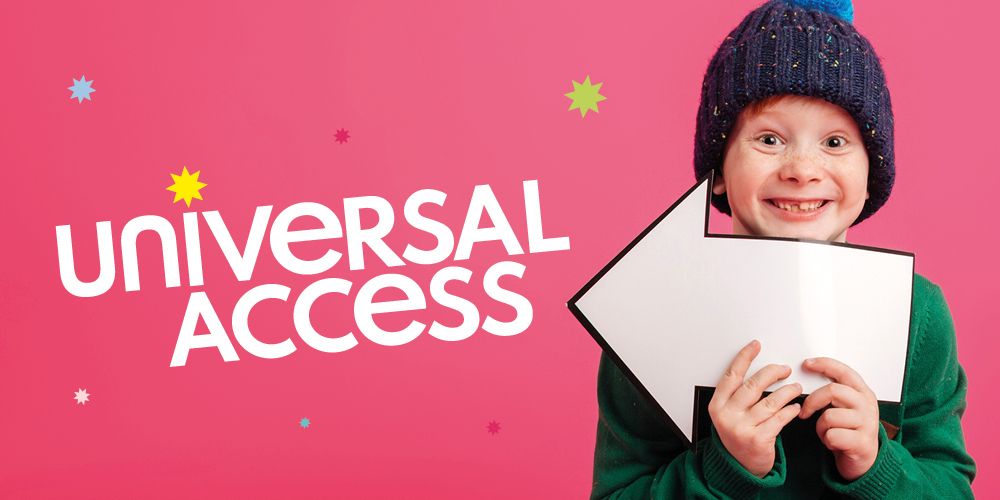 We know what a difficult time this is for everyone and want to do all we can to support schools, teachers and children during this lockdown. Singing, even from home, can help everyone feel connected to their school community. So, in light of the most recent government announcement, Universal Access to our entire songbank* catalogue for a whole year is now available to purchase until the end of February 2021 (please note, this offer has now ended).

Universal Access is an online solution to music teaching, allowing you to continue to sing with your children over lockdown. With a licence that allows you to display the songs and resources over your chosen digital platform, and access to over 900 songs and more than 300 activities, you can continue to sing.

Please note: While you can share your Universal Access content via screen sharing on Zoom or other digital platforms, your pupils will not be able to access Words On Screen™ directly from home.
You can use Universal Access to…
 
Establish a routine
Routine and structure help children feel safe and secure, easing anxiety. A good song or piece of music can really assist in establishing routines.
Try this:
signal the start of your day by singing a welcome song such as
Good Morning
with your children live online, to mark a positive day of learning together.  
Improve wellbeing
Singing helps to reduce anxiety and boost wellbeing and can be a highly significant force in helping to develop a positive and happy mindset. It's the ultimate mood-lifter and is much needed in these unsettling times! Singing can also help children to be calmer and more focused.
Try this:
our songbook
This Is Me
features 10 fabulous songs that cover the key areas of PSHE, all with activity pages. A great way to explore some of the emotions that lockdown might generate.  
Promote unity and community
Songs that instil a sense of school community and identity are great for helping children feel safe and cared for, at a time that might feel a bit unsettling.
Try this:
sing some of your usual assembly songs over your chosen digital platform – or if you're feeling brave, you could try a new one. There are plenty to choose from! You might find our 'Relationships and Belonging' playlist a useful starting point.  
Support home learning
Universal Access includes an abundance of curriculum-based songs to help reinforce learning in core subjects. Our song pathways will help you find out which songs meet your objectives. Not only that, but over 300 musical and cross-curricular activities relating to the songs are included, providing a wealth of teaching ideas, of which many are suitable for home learning.
Try this:
For younger children,
The Doubling Song (I'm Clever!)
has some great actions to help with embedding this maths concept, or why not try the song
Writing!
to kick-start a creative writing lesson at KS2? If you're planning a virtual music lesson, musical doodling is an activity that can work well either live or as a pre-recorded activity.
Let children know they need a pen and a piece of paper and explain that this is their musical doodle board!
Next, play a short extract of music and ask everyone to move an imaginary pen in the air in response to the sounds they hear.
Listen again, this time making marks with a pen on the paper. Explain that the music should 'tell' their pen what to do! Dots, dashes, squiggly lines… anything goes! How does the music change the doodles? Maybe their pen moves faster as the tempo increases, or perhaps quieter sounds encourage smaller marks.
This works with any descriptive piece of music but with younger children you could choose the famous
Carnival of the Animals
and talk about how the animals are depicted in sound before singing
The Tadpole Song
or
Caterpillar Munch
from
Spring Assembly Songs.
With older children you could extend this further by introducing the idea of graphic scores in music and use our fantastic
Fireworks
warm-up and activity from
S!ng Celebration
. Guaranteed to fire up their imaginations!

These are just brief tasters of the 300+ fun and creative ideas included in Universal Access, ideal for enhancing your teaching right across the curriculum.

*excludes nativities and musicals
 

USED IT? LOG IT! Most schools have a CWCL licence from Christian Copyright Licensing Limited (CCLI) – more information can be found here. This licence grants permission to display song lyrics and music from Out of the Ark Music's Words on Screen™ Singchronize™ Player and CD ROMs, on any projection screen as well as download and share lyrics and music. Whenever you use our songs, please make note of your usage and then log your songs on your CCLI copy report, so that songwriters and copyright holders are paid for their work.
Out of the Ark Music has been providing schools across the country – and world – with wonderful primary-school songs and musicals for nearly 30 years. Our Christmas musicals and nativity plays make children sparkle and shine, year after year, as they proudly perform their school Christmas play. Our extensive collection of fun and joyous school assembly songs, harvest songs, Easter songs, leavers' songs and even space songs, fills schools with laughter and gives students and teachers alike a reason to sing every day of the week. We're glad you're supporting us in our dreams of creating the best music for schools around the globe. Read more about us here.
Click here to post a comment.