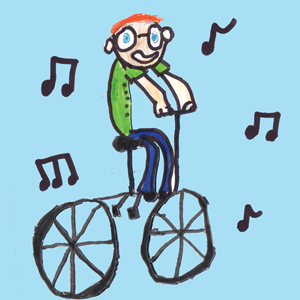 Serried ranks of violins, a phalanx of shiny brass, a row of straight woodwinds and a clamour of bangy, crashy instruments at the back. The spectacle of the classic symphony orchestra in all its glory! Or maybe you prefer rocking out with a couple of cool-looking guitars, a bass, amplifiers and keyboard, all driven by the all-in-one drum kit at the back.
Whatever your taste, the chances are that your favourite music has been made on a variety of instruments, all specially evolved to make the sounds they do – and probably very expensive!
But what if you don't have access to an orchestra, band or flashy production studio, can you still make great music? Take a look at this unusual version of 'Cheap Thrills' from KHS and Kina Grannis:
So every noise you hear, apart from the vocals, is made by strumming, spinning, plucking, scraping or banging bits of an old bike! They've recorded and 'looped' some of the sounds as there are only two 'players', but it's amazing how many musical effects it's possible to create from such an everyday object.

Of course, kids love playing with sounds and this would make a fantastic classroom music activity. Why not show this video as a lesson starter for an instrument-free music lesson?

If you can get hold of an old bike you can try to recreate some of the effects made in the video, but, with a little imagination, you can use pretty much any object to make a whole variety of different sounds: an old trolley, a desk with squeaky drawers, even the room itself (clicking catches, banging doors, scraping walls, wet fingers on windows…). You'll be amazed at the different effects you can achieve with a little experimentation. Let your kids loose with a few drumsticks and scrapers and see what they come up with. Just encourage them to be as inventive and playful as they like with the way they create their sounds.

If you want to step it up, you could try notating the sound effects you've discovered, using a graphic score
to create a sound painting of a journey to school, a street market or a day in the life of a favourite
book character.
Click here to post a comment.