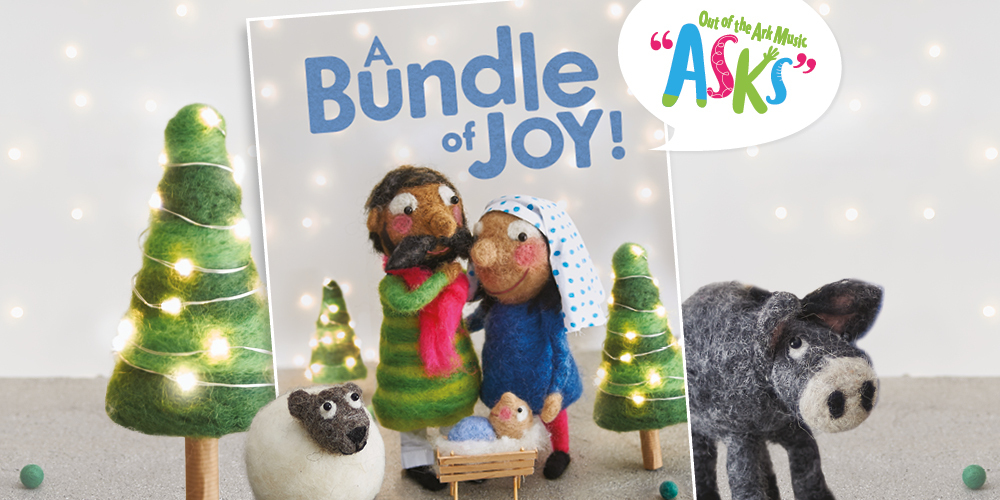 As part of our "Out of the Ark Music Asks" series, here we talk to Rebecca Kincaid and Gaynor Boddy, writers of our brand-new nativity for 3-6 year olds, A Bundle Of Joy! Discover a particularly special bundle of joy this Christmas, with our beautifully simple nativity that is bundles of fun! Sure to warm everyone's hearts, it is full of all the traditional nativity characters plus someone you haven't met before – Grumble, the grumpy, grumbly donkey who travels to Bethlehem with Mary and Joseph.
 
Q: What first sparked the idea for A Bundle Of Joy!?
A: We wanted to focus on the idea of Jesus as a newborn bundle of joy. It is a term that is often used for new babies, but has a particularly profound meaning for the son of God, so was doubly relevant for this special baby!
 
Q: How do you go about finding a fresh take on such a well-known story?
A: It is really fun to take new characters and try to see these well-known events through their eyes. The characters usually guide us in how to bring that fresh approach to the script.
 
Q: What makes A Bundle Of Joy! a good choice for a school nativity?
A: We think it would be great fun! We always feel that our most important job in writing is to inject a lot of fun into it so that all the children enjoy taking part, and to make the story as accessible as possible for the age group that we are writing for. There is a large narrator part suitable for an adult or older child, but many short, simple lines for lots of traditional nativity characters, just perfect for this age group, and then a slightly larger speaking part for Grumble the donkey. 
 
Q: Do you have a favourite song or character in A Bundle Of Joy!?
Gaynor: I really love Grumble the donkey because he isn't really grumpy at all!  The ending is my favourite moment as it finishes with such hope and promise for the future.
Rebecca: My favourite song is A Bundle Of Joy. I always like to try out the songs on children of the right age group as I am writing them, and when a group I work with learnt this song, they just naturally injected it with such joy and enthusiasm that I think it will be a really special finale piece for this nativity play.

Nativities are going to look a little different this year, but it's possible for the children to get that same exciting rehearsal/performance experience however your school is able to put one on. If children are in smaller groups than usual then they can all have a speaking part and a more central role; if they are in bubbles putting on one nativity then you could film the different bubbles and edit them together for a really lovely nativity keepsake; and if your school isn't singing yet, nativities like

A Bundle Of Joy!

have lots of percussion ideas that could be used while playing the audio tracks, or the children could come up with actions or dances instead. It is definitely a year to think outside the box, but that could lead to a really exciting and different performance.

For specific script-split suggestions for this nativity visit the More Information tab on the

A Bundle Of Joy!

product page.

Rebecca Kincaid and Gaynor Boddy interviewed by Hannah Rayson

Take a look at our simple
Nativity Finder
to identify the perfect nativity package for your scenario, and have fun!

USED IT? LOG IT! Most schools have a CWCL licence from Christian Copyright Licensing Limited (CCLI) – more information can be found here. This licence grants permission to display song lyrics and music from Out of the Ark Music's Words on Screen™ Singchronize™ Player and CD ROMs, on any projection screen as well as download and share lyrics and music. Whenever you use our songs, please make note of your usage and then log your songs on your CCLI copy report, so that songwriters and copyright holders are paid for their work.
Out of the Ark Music has been providing schools across the country – and world – with wonderful primary-school songs and musicals for nearly 30 years. Our Christmas musicals and nativity plays make children sparkle and shine, year after year, as they proudly perform their school Christmas play. Our extensive collection of fun and joyous school assembly songs, harvest songs, Easter songs, leavers' songs and even space songs, fills schools with laughter and gives students and teachers alike a reason to sing every day of the week. We're glad you're supporting us in our dreams of creating the best music for schools around the globe. Read more about us here.
Click here to post a comment.