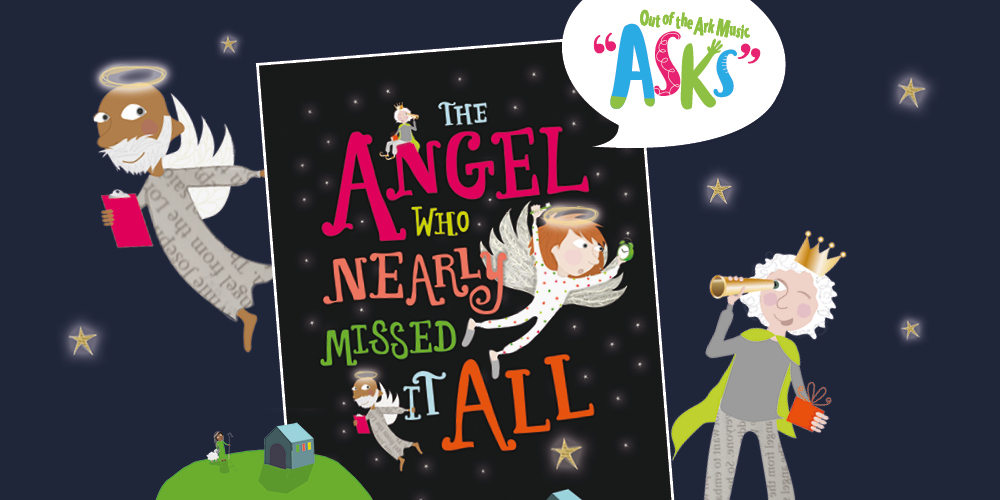 As part of our "Out of the Ark Music Asks" series, here we talk to Danielle Marsh and Lin Marsh, writers of The Angel Who Nearly Missed It All, our brand-new nativity for 4-9 year olds. There have been HOURS of rehearsals and much preparation for the incredibly important role that the Angel Chorus will need to play to spread the news of the birth of a very special baby. But, are they ready? Well, one angel most certainly isn't! Join Late Angel, the Angel Chorus and a whole host of familiar characters in this exceptionally well-written nativity by Danielle Marsh and Lin Marsh.
 
What first sparked the idea for The Angel Who Nearly Missed It All?
Danielle: Lin and I have been talking about writing together for years but after we wrote a musical for my youngest son's class, to mark the end of his time in primary school, we thought we'd look at writing a nativity. We really enjoyed finding a new way to tell the oldest story and liked the idea of a character being slightly behind the action that we are all so familiar with. We all know someone who's late for everything!
 
Do you have a favourite moment in The Angel Who Nearly Missed It All?
Danielle: I think what I've always enjoyed is the animals being a little more astute than their 'owners' and the camels or sheep being the ones who understand the situations, long before the wise men or shepherds.

Lin: I like the moment when the Late Angel realises that this night is really special and different. It's the first time she's not in a rush.
 
What do you think schools will love about this nativity?
We hope they will like the songs and the humour and find lots of opportunities for laughter.
 
Did you come across any challenges when writing The Angel Who Nearly Missed It All?
The challenge is always finding a new slant on the most well-known of stories, that is different but keeps the original at its heart.  We have always worked well together in terms of ideas and have developed a way of getting the best out of each other, but with a nativity you are always aware that there is an important message at the core and you need to ensure that it is told correctly.
 
What's your hope for anyone performing The Angel Who Nearly Missed It All this year?
We hope they enjoy performing it as much as we enjoyed writing and developing it and that this year, especially, the nativity helps people feel the true joy and meaning of Christmas and the importance of being together, whenever we can.

Nativities are going to look a little different this year, but it's possible for the children to get that same exciting rehearsal/performance experience however they are able to put one on. If they are in smaller groups than usual then they can all have a speaking part and a more central role; if they are in bubbles putting on one nativity then you could film the different bubbles and edit them together for a really lovely nativity keepsake; and if your school isn't singing yet, they could come up with lots of actions or dances instead. It is definitely a year to think outside the box, but that could lead to a really exciting performance.

For specific script-split suggestions for this nativity visit the More Information tab on the

The Angel Who Nearly Missed It All

product page.

Danielle Marsh and Lin Marsh interviewed by Out of the Ark Music

 

Take a look at our simple
Nativity Finder
to identify the perfect nativity package for your scenario, and have fun!

USED IT? LOG IT! Most schools have a CWCL licence from Christian Copyright Licensing Limited (CCLI) – more information can be found here. This licence grants permission to display song lyrics and music from Out of the Ark Music's Words on Screen™ Singchronize™ Player and CD ROMs, on any projection screen as well as download and share lyrics and music. Whenever you use our songs, please make note of your usage and then log your songs on your CCLI copy report, so that songwriters and copyright holders are paid for their work.
Out of the Ark Music has been providing schools across the country – and world – with wonderful primary-school songs and musicals for nearly 30 years. Our Christmas musicals and nativity plays make children sparkle and shine, year after year, as they proudly perform their school Christmas play. Our extensive collection of fun and joyous school assembly songs, harvest songs, Easter songs, leavers' songs and even space songs, fills schools with laughter and gives students and teachers alike a reason to sing every day of the week. We're glad you're supporting us in our dreams of creating the best music for schools around the globe. Read more about us here.
Click here to post a comment.