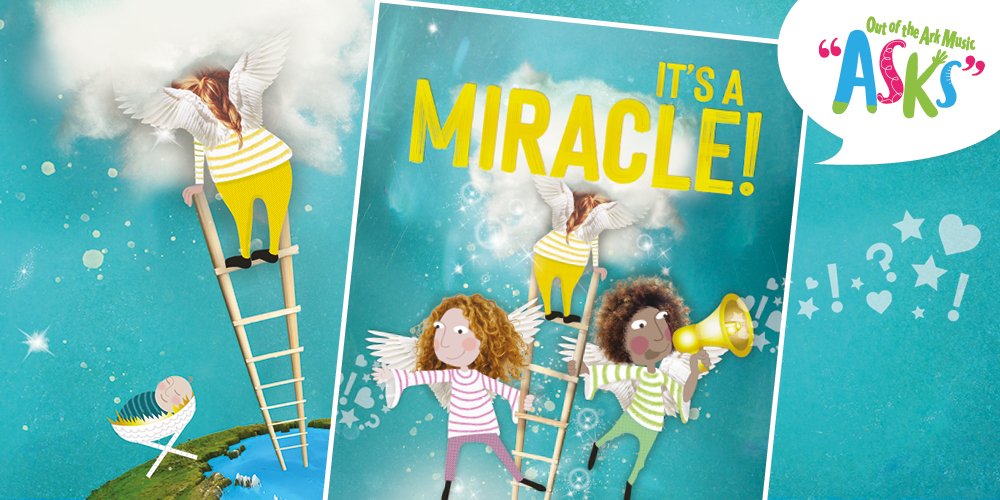 As part of our "Out of the Ark Music Asks" series, here we talk to Mark, Helen and Naomi Johnson, writers of our brand-new nativity It's A Miracle! for ages 5-9. Set half in heaven and half on earth, this nativity captures all the beauty and wonder of the true Christmas story, with just the right amount of humour. The story begins when we meet the 'Holy-gram' machine, a new and divine way for God to communicate. When the Holy-gram sends a very important message to the angels, they fly into a panic. How busy they will all be – there's just so much to do!
Can you sum up It's A Miracle! in a few sentences?
It's A Miracle! tells the story of heaven preparing and orchestrating the miracle of the nativity on earth. As well as engaging with all the familiar characters, we get a glimpse into the behind-the-scenes excitement and logistical challenges of making it all happen.
 
What will schools love about It's A Miracle!?
If we've done our job well, they'll love everything about it! The story, the songs, the humour, the sheer energy and fun of it all. It's simple, it's enjoyable, and it carries a big-hearted message. What's not to love?!
 
What makes It's A Miracle! different to other nativities?
As writers, this is the first time the three of us have collaborated together on a nativity. It's been a whole lot of fun to have joined forces to produce something fresh and original.

Unlike any previous nativities, this one gets told from the viewpoint of both heaven and earth. We believe it makes for a particularly exciting and surprising performance – you'll be 'on the edge of your seat!'.
 
Nativities are going to look a bit different this year, but we know they're an important part of school life. What do you think are the benefits of putting on a nativity?
How long have you got?! We think of the benefits more in terms of 'super-powers'. From day one of rehearsals, to encores and applause, putting on a nativity has the power to build connection and collaboration, spark creativity and community, grow confidence and positivity, and even change the very atmosphere in school. And frankly, in a year of so much uncertainty, who doesn't need a message of hope, and something to look forward to?
 
Did you come across any challenges when writing It's A Miracle!?
With any nativity writing, there's always the challenge to bring freshness and originality to such a familiar story. Rather than just retelling the linear narrative – getting all the well-known characters from A to B – we always want to dig a little deeper. The challenge is to capture the heart and scale of the miraculous story – in a way that's both accessible and authentic, but relevant to children today.
 
What's your hope for anyone performing It's A Miracle! this year?
Our biggest wish for this nativity is that children will genuinely pick up on the excitement of this incredible story – as well as having a great time sharing in it all together. (And here's to no costume malfunctions this year!)

Nativities are going to look a little different this year, but it's possible for the children to get that same exciting rehearsal/performance experience however they are able to put one on. If they are in smaller groups than usual then they can all have a speaking part and a more central role; if they are in bubbles putting on one nativity then you could film the different bubbles and edit them together for a really lovely nativity keepsake; and if your school isn't singing yet, they could come up with lots of actions or dances instead. It is definitely a year to think outside the box, but that could lead to a really exciting performance.

For specific script-split suggestions for this nativity visit the More Information tab on the

It's A Miracle!

 product page.

Mark, Helen and Naomi Johnson interviewed by Out of the Ark Music

 

Take a look at our simple
Nativity Finder
to identify the perfect nativity package for your scenario, and have fun!

USED IT? LOG IT! Most schools have a CWCL licence from Christian Copyright Licensing Limited (CCLI) – more information can be found here. This licence grants permission to display song lyrics and music from Out of the Ark Music's Words on Screen™ Singchronize™ Player and CD ROMs, on any projection screen as well as download and share lyrics and music. Whenever you use our songs, please make note of your usage and then log your songs on your CCLI copy report, so that songwriters and copyright holders are paid for their work.
Out of the Ark Music has been providing schools across the country – and world – with wonderful primary-school songs and musicals for nearly 30 years. Our Christmas musicals and nativity plays make children sparkle and shine, year after year, as they proudly perform their school Christmas play. Our extensive collection of fun and joyous school assembly songs, harvest songs, Easter songs, leavers' songs and even space songs, fills schools with laughter and gives students and teachers alike a reason to sing every day of the week. We're glad you're supporting us in our dreams of creating the best music for schools around the globe. Read more about us here.
Click here to post a comment.