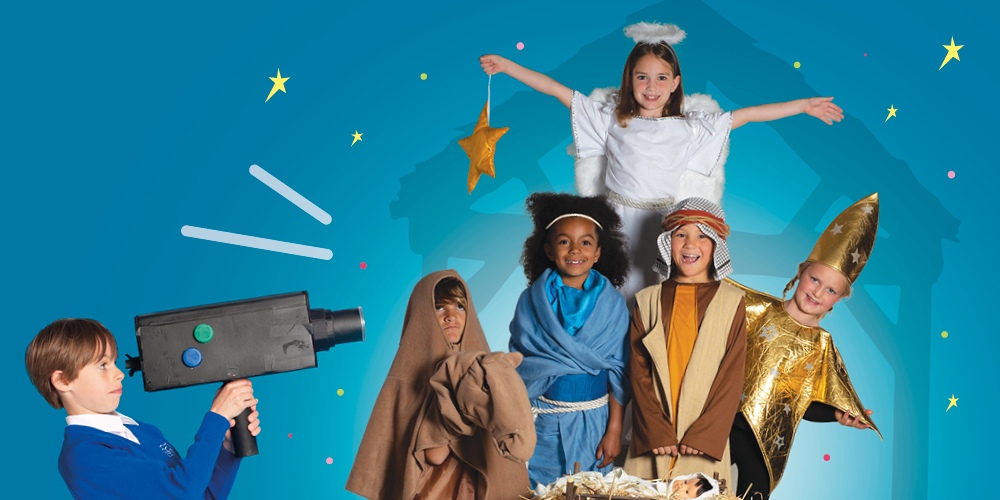 Here at Out of the Ark we have loved hearing the innovative ways in which schools are still managing to put a show on this Christmas, in spite of the many challenges this year – including one school that is hiring a stable and performing outside! However, if you don't happen to have any farm buildings available(!), here are some tips on how to go about filming your nativity, whether you are working in one or more separate bubbles, singing or not singing.

We spoke to Emma Cornet, Kodály Musicianship Teacher at Gallions Primary School in London, and Ashley Roye, former Music Manager at Gallions (now Schools Manager at London Music Masters), about their experiences of filming children's performances.
 
What are the benefits/challenges of filming a nativity?
Ashley:
I don't see the filming or editing of different bubbles together as a barrier. You are just filming different scenes and giving each bubble their opportunity to shine. The excitement for the children of being filmed and then appearing on 'the big screen' is a great incentive for some.
Emma: 
I think some children really rise to the occasion more via video. It can often be less nerve-racking and they feel a great sense of achievement.  
Do you use any specialist equipment for filming/editing?
Ashley: 
We kept it very simple and just used iPads or mobile phones for filming. I then uploaded all the videos to iMovie on my Mac, which allowed me to edit and put the performances together for our end-of-term concert in the summer.
(Edit: If you want to film in a virtual-choir style, with several bubbles and possibly individual children/characters recording their part from home, more sophisticated software might be useful e.g. Adobe Premiere Pro, DaVinci Resolve 16 or Acapella.)  
Top Tips
Try to stick to either horizontal or vertical filming for all of your videos so they look the same when you put them all together.
When recording, make sure you have ample storage space on the device so you can capture as many takes as needed.
Don't rely on school WiFi, sometimes it is better to upload or download material when you are at home, with fewer people using the internet.
For any children filming themselves at home, it is crucial that the track is playing through headphones while the child is being filmed so they stay in time and in tune.
There are tons of short troubleshooting videos on YouTube to help if you get stuck with anything in the editing software you are using.
Give yourself more time than you think you'll need to put it together. As you start editing you will find the process gets quicker, however it does still take time.
Unless you are a technological whizz, keep it simple!
Can the children be involved in the filming process?
Ashley:
I would usually have children on iPads filming at concerts or productions. (This can also be used as a good incentive for children to improve their classwork and behaviour around the school.)  
What about inclusion?
Ashley: 
Inclusion can be a problem if a child isn't allowed to be filmed/photographed. Go through the class lists and see if there are any children that this may be an issue for. Then find different roles for them. They could be a narrator or scriptwriter or assistant director. There are many ways to get them involved without being on camera, and some will love it.
Emma:
Some children who previously I hadn't noticed really shone through. The children loved being filmed and of course, those not on camera can help with the filming.  
Screening your nativity
Ashley:
Contact parents for permission as early as possible in the process. You could arrange screenings using Google Classroom or Zoom that will only allow people with a specific link or password to access it. Once those screenings are done you can edit it and maybe create snippets to go on the school website, rather than the whole performance.

Nativities are going to look a little different this year, but it's possible for the children to get that same exciting rehearsal/performance experience, however they are able to put one on. And whether you live-stream or record your nativity, this year in particular, it will certainly be a performance that children and their families will remember and cherish.
 
The legal bit
This year, we have extended our Performance Licences and given you a COVID-19 Licence Guarantee. Our feature-boosted licences allow you to record, film and stream your performance online. And if you need to cancel your performance, our COVID-19 Licence Guarantee means you can simply give us a call and we will extend your licence for 12 more months free of charge.
  Emma Cornet and Ashley Roye interviewed by Leigh Barnett, Out of the Ark Music Senior Music Editor

Take a look at our simple
Nativity Finder
to identify the perfect nativity package for your scenario, and have fun!

USED IT? LOG IT! Most schools have a CWCL licence from Christian Copyright Licensing Limited (CCLI) – more information can be found here. This licence grants permission to display song lyrics and music from Out of the Ark Music's Words on Screen™ Singchronize™ Player and CD ROMs, on any projection screen as well as download and share lyrics and music. Whenever you use our songs, please make note of your usage and then log your songs on your CCLI copy report, so that songwriters and copyright holders are paid for their work.
Out of the Ark Music has been providing schools across the country – and world – with wonderful primary-school songs and musicals for nearly 30 years. Our Christmas musicals and nativity plays make children sparkle and shine, year after year, as they proudly perform their school Christmas play. Our extensive collection of fun and joyous school assembly songs, harvest songs, Easter songs, leavers' songs and even space songs, fills schools with laughter and gives students and teachers alike a reason to sing every day of the week. We're glad you're supporting us in our dreams of creating the best music for schools around the globe. Read more about us here.
Click here to post a comment.