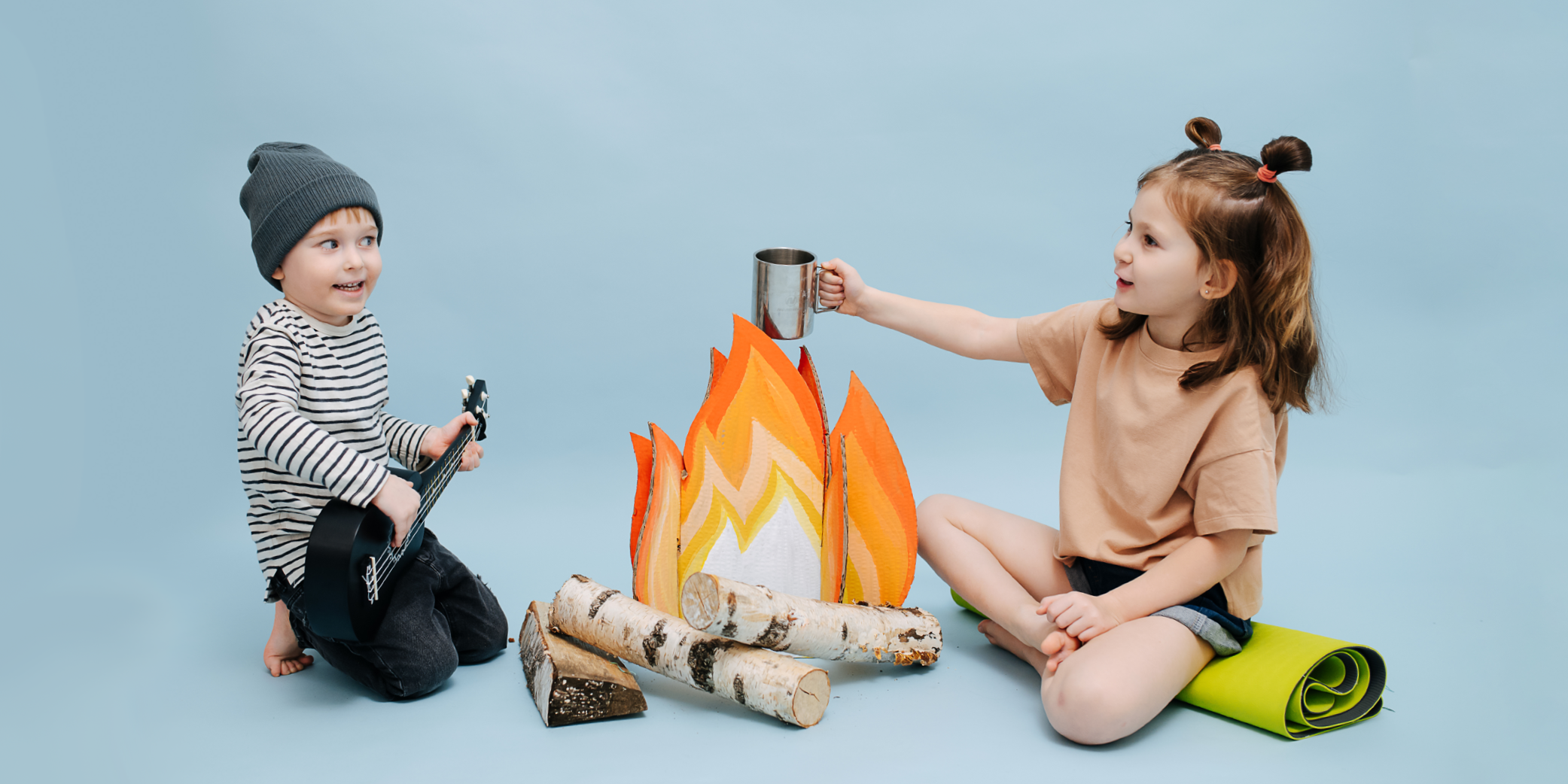 A Fireside Nativity provides all the charm, fun and wit you need to put on a fantastic show, but setting the scene for all the senses will create an immersive retelling of the Nativity story. Here are our top tips for creating a multi-sensory campfire setting. Not all of these will be practical for every school, but we hope they will spark some imagination!
Build a campsite
Place pop-up tents around the edges of the hall, with lanterns, stuffed backpacks, sleeping bags and camping equipment. The audience will feel as though they are in the middle of the camp, ready to be part of the campfire experience. Gather as many camping chairs as you can, or ask people to bring their own, along with blankets to make the audience feel cosy and relaxed.
Create a campfire focal point
A campfire is the perfect focal point for this nativity, setting the scene and acting as an anchor for all the activity. Use real stones to mark out a circle on the floor, creating the edges of the campfire. Papier-mâché rocks will also work and add to the charming home-made style of the set. Collect sticks to build up a triangular campfire shape, using a glue gun and gardening wire to fix it all in place. This can be done in advance and then carefully moved to the stage for the night of the performance. Entwine battery-powered fairy lights round the sticks and inside the campfire structure – ones with a twinkly setting will look even more convincing! Cut layers of tissue paper into large flame shapes, using a mixture of red, orange and yellow. These flames can be pushed inside the campfire and pulled out to stick out of the top and sides of the campfire. The fairy lights will shine through the tissue paper creating a 'fireside glow'.
Engage with taste and smell
Making your school hall smoky is an obvious no-no, so try using food to create the smells and tastes of a real campfire experience. Load a table with hot dogs, mugs of soup, s'more pops and hot chocolate. Ask the audience to bring their own flasks, or serve refreshments using camping equipment like tin mugs. You could even use campfire stoves and coolers to create the look of a campfire kitchen.
Use the 5th and 6th walls
Think about the floor and ceiling as opportunities to make it even more all-encompassing. Hang lots of sparkly home-made stars from the ceiling at different heights, or suspend a fairy-light net that twinkles above the audience and stage. If the ceiling is too high, consider using a gazebo frame without the fabric to create a structure from which you can hang the stars. If you want to disguise the frame, you could use branches and gardening wire to cover it up. Collect winter foliage, such as fir branches and pine cones, and lay these on the floor to bring the outdoors in.
Play a campfire soundscape
Consider using a campfire soundscape as people take their seats and the lights dim – chirping crickets, hooting owls and crackling logs will create an enchanting pre-show atmosphere. There are plenty of these soundscapes available for free on Spotify and YouTube (just listen through for any surprise advert interruptions first!).
Hand out lanterns
Hand out jam-jar lanterns to the audience as they arrive. These can be made in advance by the children, decorated with glass pens, paints or tissue paper, and with battery-powered tea lights inside. The visual effect of lanterns scattered through the audience will be magical, and they make great keepsakes for the children to take home.
Many of these props and ideas can be made by the children in advance, adding to the anticipation that the annual nativity production always brings! Our hope is that your own immersive production of A Fireside Nativity brings the story to life in a fresh way for both the children and the audience. Happy 'camping'!
Click here to find out more about A Fireside Nativity.
USED IT? LOG IT! Most schools have a CWCL licence from Christian Copyright Licensing Limited (CCLI) – more information can be found here. This licence grants permission to display song lyrics and music from Out of the Ark Music's Words on Screen™ Singchronize™ Player and CD ROMs, on any projection screen as well as download and share lyrics and music. Whenever you use our songs, please make note of your usage and then log your songs on your CCLI copy report, so that song writers and copyright holders are paid for their work.
Out of the Ark Music has been providing schools across the country – and world – with wonderful primary-school musicals and primary-school songs for nearly 30 years. Our Christmas musicals and nativity plays make children sparkle and shine, year after year, as they proudly perform their school Christmas play. Our extensive collection of fun and joyous Easter songs, harvest songs, school assembly songs, leavers' songs and even space songs fill schools with laughter and give students and teachers alike a reason to sing every day of the week. We're glad you're supporting us in our dreams of creating the best music for schools around the globe. Read more about us here.
Click here to post a comment.