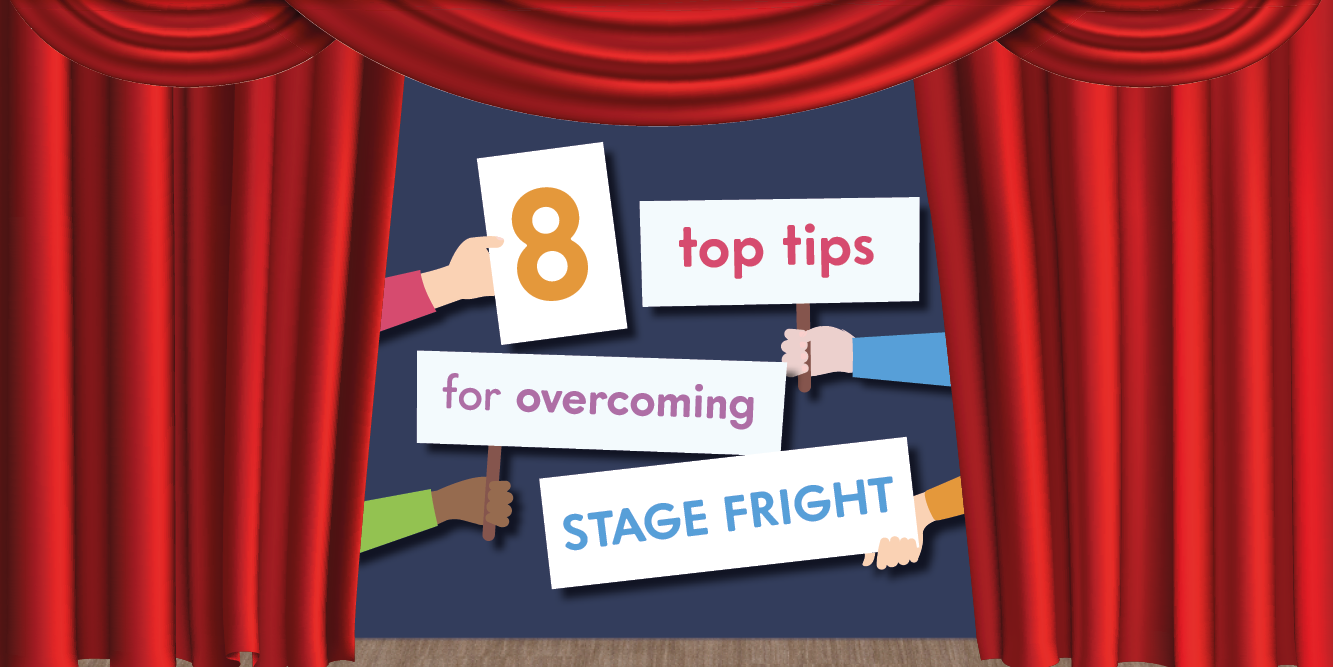 Performing in a nativity or musical can be a highlight of the school year for some children, but for others the anxiety of performing on stage in front of an audience can prevent them from enjoying what should be a very special experience. Managing performance anxiety early on and building confidence can release children into pursuing their passions and reaching their potential in later life, but where do we start? Dealing with nerves shouldn't be something that is just addressed on the day of the performance; there are things we can do during rehearsal time to lessen the impact of stage fright on the big day as well as more specific things that we can do just before we go on stage.
NO UNEXPECTED SURPRISES
Rehearsing as much as possible in the space that will be used for the performance will really help the children to feel comfortable and familiar with their environment. If special lighting or props or backdrops are going to be used, a couple of rehearsals with everything in place as it will be for the performance is essential so that there are no surprises that could overwhelm the children.
REHEARSE, REHEARSE, REHEARSE!
The more you're able to rehearse, the better. If the children know exactly what they need to do and when, it is one less thing for them to worry about.
AUDIENCE IMPORTANCE
I like to talk about the audience a lot during rehearsals to really embed the idea that the children will be performing to people. We talk about the audience as the most important part of our performance – all of our hard work is for them, so how can we make it a really enjoyable occasion for everyone watching? Including the audience in our preparation helps the children to keep them in mind, and focusing on them helps some children take the focus off themselves and start to think about the performance from someone else's perspective. It also reminds children why we need to project our voices so that the audience can hear and then understand what's going on, so that all our hard work has the intended purpose – to entertain our friends and families.
FORGET PERFECTION!
I always stress that no performance is perfect, but it's how we manage the unexpected that matters. Again, we're trying to give the audience the best possible experience and they don't know who is meant to speak when, and what they are meant to say, so they won't necessarily notice things that we perceive to be mistakes. Regularly trying to weave this into the rehearsals is a great way to lessen the stage fright on the day. We then know that unexpected things may occur, but that's fine because we have practised different ways of dealing with them (we practise not glaring at someone who has come in in the wrong place and we try to say things in a different way if we have forgotten our lines). Practising working around these things helps the performance to flow better and the children to feel less worried about making mistakes.
LOOKING PAST THE AUDIENCE
If the children are still feeling really overwhelmed about having a sea of faces to perform to, a good tip is to get to them to look to the back wall of the room – bypassing any faces – and deliver their lines above the heads of the audience. This needs practising during rehearsal times and has the double advantage of getting children to look up and project their voices to the back of the room!
NERVES ARE NATURAL
Reminding children that nervousness before a performance is natural can be very helpful. Explain that nerves are the body's way of helping us to be super-focused on what we've got to do and to do it to the best of our ability.
DEEP BREATHING
Feeling nervous makes us feel tense and often causes us to take quick, shallow breaths that lead to feeling light-headed, tense and out of breath. Taking deep, slow breaths in through the nose (trying to push our tummies out) and releasing the breaths slowly through our mouths to a 'sh' sound helps to relax us and makes us feel better.
CONFIDENCE TRICK!
I have found over the years that one of the best ways to trick yourself into feeling confident is to pretend that you are confident! Before going on stage we like to pretend we are all feeling really confident and we recite something we know in a very loud, confident manner or sing something using strong, bold voices and big actions. Then we shake ourselves out to a long, loud 'Aaargh!' to get rid of excess tension. It also helps the children to remember that they are all in it together and they're not facing this daunting moment on their own.
USED IT? LOG IT! Most schools have a CWCL licence from Christian Copyright Licensing Limited (CCLI) - more information can be found here. This licence grants permission to display song lyrics and music from Out of the Ark Music's Words on Screen™ Singchronize™ Player and CD ROMs, on any projection screen as well as download and share lyrics and music. Whenever you use our songs, please make note of your usage and then log your songs on your CCLI copy report, so that song writers and copyright holders are paid for their work.
Out of the Ark Music has been providing schools across the country – and world – with wonderful primary school musicals and primary school songs for nearly 30 years. Our Christmas musicals and nativity plays make children sparkle and shine, year after year, as they proudly perform their school Christmas play. Our extensive collection of fun and joyous Easter songs, harvest songs, school assembly songs, leavers songs and even space songs, fill schools with laughter and give students and teachers alike, a reason to sing every day of the week. We're glad you're supporting us in our dreams of creating the best music for schools around the globe. Read more about us here.
Click here to post a comment.