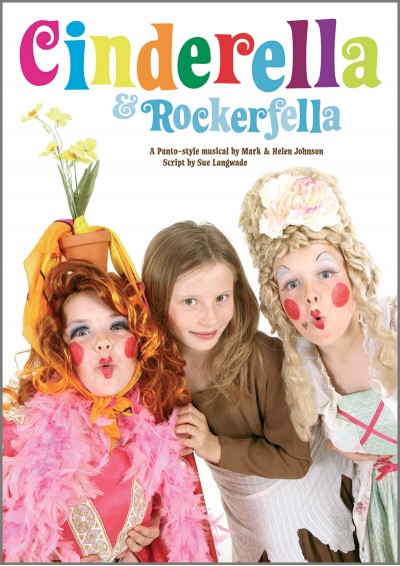 About Cinderella And Rockerfella
Cinderella and Rockerfella
is a modern, panto-style reworking of the classic tale with all the traditional characters: downtrodden Cinderella, Rockerfella (formerly known as Prince Charming), Buttons, the Ugly Sisters and the Fairy Godmother, together with a selection of additional characters, from music managers and paparazzi to good and bad fairies - all placed in a world of fame and celebrity.
With fresh and relevant things to say about fame, fortune and how true love will win in the end, this
Cinderella panto script
is wonderfully comical. It contains fabulous songs together with plenty of opportunity for audience participation.
Cinderella and Rockerfella
is the perfect choice for your school production any time of year and is sure to bring the house down.
An Annual Performance Licence is required to perform this musical. 
Available with Words on Screen™ allowing you to display song lyrics on any whiteboard, computer screen, television or interactive touchscreen. The lyrics synchronize with the music as it plays making them easy to teach and easy to learn!
Sample Script:
An editable script is available for this product when you purchase a package that includes an eSongbook.
Running Time:
75 minutes approx
Solos/Parts:
Songs with Part-Singing:
A Friend Like You
It's Not All It's Cracked Up To Be
You're Going To The Ball
If I Had One Wish
Your Feet Are Too Big!
Happy Ever Afters
Songs with Solos:
A Friend Like You
It's Not All It's Cracked Up To Be
I'm So In Love With Me!
You're Going To The Ball
If I Had One Wish
ISBN:
9781901980899 Book & CD / 9781906988883 Book & CD ROM
Licence Information
Annual Performance Licence Information - What You Need To Know
A current Annual Performance Licence is required to perform a musical or nativity to an audience (other than to pupils & staff), including an online audience, and irrespective of whether admission charges are made.
It is more cost effective to purchase an Annual Performance Licence as part of a complete product pack.
An Annual Performance Licence covers any number of performances of a particular musical or nativity within 12 months of the date of ordering. A separate Annual Performance Licence is required for each product title.
To renew your Annual Peformance Licence, log into your account if you have one and go to your My Licences section.
Find out more about what your Annual Performance Licence will legally cover you to do.

All of our eSongbooks come with a Single User Licence
This means you can install our Words on Screen™ software onto ONE computer only, or it can be streamed by a single user.
If you would like to install this software onto your network server and/or two or more computers, or allow multiple users to stream Words on Screen™ songs, this will be covered by your Annual Performance Licence which includes extended digital rights. For more information, click here.
The following items are available for this product:
Teacher's Book
A brief history of pantomime
Synopsis
Song synopsis and performance tips
Cast list
Casting tips
Costume suggestions
Script - 2 Acts
Music score and song lyric sheets for 10 songs (Piano music score, melody and chords)
Licence and copyright details
Audio CD
Vocal tracks sung by children
Professional backing tracks
Sound effects: Violins, Baddie Music, Fairy, Creeping Music, Love Across A Crowded Room
Words on Screen™ eSongbook
Words on Screen™ versions of songs so that you can display song lyrics on any whiteboard, computer screen, television or interactive touchscreen. The lyrics synchronize with the music as it plays making them easy to teach and easy to learn
Extractable MP3s, printable lyrics, scores, scripts & additional resources
Enhanced operation features including 'double-click' to hear and teach a single line
Words on Screen™ user guide
Single-User licence allowing the Words on Screen™ CD ROM to be installed on ONE computer only (Please note a Performance Licence is still required to perform this musical)
Licence & copyright details
*For your convenience, we have provided an editable script in Word format for this nativity or musical. The purpose of the editable script is to allow you to adjust the allocation of speaking parts for smaller or larger cast sizes and/or to make minor changes to the text for staging purposes.
Rehearsal CDs
Vocal tracks sung by children
Professional backing tracks
Sound effects: Violins, Baddie Music, Fairy, Creeping Music, Love Across A Crowded Room
Available in packs of 5, 10 or 20
Amazing!
I got the part as Cinderella and everyone is so exited to watch it and the songs are so catchy and fun that everyone goes crazy when they here them also they are super catchy so I can't stop singing them!i am so glad my teachers chose this play because it is amazing and everyone loves it including me! I would definitely recommend this play and I give it five stars ⭐️⭐️⭐️⭐️⭐️
---
Such an awesome play! Doing it with my school. Love the songs!
---
---
Cinderella Rockerfella - Amazing Production
I played the part of the Fairy Godmother in the production. A few years ago, our school did this production and then decided to do it again this year. Everyone in Year 6 came together and performed this production 4 times. Everyone was exhausted at the end but had a lot of fun. I would do this again in a heartbeat and I definitely recommend this production. I loved how I got to sing a solo and get Cinderella dressed for the ball. Everyone loved the songs as they were so catchy.
---
Love all parts
hilarious panto school play. I love this because its funny. In school I got the parts of fairy nuff and fairy sajollygoodfellow in one! we are still learning but it is amazing
---
What A Show
Our school has just completed a production of Cinderella and Rockerfella. It was a huge success with our principal and parents raving about how good it was. We did it with our year 5/6 students. It is an excellent show for kids and songs are really easy to teach. The children absolutely loved them.
---
best ever !
The best play ever it is so much fun and the fact that the audience can join in to is fab :) and the best part is , when i auditioned for the role of Buttons ( Cinderells best friend ) i got it !!
---
good play
We are doing this at our school and it is a great play which I would recommend :) but I am slightly upset as I got the part of a villager :(
---
Best Ever!
My Year 5/6 class performed this last year and it was such fun. The audience participation really makes it and the script is very witty. I'm still singing the songs they are so catchy. The children loved it and so did the grown ups!
---
best school performance that the audience had ever seen!
Last night our year 6s did a performance of "Cinderella and Rockerfella". Everyone who came to watch said that it was the best school performance that they had ever seen! Our children absolutely loved doing it and this was due to the brilliant script and amazing songs! I just wanted to thank you for providing such a wonderful resource! Now the problem is.....what on earth can we do next year?!!
---
Entertaining
My Year 6 class recently performed this for their end of year production. Initially, the story was rather difficult to follow and we weren't particularly keen some parts, e.g. Button's limericks, however, on the night, the show was a huge success and the children and parents loved it. It was nice having parents involved in the panto-style cue card replies. We'd like somethinig similar for next year!
---
Nothing Better
I'm The OI in mine. 3 performances, one down people say I'm epic at the oi. Everyone loves it and puts 110% into it!
---
I'm Cinders!
Im Cinders (Cinderella) In part two and i think its a wonderful performance!
---
EPIC
I was rockerfella and i thought the play was EPIC
---
Can't wait till next Christmas!
It has been 4 years now since I first performed this great panto... I can't wait to put it on again with my new class next December. It's simply excellent. Often find myself in the car singing one of the songs four years on! Past pupils now in their mid-late teens, always refer to it if I meet them! Happy memories of a sparkling performance!
---
Amazing
Doing this as the school play and it is the BEST. Dress rehearsal tomorrow! Can not wait this play is SOOOOOOOO good!
---
Amazing
I loved doing this play so much! I was Cinderella and for a friend like you I had to kiss buttons on the cheek!
---
Excellent
This play is amazing! We did it for our year 6's leaving show!
---
Awesome
Love it I really want to be Cinders in this playnnFavourite song is Happy Ever AftersnnWe Have To Audition tommorow
---
Awwesome!
This play was amazing! I did it in my last year of primary school, I was Cinderella! It was so fun! Recommend it! :)
---
Brilliant!
Such a vibrant, fun panto. Children loved it.
---
AWESOME!!!!!!!!!!
My school did this with the leavers this year when I was in year 5 but I appered in this as Princess incogneato (or something) and I still sing the songs now! If we carried on we could rival the guild hall! Everyone truely enjoyed it and especialy my quick thinking when something went wrong! Buy now and truely Rock out!
---
Hillside primary school panto is going to be amazing!
i cant wait till i perform this it is so amazing i love all the songs so much my favourate is friend like you!
---
CAN ANY SHOW BEAT IT!!!!
My Year 3 class loved this last year but how can we top this? Can anyone tell me about a production which can come anywhere close?
---
i'm doing the play at school and i think that it is the best play i think the school has had so far
i love all the songs like never before!!!
---
FANTASTIC
I was cinderella and it was AMAZING i recomend it to everyone.it was really fun to do aswell as an amazing show! everyone enjoyed it!
---
excellant
Hello if you are a teacher and are looking for a great musical this is the one to choose.My freinds teachers and i had a great time performing (the best play we have ever done).The songs are lively, entertaining and easy to learn,i reccomend you to have some dancers!There is also a few duet songs wich are great also.If you happen to buy this you will have my guarantee it sure will not put you down.Costumes are a real hit for this!!nps- this is great for a yr6 leaving play a play parents and teachers will thourally enjoy.Written from the point of a pupiln
---
Great
I work at mossford and this was a really good musical and the school kids loved it when our class performed it!
---
exelent
i really enjoyed doing Cinderella Rockerfella because it was s lively and i was Cinderella(cinders) i want to do it agian but i cant
---
Excellent!!
I have been teaching for over 20 years and I have to say that this is one of the best musicals I have ever done with the Y6 Leavers. The songs are excellent and so catchy, there are plenty of decent sized parts and the script is funny. Mark and Helen Johnson are geniuses!!
---
west street school kieron johnson
i realy enjoy being anastacia beacuse i am so funny in the play me (kieron johnson) as anastacia and agustina is (rhys emmot) he is my sister in the play at west street schooln
---
......
I am doing this play in July as my end of year 6 play even though I am a girl I am doing rocky which is awesome, I luv the song if i had one wish (which I get to sing). If u are considering then this i da BEST play Eva and not another can beat it!!!!
---
wow
This is a great play me and my class really liked it, i was a towns person - it was so great, it was my last play at primary school!
---
Cool
Wicked can't wait to do it at my school
---
great !!
im doing this play in school and have the part of dan deeny i absoloutely love it
---
Amazing!
Performed it last year as Fairy Nastyboots! An amazing experience I will never forget,people say I was really good at being Fairy NB that some people jokingly call me it now lol!
---
Brilliant show
I am a deputy principal in Pukekohe, New Zealand. Our 10 & 11 year old students (200 of them) performed this show last September. It was brilliant!!!! The kids loved it, so did the parents and teachers. We had 2 casts but one choir. We made very few changes to the script. Now looking for an equally as good script for our next production.
---
great
At the panto i was cinderlla i loved doing it
---
Great fun
i loved my part and though its not very big i had fun acting and singingnour year(6) did it on december 13th 2010 and it was huge funnthe parents loved it and our teacher was the fairy godmothernwe changed some of the songs to grease songs and it fitted in so wellnwell done yr 6
---
good
brilliant songs looking forward to doing it
---
cool
it's rellay fun and exicting
---
cinderella rockerfella
it's good because it has catche song
---
leathal
I just loved every minute of this show
---
FABULOUS !!!
I was Fairy nastyboots the play is brillant lots of jokes and gr8 songs !!!!!
---
Super, fantastic, what a laugh!!!!
I'm a teacher at a school in Cambridgeshre and another very dedicated teacher at my school (Mrs Avril Watson) put this show on as a whole school performance, with a main cast (who she looked after) and individual year groups, who added their own sections to it. The play was absolutley fantastic with a very funny script which reached both children and adults! I would recommend this play to anyone and I strongly recommend Avril Watson to be the director!!!
---
Wow!!
It is mint. We did it as a school prouduction last christmas and it was amazing.
---
It's better than Avatar !!!!!!!!!!!
This play is so fun!!!!!!!!!! my lines are all thought out !!!!!!!!!nnIt's the best musical ever in the history of the world !!!!!!!!!!!!!
---
---
WOW!!!!!!!!!!!!!!!!!!!!!!!!!!!!!!!!!!!!!!!!!!100000000000000000 stars
well i absolootely loved it we auditiond and our teacher gave us the parts he thought we would be good at we performed 4 times and my mum came to watch it 3 times!!!!! I LOVED IT. I would definitaely recomend this for any teacher looking for a school play to do
---
wow, my leaving play
this is my leaving play and i love it, i aduitioned for cinderela and im waiting to see if i get the part, but wow i love the play, the parts ( fary liquid is my favorite ), the songs, the jokes, everything about it is child friendly but also grown up at the same time, it has got to be my favorite play yet!!!!!!!!!!! IT GETS MY 5***** RATING!!!!!!!!
---
Top Job
I did this musical with my class last week and for any other teachers wondering about Cinderells and Rockerfella make no mistake this is worth doing with your class.The kids loved the songs,we did it for 2 nights and there was big demand for more performances.The songs are varied and catchy...the children sing them all the time...no weak one.The script is funny and holds the audience.The talent show in the middle is great as it gives the children with special talents a chance to shine.I have put on many shows in my time but this one comes with a very high rating from me.Put it on and you'll be glad you did!!
---
Entertaining!! 5 star
This play is brill! I'm the ugly sister and i'm a boy! Every one can laugh at it even when your being humiliated! I would Recommend Cinderella & Rockerfella to every school in the world. Shadsworth Junior School.
---
AMAZINGG :D
I'm going to be performing this on the 15th July 2010! I CAN'T WAIT :D It's really good. I love `You're going to the ball.`
---
great
i love the songs can't wait until we perform it
---
Brilliant
I think this play has to be the most awesome play ever.It has such lively music that gets the whole audience into the spirit.nI would recommend this play for any school!!!!!!!!!!!!!!!!!!!!!!!!!!
---
super
i thought that this is a super play i an in year 6 and we are doing it as a leavers play y favorouite part is when we sing the song YOUR FEET ARE TOO BIG it is great . i would recomend it too everyone else who is looking for a play to do at any occasion.
---
brilliant funny
i am doing it at school we have shortend it a bit but i love it i would really recomend it. i am the fairy narsty boots. i love it
---
WOW! :)
IT'S AMAZINGLY BRILLIANT!
---
Amazing!
These are the positives of the cinderella rockafella play:nwe are doing it for our school play play this year and if it were just cinderella then we'd be really cross but this play is really different and exciting. We can't wait!!!
---
smart
i think cinderella rockerfella is fantastic .nncause it is funny and it is great for children who leaventheschool.it is also for entertainment and laughter.itnis also a great leaving present for the yr 6s to give tonthe children who are still in the school.nthe funny parts r were the boys are dressed up as ngirls.nncinderella & rockerfella is so cool!
---
Wonderful!!!
This is a wonderful play for people in junior school, our class really enjoys this play.nnIt's hilarious !!!!!!!!!!!!!!!!!!!!!!
---
bear
i love it it is amazing from st.john the baptist girls schooln
---
---
Super Stars
I did this with my Year 3 class as their end of term production. All the class loved it and were brilliant. They did all the singing including the duets and harmonies and the acting was fabulous. All the parents said it was brilliant. In 20 years of teaching it is the best production I have ever done.
---
wowza!
i love this i about to do this i am playing cinderella (wow)ni am kind of shy showing things to my classmates but when i am acting i feel really condfident .n5/5 already!
---
amazing so much fun
we are doing this for our leavers play in july and being buttons is so much fun
---
awesome
i was fairy nuff and i had sooooo much fun it was just a brilliant play and very original and i recommend it to any other school !!! its just sooooo much fun!!!!!!! xxx
---
Greeaat
Lush nice songs brilliant
---
Superduper
We are doing this play as y6 and the songs are brill and the roles for part of stepsisters are hilarious
---
fantastic
this is an amazing play we are doing it for our leavers play
---
brilliant!
i think the play is great i will be playing buttons in two weeks time and i am really looking forward to it the songs are fab (apart from the fact that you cant get them out of your head!)
---
best eva
we have done our play 2 times now. it was brill. all the parents loved it.
---
Review By Augustina
It's Brilliant its so funny were doing our play in two days....!!! Cant wait....x`o
---
it was great
i did cinderella and rockerfella as a play i was the PR i had so much fun doing the play i would do it again !!! there were some great songs and the ugly sisters where a laugh.
---
so cool
its the best play ever our school normaly does nativity but this year its going to be so cool
---
Cool
I AM THE SHYEST IN MY CLASS BUT WHEN I AM ON STAGE I FEEL AT HOME IT IS THE BEST PLAY EVER!!!!!!!!!!!!
---
fab
i had a great time doing this play. i was rockerfella, plus i love all the songs
---
Fantastic
This is the best Primary School production that I have ever seen. The songs are still ringing around my head a week later.
---
BRILL
I played the P.R in cinders and rocky It was sooooooper i did the solo in happy ever afters with to other friends the costume desiner and paparatzzinit was soooooooooo cool i loved itt sooo much my mum even came to see it 3 out of 4 times it was soooooooooooooooooooo good so id recomend it to any teacher whos looking for a panto to do.
---
VERY funny and VERY amusing
I think Cinderella rockafella is a great play to preform at schools or anywhere you like really I'm doing it as a school play now in Year 5 with our teachers I'm the FairyGodmother in the play and I really like being that actor for her its great fun. Overall I think it is a great play and I LOVE it i am recommending it to other people to perfrom this as a play in their school.(Posted on 9/12/2009)
---
The PR
We're doing this as our Xmas play on the 18th of Dec! nI hate performing which makes it a real challenge for me, cause I'm dead shy. But the script is great!nI'm the PR ( public relater )n:]
---
Wonderful
We performed this today ! I was Fairy Nasty Boots ! Her lines were soo evil and my favourite line was ; this cosy friendship makes me sick ! Two miseries that makes me tick ! I would recommend it to all teachers
---
perfect
this is the second time im doing cinderella rockerfella for my chrsitmas play and its amazing i love a friend like you
---
Nervous!
were doing the play soon in the local hotel and I'm the part of Rockerfella I'm really nervous but really excited! Learned all my lines and we're in an all girls school so I'm a girl playing a mans part! Ha ha!
---
The best!!!!!!!!!!!!!!!!!!!!!
I think it was fab!!!!!!!!!!!!!nIn my school we are doing a christmas play and it is amazing!!!!!!!!!!!!!!!nyou have to read the play/script!!!!!!!!!!!!!!!!!!!!!!!!!!!!!!!!!!!!!!!!!!!!!!!!!!!!!!!!!!!!!!!!!!!!!!!!!!!
---
It rocks!!
It was the best play ever it was phenomenal
---
Amazing Pantomine'
The audience laughed heartily; the children performed brilliantly; the singing was super; the Sisters really made the show; the humour was great, everyone had a great time in producing this 'panto', put on at the end of the Summer term, when years 5/6 could relax following SATS!n A great ending to the year.nWell worth the efforts of all concerned. BRILL. We are left with the question, how do we follow that!?n
---
Fabulous
This is a really good play and i really enjoyed doing it.I would recommend it to anyone
---
WOW
Oh wow! I love this play (panto) . im playing cinderella and we havent performed it yet , but i think it will be a huge sucsess!
---
Wicked
I left primary school this year, and we did it in Year 6 as a Christmas pantomine. The yr6 and yr5 classes put it on together. I got the part of Fairy Nastyboots, and I loved it. I loved the intro music that I came on too, and I liked have a Naughty Kitty I could order around. Would reccomend this play to anyone whos looking for a classic fairytale with a modern twist, humour, and who is looking to have fun putting it toghter. It is a great thing for different age groups to bond over and it was a great chance to express oursleves. Enjoyed it sooo much; Fairy Nastyboots is back, Ive rescued Kitty from the sack!!
---
fairysajollygoodfellow
it tis the best musical everrrrrrrrrrrrrrrrrrrrrrrrrrrrrrrrr!!!!!!!!!!!!!!!!!!!!!!!!!!!!!!!!!!!!!!!!!!!!!!!!!!!!!!!!!!!!!!!!
---
Eye-Drawing
This was the first play which i really enjoyed doing!!!nI did it in Flora Gardens School and loved every single part of it!!!
---
by buttons
it was awsome i loved acting
---
Absolutely amazing!!!!!
We performed this with year 3 and 4 children and it was brilliant really catchy songs which the children loved and a good script! Would love to do it again this year but no can do. the kids loved it too!
---
5
we did the play for our christmas play last year and i played anastacia i loved playing her and it was so much fun to do the year 6s got the main parts and the year 5 s got the small parts i loved playing her and want to do it again and again but i was hard to remember the dances my teacher made us do but it was awesome i give it 5 marks
---
Amazing
We did this as a summer play for whole school but the year sixes got the main parts and it turned out brilliant!
---
OH YEAH!
I absoulutley love Cinderella Rockerfella, I was fairy NB and i loved it! My friend was Rocky and she had a quiff in her hair, Amazing Panto! BUY IT!
---
Really FAB songs!
The songs are really fun to sing and the acting is so fun to do!! Our leavers panto is going to be the best panto ever!!!
---
good
the songs are very well written.
---
AMAZING!!!!!
CINDERELLA ROCKERFELLA RULES!!!!!!!! MY SCHOOL IS DOING THE PRODUCTION TOMORROW !!!!AND THURDAY . IT'S THE BEST EVER !!!!
---
Brilliant
We're doing this play at school and it's absoloutely amazing! It's the best Panto I've ever done.
---
amazing
brilliant show really good songs
---
Fantasic !!
I really love the play !! I'm dancing on stage with the party guests to There's a party here tonight !! I LOVE IT . You should buy it !!
---
Cinderella Rockerfella
i think cinderella rockerfella is the best play in the whole world its funny and entertaining my school is doing it this year so far we a in the middle of reherseing for it when i read the script i thought we wouldnt be able to pull it of but now we have practice we are fantastic. I play Fairy cake and i enjoy playing my role.
---
WOW!!!!!
The play is SUPER! I actually auditioned for Fairy NastyBoots, but my friend Mollie beat me, I am now the make-over genius, Fairy G, I give this AWSOME play 5000000000000000stars and my class are doing it as our yr6 play, it will be the best one so far!!!!!!!!!!!!!!!!!! My fave songs are You're going to the ball as i sing it, and One Wish!!!!!!!!!!!!!!
---
AMAZING!!!!!
Loved playing the part as Dan, rocky's manager. I had sooooo much fun!!!!! The ugly step sister's song was one of my fave, but mine and rocky's song 'its not all it's cracked up to be' was the awesomest!!! Were still rehearsing right now!!!! Every one is having so much fun it is better that last year's play!!! :D
---
amazing,funny
cool!!!!!!!!!!nwere doing it at our schooln
---
WELL GOOD!!!!
I'm doing this show for our leaving show at school and it is awsome i'm playing the part of buttons its really fun and the songs are really good and funny you should buy the script and the cd because it is the best show ever garanteed to delight!!!!!!!!The only problem is trying to find the costume its really hard.
---
Brill!
I played cinderella! wow I loved it!
---
Great
CINDERELLA AND ROCKERFELLA PANTO WAS AMAZING. I AM ONE OF THE PUPILS AT CROFTMALLOCH PRIMARY WHO WAS IN IT. IT WAS SUCH GREAT FUN!
---
i love learning the songs
hi well i havent actually dont the cinderella rockerfella play yet be are learning it and it is great !!! im cinderella and i cant wait until the play !!! my favourite song is a friend like you because i like acting it out !!!ncinderella rockerfella play is on of the best plays we have ever done !!!!!! thanks.
---
brilliant
I love it we are doing it for our ed of year production i am fairy nastyboots, i love it. It is so catchy and the costumes are great ca't wait till we show everyone!
---
BEST EVER
OUR SCHOOL DID THIS PLAY AND I WAS CINDERELLA! I LOVED THE TWO SONGS I HAD TO SING: A FRIEND LIKE YOU AND IF I HAD ONE WISH! MY COUSIN WAS BUTTONS,MY 2 BEST FRIENDS WERE VILLAGE PEEPS AND THATS ABOUT IT! I LOVED DOING IT!!!!!!!!!!!!!!!!
---
lively
it is a very fun and happy play. i like the funny and the happy bitsnat the end of the day it is the best thing to wake every one up.nthe best bit is the song the feet are to big bacause you coped a ball room dance and made it funny. the song theres a party here tonight i like because it gets evary one dancing.im 8 and doing the play at school and i love it!!!!!!!!!!!!!!!!!!!!!!!!!
---
---
SUPERB
We are doing this as our End of year production.Im Fairy Nasty Boots. I love it is so hilarious catchy and a complete modern up to date Cinderella. nCinderella Rockerfella Got together!!!!
---
REAL GOOD
ITS REALY FUNNY IM DOIN IT FOR MY PLAY IM CINDERELLA AND ITS GT GOOD HUMOUR AND I LOVE THE SONGS IF I HAD ONE WISH AND ITS NOT ALL ITS CRACKED UP TO BE.YOU WOULD FIND IT SO FUNNY AND ITS QUITE SHORT ID MAKE IT LONGER BY ADDING MORE REMARKS FOR UGLY STEP SISTERS!
---
brillianto
i love love love this play i auditioned for it and i was against my bestie molly and i got it she is the fairy god mother now :) i cant wait to do it i love a friend like you and we made slippers at school before half term how cool is that !! xxx
---
fab
this is a cool play our year 6 are doin it and i'm buttons i am really exicted and i love the musicn
---
PLEASE
My school is doing it and it seems fab. I wanna be Cinderella so badly!! Auditions are in 2 days I really hope it get it. This is great i love the songs
---
phenominal
i am from flora gardens primary school w6 .y6 is doin it for their leavers presintaion. and we absoloutly love it.i am playing fairy nastyboots
---
brilliant
we are doing it at school and i am rocky its awsome !!!!!!!!!!!!!!!!!!!!!!!!!!!!!!!!!!!!!!!!!
---
brillant
my school is doing it and all my class is enjoying it. I'm auditioning for an ugly sister next wednesday
---
Brilliant
i love the songs and the script, my fave is actually a friend like you,
---
five stars
songs you can dance along to and realy good acting.
---
Absoulutely BRILLIANT!
I did this panto at my school a few months ago, we all had so much fun putting it on! I was freddo the frog xD The songs are phenomenal and I cant get enough of watching the video of ISILWM that my dad took! Brilliant story line, Brilliant songs, Highly recommended!
---
great
a very good play for young children,also very funny
---
WOW
I am doing this play in a theatre that is near my school i am so excited it is on the 29 march -1 april i am so excited are first performance is tonight and i cant wait my best friend is cinderella and my friend jamie is rockerfella i love a friend like you its the best its is a bit tricky though!!!!nnnnn
---
Brilliant and exciting
My school are doing this play and I think it is brilliant. I am Buttons even though it is a boys part. Me and one of my friends mellisa sing together in a friend like you. Melissa is Cinderella. I just love this play it is so funny and is oldfashioned but yet 21st century! WOOO
---
Cinderella and Rockerfella
We are doing this play is school we are doing it for the school on the 2nd of April i cant wait. I am cinderella and we are doing loads of practicing and it is so fun I cant wait to do it. I love all the songs!!! Well Done Mark and Helen xxx
---
fantabulous
my school did this play a few weeks ago it was brilliant. It was great crack practicing in the hall in our school i was one of the fairy nastyboots and so was my friend. We did it for two nights and it was a huge success everyone in the audience stood up and danced at the end. it was worth all the hard work in the end.
---
FANTASTIC
me and my school did this play . its really good
---
Excellent!
A brilliant production. Great script and fantastic songs. Our children loved it and the feedback from parents was great. It'll certainly be a hard production to beat!
---
Wonderful!
Well you've done it again!! We performed Cinderella & Rockerfella this year and it was just the most amazing show "what you have ever wrote"!!!!! We are a First School and so the eldest children are just 9 years old. I know that the suggested age range for this show is 8-11s however, as we have some very capable children in our year 4 I decided to 'go for it.' They were absolutely amazing and had the time of their lives thanks to your brilliant script and songs. This is the first time we have attempted a Panto' style school play and it brought the house down. The Ugly Sisters are just 8years old but they showed a sense of timing and comedy which could put many professionals to shame. Cinders was a delight (her Granny made her gorgeous dress) Buttons was the perfect partner for her, Rocky and Dan played their parts like Elvis!! and we had two Nasty Fairyboots who attracted all the Boos and Hisses everybody could muster. Naughty Kitty could get a part in 'Cats' anytime and you would have wanted to take Teaser home with you had you been at the show. ADORABLE! Our Fairy Godmother tackled her challenging song with maturity beyond her years and the Fairy Brigade drove me mad as they are such 'dippy' girls and could never remember when to come on!! I forgave them everytime as they all looked so gorgeous!! The warm-ups were boys who don't normally like to get involved but they revelled in their parts and I would not be surprised if you were able to hear our two Town Criers down there in Surrey! We involved all the other classes of course and every child (152 of them) was at some point up on the stage. We as a staff agree that this was the most amazing experience for all of these children, one which they will remember long after they have forgotten their Numeracy and Literacy lessons!! Just one more small detail which I would like to share with you. For 34 years I have worked as a classroom assistant in 'my' school and have been in charge of Music and Drama for most of that time however, in June,I will reach the grand old age of 65 and so I am retiring in July. This was my final Christmas production and I couldn't have wished for a better way to 'bow out.' Thank you so much for the wonderful opportunity to produce what I consider to be the best show we, as a school, have ever had the privilege to perform.nnHappy New Year to you all. You are 'SIMPLY THE BEST'nn
---
better then the best there ever was!!!!!!!!!
i think this play is amazing has catchy songs it has comedy, romance and everything else. i am performing it soon at school and i am buttons if i was a head teacher i would pick this play for the students to do. and it doesn't have to much romance and doesn't go over the top with the comedy (like the ugly sisters)when i was learning my lines it only took two or three days to do! because the lines were so catchy !WOWn
---
Fantastic script / songs and lots of laughs!
Our school performed Cinderella and Rockerfella this month and it was an fantastic success. There were a wide variety of parts so seemed to fit with most children and even if they didn't have many lines, they were up on the stage taking part singing and joining in. The ugly sisters roles were suberb (slight bias as my son was Augustina!) The parents agreed this was the best christmas production in the last 7 years - we have not laughed or cried so much in a long time!
---
Superb!!... offers a varied selection of solo and group musical pieces ...Gr8
My school performed this today. nnThe roles are superb and the 'ad libs' were so apt!!nnThe script is so well written and the variety of songs and music is so user easy.nnWithin the script there is plenty of room to adapt it to fit in with any sized school.
---
very good
lovely book for singing teachers
---
AMAZING
i was Cinderella I am glad you done it ,my school was soo proud of us and its a sweet one and the song if i had one wish amazing i'll miss it soo much but thank you
---
really good
I was cinderella i have just finished doing it with my class i really enjoyed it
---
EXCELLENT
I got the part of Fairy Nastyboots and i love it. Plus my best friend is the Fairy Godmother. My other friends are all in the Fairy Brigade! nMy other friend is the rear of the limo. The limo they got was wicked. Did I mention that I love playing the part of Fairy Nastyboots! If you're looking for a Christmas Pantomine this is the one to get! Sorry, got to go now. It's my last performance tonight so I have got to get ready. I hope you like the show. Break a Leg!
---
Speechless
I love it. I am not a main part I am the mirror but i love it
---
by rhiannon
i love it im Fairy cake its the play iv done
---
brill
i love this play and i am fairy nastyboots at my school play
---
good
well good doing it at our school can't wait so far everyone says it was brill showing it on monday. Amy is cinderella dream scene isn't that good!!!!!! she's a well good singer! make happy ever after a choice to click on because you can't click on it at the moment. thank you.
---
the best
i am doing it at my school my fav song is theres a party here tonight and im a good fairy
---
great
brill play doing it at school my fav song is friend like u
---
fantastic
I love cinderella and rockerfella it is so sweet but so funny and someone asked nme " what is the best part" and my answer was all of it and another thing i love about it is.I am CINDERELLA so i just want to thank out of the arks for introducing it and thank you to my teacher for choosing me.nnbye byen(p.s. did i mention i love it)nfrom Abbie price :)
---
fantastic
this is fantastic. my school is doing it for our nativity this year and i am fairy sajollygoodfello!!! yey.
---
great
in this panto the are catchy songs, funny jokes and fab characters. i love it and cant wait for it to be done by our school
---
Brilliant
We are doing this play at school and again I am Cinderella!! The good thing is the main part doesn't have loads of line and I like the solos! So overall great!!
---
Fantastic
Im doing this at my school and I got the part of Cinderella!!!nI think this is an amazing play and very funny and extermely romantic!!!n nOut of the Ark looks like a wicked site and all the plays look wicked!!!!nnthanks from Cinders!!! hehe
---
catchy dazziling and amazing
i think this play is amazing and if teachers are looking for a Christmas play this is great you can get the kids involved a lot and the songs are really catchy one of the songs gets you moving it is there's a party here here tonight and tonight's the night . It also get the audience involved i would describe it as funny exciting catchy amazing thrilling dazzling and there's lot's more i could do.
---
brilliant
I think it is amazing i love rockerfella he rocks
---
great
i think this is agreat play and wish i could sing it really well
---
great resource
Catchy songs which the kids absolutely love, all provided on a cd, so no one has to be in the hall 24/7 playing the piano. A must to make any Christmas easier for teachers!
---
Dazzlingly Catchy!
When I saw the ominous words "forthcoming pantomime", I was so excited that the brilliant Out of the Ark were venturing into new territories, and I was not let down! I received my copy of the book and CD, and have not stopped listening to the wonderfully suitable panto-style songs and lyrics. The script is fantastically written, one of the most hysterical yet simple in nature (just as a good panto is) adaptations I've ever heard. My sincere congratulations to everybody involved with the publication of this masterpiece, and to anyone in doubt, this can be performed at any time of year, particularly in the inevitable "panto season" - it's sure to "bring the house down"!
---
Add Review