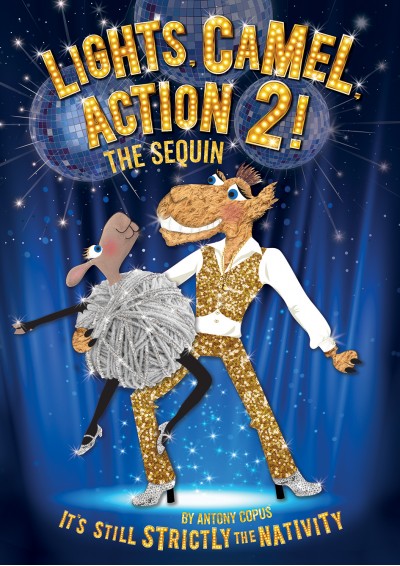 Look Inside
Try it for FREE with Sparkyard
For more detailed information, click here.
---
The star-studded cast of nativity celebrities are back in the Bethlehem stable to put on a spectacular show to celebrate the birth of Jesus and retell the Christmas story. With a whole new set of dances, including the hustle, Charleston and conga plus six dazzling new songs and a fabulous brand new script, it's still strictly the nativity!

If you're looking for a nativity for ages 5-9, this is perfect. Equally, with this core age group in place you can easily involve your older children, who will thoroughly enjoy the humour and glitz this show has to offer.
An Annual Performance Licence is required to perform this title. For more information, please click here.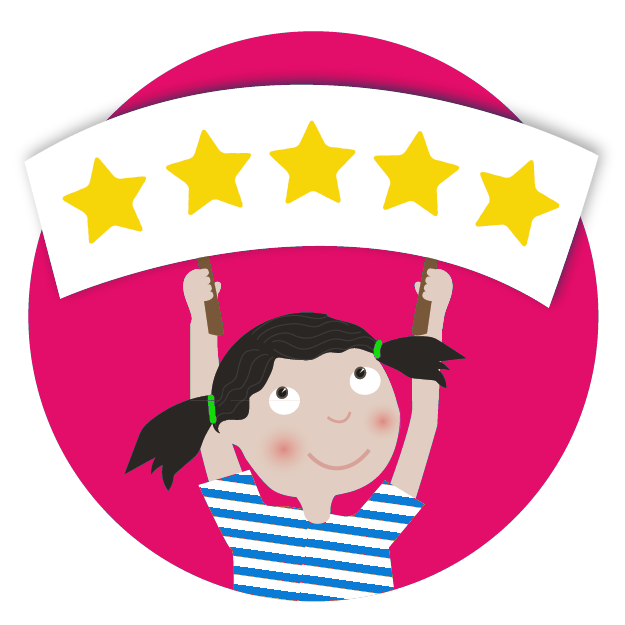 WHY YOU'LL LOVE IT
Get your party hats out, this one's a truly modern celebration!
About Lights, Camel, Action 2!
From the author of best-selling nativities Hey Ewe! and Lights, Camel, Action!
Adaptable script for large-group performances
Available with a 

Words on Screen™

allowing you to display song lyrics on any whiteboard, computer screen, television or interactive touchscreen. The lyrics synchronize with the music as it plays making them easy to teach and easy to learn!
Suggested choreography and helpful dance videos for each song available online.
They're back! A star-studded line-up of nativity celebrities has gathered in the stable once again to celebrate the amazing events of that first Christmas. With a retelling of the incredible story of Jesus' birth alongside a fabulous new range of dance styles from gospel to hustle and ceilidh to conga, settle yourselves in for a Christmas celebration full of pizzazz and razzmatazz!

The judges have gathered their scorecards, dancers are waiting in the wings and the audience is assembled for Lights, Camel Action 2! The Sequin.

An Annual Performance Licence is required to perform this nativity.
 
Sample Script:
An editable script is available for this product when you purchase a Premium package that includes an eSongbook.
Cast List:
Character List and Staging ideas



Increasing the cast size

There are 20 speaking parts in this nativity musical, but these can easily be increased by:
splitting the three hosts' lines between lots of children
splitting the four shepherds' lines between eight children
splitting the three stars' lines between eight children
There are 16 essential non-speaking parts (one floor manager, four Roman soldiers, four Nazareth neighbours, two sheep, the Angel Gabriel, two Heavenly Host angels and a minimum of two camels). To increase the number of non-speaking parts, have as many Roman soldiers, Nazareth neighbours, sheep, angels and camels as you like and a few more floor managers.
Decreasing the cast size
The minimum number of children that you could perform this nativity musical with is 22, but that would require:
having just two hosts
having just one floor manager who would also take on the voiceover role
having just two Roman soldiers, two angels for the Heavenly Host, two shepherds, two sheep and two camels (with the Roman soldiers doubling up as the two shepherds)
having just four Nazareth neighbours who would double up as Balthasar, Caspar, Melchior and the Star Of Bethlehem
having just one star friend for the Star Of Bethlehem (Star 1 would take all of Star 1, 2 and 3's lines)
Running Time:
Total performance: 38 minutes approx
Total length of music: 12 minutes approx.
ISBN:
9781911430728 Book & CD / 9781911430735 Book & CD ROM
Licence Information
Annual Performance Licence Information - What You Need To Know
A current Annual Performance Licence is required to perform a musical or nativity to an audience (other than to pupils & staff), including an online audience, and irrespective of whether admission charges are made.
It is more cost effective to purchase an Annual Performance Licence as part of a complete product pack.
An Annual Performance Licence covers any number of performances of a particular musical or nativity within 12 months of the date of ordering. A separate Annual Performance Licence is required for each product title.
To renew your Annual Peformance Licence, log into your account if you have one and go to your My Licences section.
Find out more about what your Annual Performance Licence will legally cover you to do.

All of our eSongbooks come with a Single User Licence
This means you can install our Words on Screen™ software onto ONE computer only, or it can be streamed by a single user.
If you would like to install this software onto your network server and/or two or more computers, or allow multiple users to stream Words on Screen™ songs, this will be covered by your Annual Performance Licence which includes extended digital rights. For more information, click here.
The following items are available for this product:
Teacher's Book
Character list
Costume & prop suggestions
Staging suggestions
Script
Music score and song lyric sheets for 6 songs & 2 instrumental pieces (Piano music score, melody and chords)
Licence and copyright details
Audio CD
Vocal tracks sung by children
Professional backing tracks
Words on Screen™ eSongbook
An online version of your product to stream or download on-the-go
Extractable MP3s, printable lyrics, scores, scripts (including editable script*), & additional resources
Words on Screen™ versions of songs so that you can display song lyrics on any whiteboard, computer screen, television or interactive touchscreen. The lyrics synchronize with the music as it plays making them easy to teach and easy to learn
Stream or download your songs on the go
Flexibility to create an expandable library of Words on Screen™ song collections, nativities and musicals in your Out of the Ark online account
Enhanced operation features including 'double-click' to hear and teach a single line
Words on Screen™ user guide
Single-User licence (Please note a Performance Licence is still required to perform this musical)
Licence & copyright details
*For your convenience, we have provided an editable script in Word format for this nativity or musical. The purpose of the editable script is to allow you to adjust the allocation of speaking parts for smaller or larger cast sizes and/or to make minor changes to the text for staging purposes.
Rehearsal CDs
Vocal tracks sung by children
Professional backing tracks
Available in packs of 5, 10 or 20
Great nativity!
I watched my daughter perform this play for her Christmas service. It was an amazing nativity for her and her class to perform. I haven't seen many plays with a twist but this one was by far the best play I've seen! My daughter says thank you to whoever made this play as it is now her favourite!
---
Excited for my class to perform this!
The head teacher at the school I work at just bought this for me. I've wanted it for my year 6 class who will perform with year 5. I'm really excited to show the children! The songs look great and I know the characters will be to. I've watched my daughter perform Lights ,Camel ,Action at her school so I hope lights ,camel,action 2 will be just as good! Thank you out of the ark for yet another great production!
---
teachwire.net: Review Autumn 2019
It's a good job Christmas is just once a year because I don't think many teachers would be able to cope with the hysteria, especially when it's your turn to do the Christmas production. Out of the Ark Music comes to the rescue with two new musical productions tailor-made for festive fun and frivolities. For ages 5-11 is Lights, Camel, Action 2! The Sequin, a flashy and ritzy nativity with a heavy dose of 'Strictly'. The show is played out much like it does on TV, with contestants dancing to a box full of styles, from gospel to conga, and judges giving their witty and caustic feedback and scores. With 20 speaking parts, 16 essential non-speaking parts and a running time of around 40 minutes, this is a nativity with passion, attitude and sacks of fun. With more razzle dazzle than you can shake a stick of Blackpool rock at, this pure song and dance nativity is high-energy and fab-u-lous. This nativity also comes with a short compilation video of the dance moves. For ages 5-9 you could opt for I'm Gonna Shine! and take a trip to heaven to meet top star Gloria before heading down to Earth to the Oasis Retail Park where you can buy state-of-the-art camels with turbo spit and spare humps. This nativity celebrates the VIP-est of all VIPs in a production packed with comedy, taking in King Herod's Palace, a trip to Bethlehem and a tumbledown stable. I'm Gonna Shine! reimagines the Christmas story and expands the characters but retains the core narrative, turning it into a fresh and modernised nativity performance. It is 50 minutes of pure joy and with 59 speaking parts, there's plenty for everyone to be a star. Both resources come with a quality Teacher's Book with staging directions, suggestions for staging and props, cross-curricular ideas, costume ideas, percussion suggestions, music score and song lyrics. Also included in the £55.85 price is an Audio CD containing high-quality backing and vocal tracks, Words on Screen v2 CD ROM and annual performance licence. These new nativities are life-savers and will ensure you are not tying yourself up in knots about performing the same old worn out production that folks have seen for the last decade. They are what Christmas is all about and the icing on top of the Christmas cake. The whole school community will love them.
---
Add Review