To celebrate Shakespeare Week 2018, Out of the Ark Music are giving away the song
Who Was William Shakespeare?
 for FREE in Words on Screen™ v2 online format to Shakespeare Week subscribers.
To access your FREE Words on Screen™ song Who Was William Shakespeare?:
Click on the song link below and add the song to your basket. This song is FREE for you to use and you will not be charged.
Click proceed to checkout to complete the process – simply type in your name, organisation type, school email and password (required to login and access the songs) or simply log in to your existing Out of the Ark Music online account if you have one. Please only use one generic account that all your staff can log in to if you are downloading this for your school.

Listen and use your song
When you have logged in to your account:
The top left box in your account area called My Words on Screen™ Online shows you how many songs and eSongbooks you have in your account, including the song you have just downloaded.
Either stream your song directly from your account (by clicking on STREAM ONLINE) or install the S!ngchronize™ Player on to your computer if you have limited access to an internet connection (by clicking on DOWNLOAD PLAYER). 
FAQs
What should I do if my school server won't allow me to download my songs?
A few schools find that their server blocks them from downloading the S!ngchronize™ Player and accessing the songs. If this happens click on 'Trouble Logging In?' on your player and follow a few simple steps to allow you to access your songs.
Can I play my songs without internet access?
Once you have logged in to your account (using your email and password) and downloaded your S!ngchronize™ Player to access your songs, you can transport your laptop anywhere you choose. The songs will still play without internet access providing that you don't log out of your account. If you log out, you will require internet access to log back in.
If you are having any technical problems, please call our S!ngchronize™ support team on 020 8481 7202.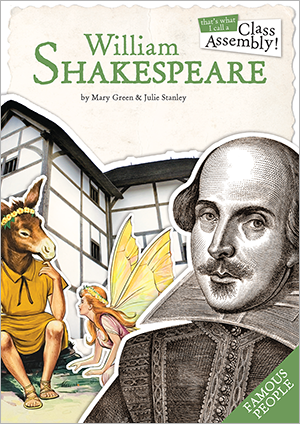 For more information about our title
That's What I Call A Class Assembly: William Shakespeare
click here
.
Includes three songs, recorder and percussion music, four pages of cross-curricular ideas and extension work, and a class assembly script. Activities include making appropriate 16th century snacks to serve your audience and researching how special effects were created in Shakespearean theatre and many more!
Book and enhanced CD with Words on Screen™ £18.95