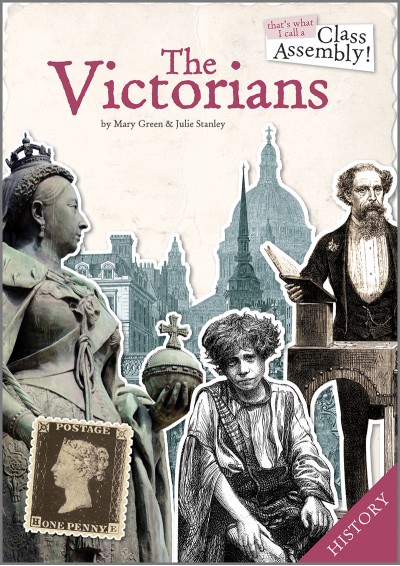 ---
At the museum of Victorian Childhood see the exhibits come to life! Meet the affluent Ponsonby-Brown family and their servants, witness the lives of working children and those living on the street, and take a glimpse at a Victorian school room.
Click here for more titles in the That's What I Call A Class Assembly! Series

Buy 3 Class Assembly Titles for ONLY £45. That's a massive saving £11.85!
Simply order online or call us on 020 8481 7200.
Currently Out Of Stock.
About The Victorians
This brand new series of books with enhanced CD has been written to support and reinforce what children are already learning in their history topics. Through performing the catchy, fact-based songs alongside the short play, children will find it easier to retain the information they have learnt. They can then showcase their work either in a school assembly or in their own classroom.


The Victorians includes Words on Screen™ Original songs on its enhanced CD.
Running Time:
20 minutes approx.
Words on Screen™ Original:
This product contains songs in our Words on Screen™ Original format (PC Only). Click here for more information.
Words on Screen™ Original System Requirements:
Click here for system requirements.
Licence Information
You are free to use the material in our That's What I Call A Class Assembly! series for all teaching purposes. The performance of musicals or songs to an audience and the reproduction of scripts, lyrics and music scores are subject to licensing requirements by law. However, when performing this title within a school setting, no licence is required as it is included within the purchase price. If you wish to perform this title on other premises, please contact customer services on 020 8481 7200.
The list of what's available cannot be viewed for this product.
Wow!
In the summer of 2016 our Y2s put on a Leaver's performance of "Now That's What I Call a Class Assembly: The Victorians" by Mary Green and Julie Stanley. At the end of the final performance the children received a standing ovation. A teaching assistant said to me, "Wow! We've never had one of those, before!" The Head Teacher had also been delighted because the children had learned so much educationally from topic learning it inspired and through the scenery, context, background of the play. The musical really was a fabulous finale to the term's work.
---
Many Thanks again for your fabulous work
I am the music teacher at KingsHeath Primary School in Northampton. Firstly, I would like to thank you for your wonderful resources. With your help, in 1 year, I have made music a major feature in the school with no shortage of musicians and keen teachers.nWe are absolutely loving the "Now that's what I call a class Assembly" series, we use most of the titles, but we have one gap in our topics and thought we would ask if you had any plans to produce a book on The Vikings.n
---
Add Review