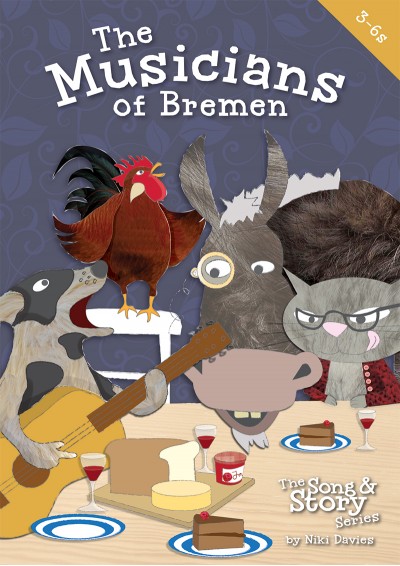 The Musicians Of Bremen
Ages: 3-6
In Stock
Try it for FREE with Sparkyard
NO. OF SONGS
4 + Narrated Story
For more detailed information, click here.
---
More than just a songbook, the award-winning Song & Story series is a hugely rich resource, perfect for Early Years' development.
The well-loved tale of The Musicians Of Bremen is retold through an easy script and 4 bite-size songs to give younger children a fun and manageable experience of performing a mini-musical. The product also comes with a fully narrated story for children to listen to and a mini-book with a simplified version of the story for them to read and illustrate.
Excellent value for money, this resource will enliven and enrich learning, both in music and literacy.
Now with Words on Screen™ that includes fully programmed narration, allowing the children to follow the words as they listen to the story, reinforcing their connection with the written word.
About The Musicians Of Bremen
A poor old donkey is kicked out by his owner for being too old and worthless. Undeterred by this the donkey decides to make his way to Bremen to earn his living as a musician. Along the way he meets up with other unwanted animals and persuades them to accompany him. A house full of robbers eating a wonderful feast stops them in their tracks, and together they hatch a plan to 'sing' the robbers out of the house so that they can take up residence.
This little-known but delightfully comic fairytale provides wonderful scope for inventive percussion and music-making.
Licence Information
Performing This Title
You are free to use the material in our Song and Story series for all teaching purposes. The performance of musicals or songs to an audience and the reproduction of scripts, lyrics and music scores are subject to licensing requirements by law. However, for customers who are only performing this title within a school setting, we have already included these licensing requirements within the purchase of the product. If you wish to perform this title on other premises, please contact customer services on 020 8481 7200.
Words on Screen™ Licence Information – What You Need To Know
All of our eSongbooks are supplied with a single user licence which allows the Words on Screen™ software to be installed on ONE computer only.
If you would like to install this software onto your network server and/or two or more computers, you need an Annual Digital Site Licence which includes extended digital rights.
A separate Annual Digital Site Licence is required for each product title. However, if you have four or more products that you wish to license, it is more cost-effective and convenient to purchase an Annual Digital Site Licence – Multi-Product. This licence gives you blanket digital permissions for ALL Out of the Ark products that you buy.
To renew your Annual Digital Site Licence, log into your account if you have one and go to your My Licences section.
Find out more about what your Annual Digital Site Licence covers.
The following items are available for this product:
Teacher's Book
Percussion notes
Cast list
Script with song lyrics
Music score for 4 songs (Piano music score, melody, chords and percussion)
Licence and copyright details
Extra FREE resources are available to download for this title:
Script in child-friendly font
Printable lyric sheets
Mini-book with a simplified version of the story to read and illustrate.
On purchase of this title, you will receive a link in your paper invoice. Simply copy this link into your internet browser to access the resources.
Audio CD
The story, beautifuly narrated with songs
Vocal tracks sung by children
Professional backing tracks
Words on Screen™ eSongbook
An online version of your product to stream or download on-the-go
Extractable MP3s, printable lyrics, scores and additional resources
Words on Screen™ versions of songs so that you can display song lyrics on any whiteboard, computer screen, television or interactive touchscreen. The lyrics synchronize with the music as it plays making them easy to teach and easy to learn
Enhanced operation features including 'double-click' to hear and teach a single line
Words on Screen™ user guide
Flexibility to create an expandable library of Words on Screen™ song collections, nativities and musicals in your Out of the Ark online account
Single-User licence
Licence & copyright details
Multi-Product Licence
If you have purchased multiple Words on Screen™ titles, this licence enables you to install the software for these titles onto more than one computer or onto a network, or for multiple users to stream Words on Screen™ songs. (A cost-effective alternative to buying 4 or more single licences).
Find out more about what your Annual Digital Site Licence covers.
There are not yet any reviews for this product.
---
Add Review