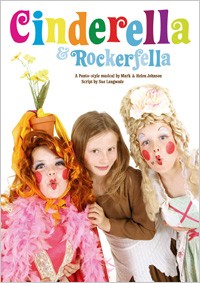 Product Images

INSTANT ACCESS MP3s & PDFs
(formerly known as Go-Digital add-on packs)
You can purchase an Instant Access PDF & MP3 Add-on Pack for this product!
This means that you can download your read-only PDF version of the title and MP3 music files instantly!
ONLY available online and with an Instant Performance Licence.
Cinderella & Rockerfella
by Mark and Helen Johnson, Script by Sue Langwade
Ages: 8-11
Cinderella and Rockerfella is a modern, panto-style reworking of a classic tale.
Scroll down to listen to song clips.
Availability: In Stock
Details
About Cinderella And Rockerfella

Cinderella and Rockerfella is a modern, panto-style reworking of the classic tale with all the traditional characters: downtrodden Cinderella, Rockerfella (formerly known as Prince Charming), Buttons, the Ugly Sisters and the Fairy Godmother, together with a selection of additional characters, from music managers and paparazzi to good and bad fairies - all placed in a world of fame and celebrity.

With fresh and relevant things to say about fame, fortune and how true love will win in the end, this Cinderella panto script is wonderfully comical. It contains fabulous songs together with plenty of opportunity for audience participation.

Cinderella and Rockerfella is the perfect choice for your school production any time of year and is sure to bring the house down.

A Performance Licence is required to perform Cinderella and Rockerfella. You are able to purchase an Instant Performance Licence when you purchase this product, or a Standard Performance Licence at any time. For more information, please see below.
Additional Information
ISBN
9781901980899
Ages
8-11
What's Included

Teachers Book with:


A brief history of pantomime
Synopsis
Song synopsis and performance tips
Cast list
Casting tips
Costume suggestions
Script - 2 Acts
Music score and song lyric sheets for 10 songs (Piano music score, melody and chords)
Licence and copyright details

Audio CD with:


Vocal tracks sung by children
Professional backing tracks
Sound effects: Violins, Baddie Music, Fairy, Creeping Music, Love Across A Crowded Room

Running Time
80 minutes approx
Sample Script
View sample script (PDF 36KB)
Cast List
View cast list (PDF 36KB)
Instant Access PDFs & MP3s

UK Primary Schools and LEA Nurseries can still pay on invoice - just select the Purchase Order payment option at the checkout.




Your Instant Access PDF & MP3 Add-on Pack includes:

A read only PDF of the Teacher's Book - text is not editable
All vocal and backing tracks of the songs for this title in an MP3 format

Please note that after placing your order online you will receive a confirmation email which provides you with a link to access your Instant Access digital download. Alternatively log in to your Out of the Ark online website account and go to your My Instant Access PDFs & MP3s section to download your files.




You will have 3 attempts to download the files - you must SAVE first before opening the zip-file containing your download.




For full information on Instant Access PDFs & MP3s click here.

Licence Information
Performance Licence Information


A performance licence is required to perform this copyrighted musical to an audience (other than exclusively to pupils and staff).

Licences are available as either a Standard Performance Licence or an Instant Performance Licence
The requirement for a licence is irrespective of whether admission charges are made
A new Standard Performance Licence would be required for any future performance(s) outside the date period printed on your current licence

In addition, with so many of our musicals and nativities purchased in digital format, teachers need a legal way to install or distribute copies for use around the school. Your Standard or Instant Performance Licence will also cover you for the following digital usages:

Installing songs for Words on Screen™ on a network or on multiple computers on the school's premises
Uploading digital content to the school's intranet or learning platform
Copying audio tracks to your computer music library (eg iTunes)
Continuing to stream Words on Screen™ v2 songs on multiple devices on an annual basis (beyond your free period)
Permitting usage of software at home for teachers for preparation purposes
Burning copies of CDs for rehearsal purposes