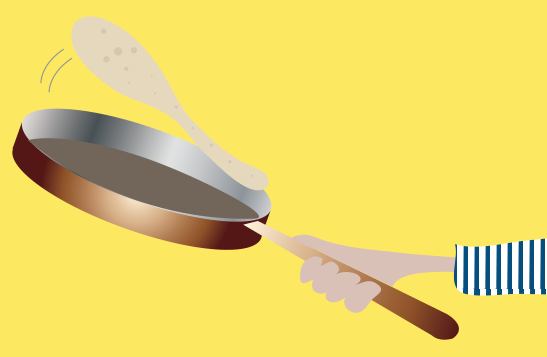 It's Pancake Day on 21st February and soon the nation will be cracking more than 52 million eggs to mix the batter for our favourite, flat, fun-filled, flip-flop food.
Pancakes are found in almost every culture across the world, but here in the UK they were traditionally eaten to use up all the eggs and fat that wouldn't last the 40 days of the Lenten fast. While France and parts of the US enjoy Mardi Gras ('Fat Tuesday'), here we celebrate on Shrove Tuesday – historically when Anglo-Saxon Christians were 'shriven' (absolved from their sins).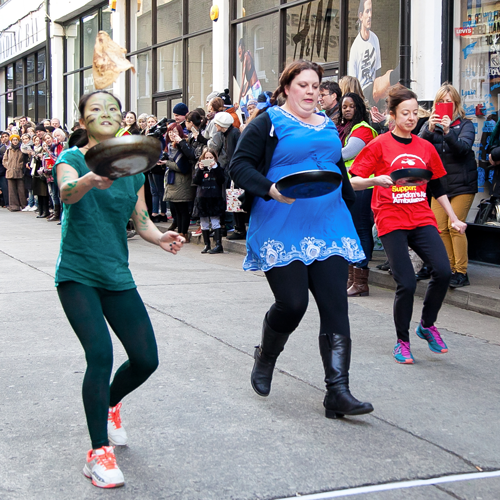 Whatever their history, there can be few foods that have inspired so much batter-based sporting competition! Pancake races have been run since 1445 when in Olney, Buckinghamshire, a woman, on hearing the 'shriving bell', ran to the church still wearing her apron and carrying her frying pan!
The Olney race is still run today, along with thousands of others the length and breadth of the country.
We're sure you don't need any help celebrating Pancake Day, but to bring a musical twist to the festivities try this flipping fantastic, pancake-inspired rhythm game:
You'll need:
A frying pan
A pancake (or tortilla, etc.)
A CD player or computer to play music
A selection of percussion instruments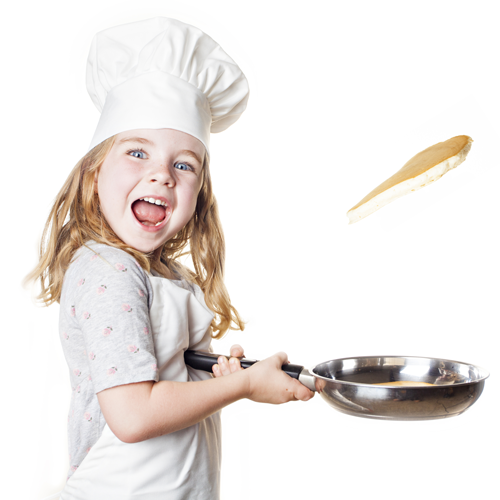 Discuss some rhythmic 'fillings' with your class, e.g. 'golden syrup'; 'strawberry jam'; 'chocolate and banana'; 'a squeeze of lemon and sugar'. Clap the rhythms as you say them together and practise until they are firmly 'stuck' in the kids' minds. Stand the children in a large circle and play either
Flip It, Flop It! from Sing™ Easter
, or
Pancakes from Songs For EVERY Season
. While the music is playing, the children pass the frying pan round the circle.
At a random moment pause the track and ask the current 'flipper' to shout out their favourite filling and flip the pancake as high as they can. While the pancake is in the air, the rest of the class have to clap or play the rhythm of the chosen filling. Then restart the music and continue playing the game until everyone has had the chance to be the 'flipper'.
If you're looking for some pancake songs for younger voices, why not try
There's A Pancake On The Ceiling! from The Niki Davies Calendar Of Songs
or
Pancakes, Pancakes 1,2,3 from My World: Easter
.
How to make pancakes with Out of the Ark Music
Click here to post a comment.