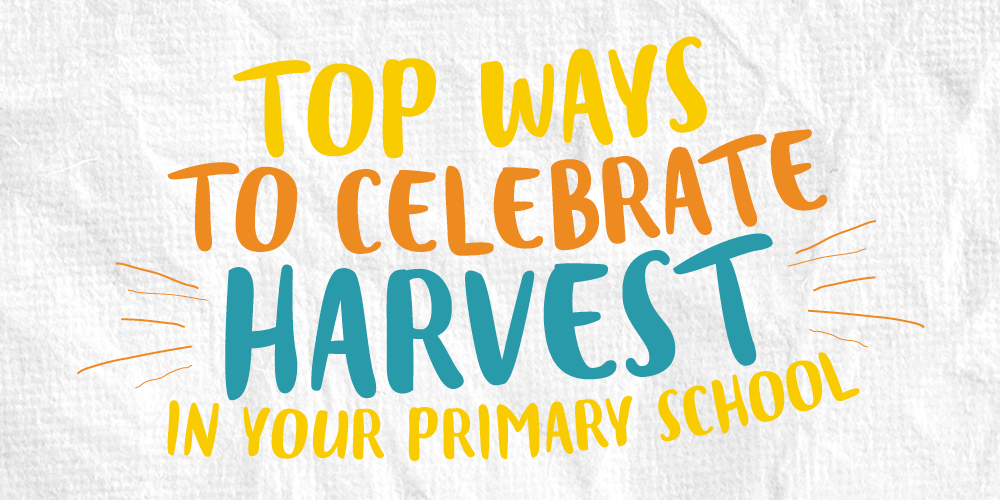 The Harvest Festival is traditionally celebrated on the Sunday nearest the Harvest Moon, which this year is
Sunday 11th October 2022
. But harvest isn't just one day, it's a season, and the message of thankfulness that harvest brings is relevant year-round. So, extend your school's harvest festivities with these fabulous harvest celebration ideas for primary schools!
How to Celebrate Harvest in Assemblies
Choose a local charity to support and set up a 'food bank donation station' that will encourage children, parents and teachers to donate food for those who are less fortunate than ourselves.
Celebrate the wonderful produce that is grown from our land with a
Harvest Parade
 - encourage the children to bring fruits, vegetables, or even flowers and proudly parade them through the school hall to begin your assembly. These don't have to be real, they could be painted, drawn or collaged.
Plenty of singing will bring everyone together in celebration – our favourite 
harvest songs
include subjects such as giving thanks, friendship, planting and growing, healthy eating, as well as farming (of course!). For more song inspiration read our
Top 5 Harvest Songs for Schools
for great ways to combine music and fun this harvest season.
How to Celebrate Harvest in the Classroom
Explore themes of friendship, team-work and sharing with a performance of
The Enormous Turnip
, a much-loved children's tale.
"How on earth is the old man going to pull up the turnip that has just grown bigger and bigger and bigger? He definitely needs some help!"
Our delightful mini-musical
The Enormous Turnip
 (ages 3-7) by Niki Davies from the
Song & Story Series
is perfect for this and combines a simple script and a few short songs.
Harvest Celebration Ideas with the Whole School
What is your school community most thankful for? Design and create a harvest thankfulness box to place in your school hall, reception, or even one for each classroom. Ask the children to write down the things they are most thankful for. Pick one or two out at assembly, or at the end of each school day to share with everyone. It's best if these are anonymous so all the children can reflect on the thankful thought. Why not start or end your day with
Singing A Thankful Song
 from the
This Is Me
songbook (ages 7-11).
Harvest Festival Celebrations in Every Lesson
The Harvest Festival brings to light so many important points of discussion and reflection. There are many topics to explore during lessons from arts and crafts, to science and maths. For example, Food miles – how far has your packed lunch travelled?
Ask the children to research how many miles the food in their packed lunch has travelled before it reached them. There are many online food mile calculators that can help with this task, but most produce will tell you exactly where it has travelled from on the label. Or, why not discover facts about the Harvest Moon, how harvest is celebrated in other countries, how food nourishes our bodies and helps us grow? The list is endless...  
Whichever way you choose to celebrate harvest in your primary school, don't forget to include some singing – whether it's with a traditional favourite like
We Plough The Fields And Scatter
 or
The Harvest Hoedown
 from our brand new harvest songbook for children aged 4-8
My World: Harvest
.
This great new songbook includes a huge helping of happy harvest songs that are perfectly picked and ready for singing. So, gather the children together and enjoy this bumper yield of fantastically fun and catchy songs that are perfect for younger voices.
There's so much you can do to celebrate Harvest Festival at school. Don't forget to check out our
dance videos
 and our new
Harvest Pinterest board
which is filled with inspiring activities, tips and celebration ideas to use across your school.
(First published September 2018, updated September 2019)

USED IT? LOG IT! Most schools have a CWCL licence from Christian Copyright Licensing Limited (CCLI) - more information can be found here. This licence grants permission to display song lyrics and music from Out of the Ark Music's Words on Screen™ Singchronize™ Player and CD ROMs, on any projection screen as well as download and share lyrics and music. Whenever you use our songs, please make note of your usage and then log your songs on your CCLI copy report, so that song writers and copyright holders are paid for their work.
Out of the Ark Music has been providing schools across the country – and world – with wonderful primary school musicals and primary school songs for nearly 30 years. Our Christmas musicals and nativity plays make children sparkle and shine, year after year, as they proudly perform their school Christmas play. Our extensive collection of fun and joyous Easter songs, harvest songs, school assembly songs, leavers songs and even space songs, fill schools with laughter and give students and teachers alike, a reason to sing every day of the week. We're glad you're supporting us in our dreams of creating the best music for schools around the globe. Read more about us here.
Click here to post a comment.