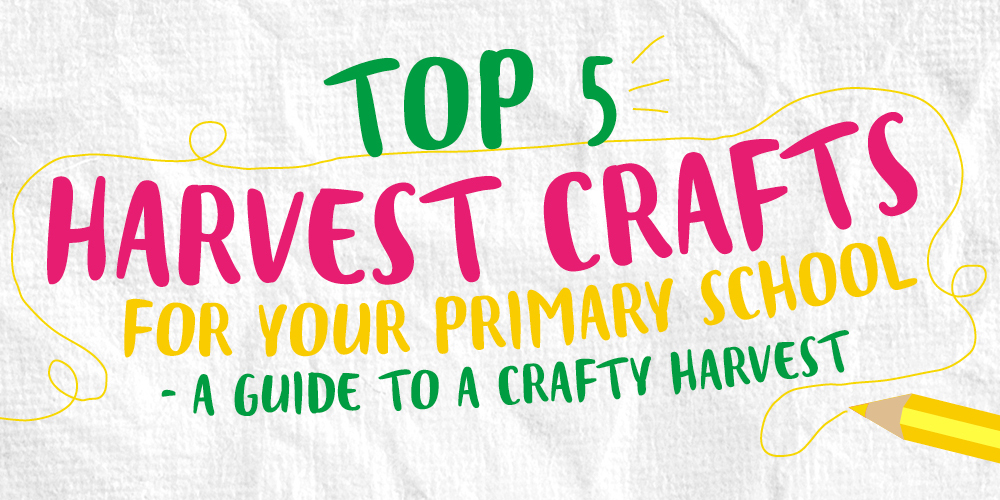 It's harvest time again and here at Out of the Ark Music, we're finding even more reasons to celebrate the season. Our wonderful catalogue of autumn and harvest songs for schools have inspired us to seek out fun and crafty activities for kids – perfect for the classroom! Have a go at singing along to some Out of the Ark Music songs whilst creating some DIY harvest festival crafts. Better still, why not host a harvest assembly and display these wonderful autumn crafts for all to see?
Do have a look at our Top Ways To Celebrate Harvest In Your Primary School blog for more ways to celebrate harvest this year. Here's just a small selection of some of our favourite harvest festival songs for kids, along with some easy-to-make crafts, that will get the whole school singing and excited for harvest time.
1. I Can Eat A Rainbow by Rebecca Kincaid 
My World: Harvest
Age 4-8
My World: Harvest is the newest songbook in our award winning My World Series. With wonderful songs for ages 4-8, it covers everything there is to celebrate throughout the harvest season, from potatoes and healthy eating, to scarecrows and ploughing the fields.
I Can Eat A Rainbow gets everyone in the mood for healthy eating with its bouncy melody and upbeat tune. With a long list of fruit and vegetables, this song will encourage young singers to work on their diction and pronunciation as they tackle this delicious mouthful of words.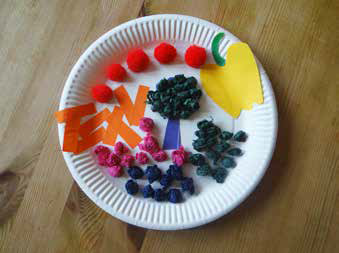 CRAFT: Get everyone extra-excited about eating a colourful dinner by creating a fabulous paper collage of rainbow-coloured fruit and veg on paper dinner plates. Not only will this encourage healthy eating at school, it can also encourage healthy eating at home as children can stick their paper plates to their fridges to serve as a reminder to eat more fruit and veg. You could even suggest playing a game over the season of harvest during which students can see who has eaten the most different coloured fruit and veg by keeping record on a classroom wallchart! - Click here for simple step-by-step instructions on how to create a rainbow dinner plate.
2. Loaves And Fishes by Mary Green and Julie Stanley
Sing™ Harvest 
Age 5-11
Sing™ Harvest is an autumnal collection of harvest songs that includes everything from giving thanks and sowing seeds to harvest celebrations and juicy fruit.
Loaves And Fishes is an upbeat retelling of Jesus' feeding of the five thousand. It's a great song with a wonderful message making it a perfect teaching resource to help children learn a new story in the Bible.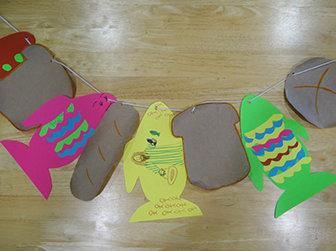 3. Thank You For The Sunshine by Mark and Helen Johnson
A Combined Harvest 
Age 5-11
A Combined Harvest is a definitive bumper crop of 30 harvest and autumn songs - perfect for children in schools and churches.
Thank You For The Sunshine reminds us to be thankful for all sorts of things this harvest time. Clap along to this harvest festival song and learn about tempo and melody in music as the bouncy verses blend into a gentle chorus.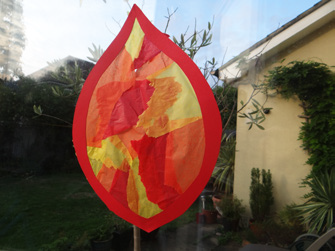 CRAFT: Whilst giving thanks for the sun's warmth and light, create mosaics in the shapes of autumn leaves using warm-coloured tissue paper. Place these mosaics against your windows and watch as the sunbeams change colour and shine into the room. Not only is this a beautiful craft, it's a great way for children to learn about light, shadow and the changing colours of leaves. - Click here for simple step-by-step instructions on how to create autumn leaf mosaic suncatchers.
4. Harvest Hymn (Give Thanks) by Mark and Helen Johnson
Songs For EVERY Occasion 
Age 5-11
 
Songs For EVERY Occasion is a fabulous collection of 15 catchy songs for different occasions throughout the year. This superb songbook includes songs about Christmas and Easter, as well as a couple of fantastic school songs for harvest time.
Harvest Hymn (Give Thanks) is a simple song of thanksgiving in a traditional style, describing the process of growth and all the various elements that make harvest possible.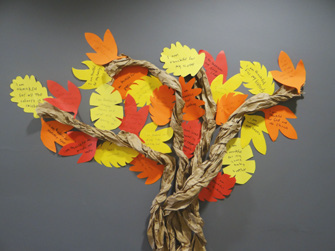 CRAFT: Whilst students learn the lyrics to this song, encourage them to think about what they're thankful for this harvest time and create a wonderful Tree of Thanks classroom display. As the weather gets colder, this lovely autumn activity for kids will be sure to warm your heart. - Click here for simple step-by-step instructions on how to create a Tree Of Thanks.
5. Conkers! by Mark and Helen Johnson
Songs For EVERY Season  
Age 5-11
Songs For EVERY Season is an essential collection of 15 songs to keep you singing all year round. This fantastic songbook captures the wonder of the changing seasons using a wide variety of musical styles.
Conkers! is a fun song that has become a firm favourite with children of all ages everywhere. The joy of conker collecting is recaptured in a crisp and bouncy style, with a melody that you'll find yourself singing along to long after the conker season is over.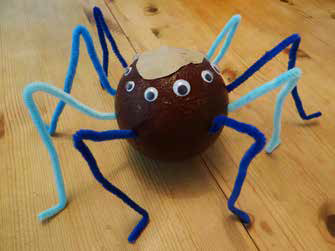 CRAFT: So, what could be better than conkers? Giant conker spiders! Using big polystyrene balls, fuzzy pipe cleaners and a lick of brown paint, create some larger-than-life conker spiders. - Click here for simple step-by-step instructions on how to create a giant conker spider.
 
We have even more harvest craft ideas available on the
Out of the Ark Music Harvest Pinterest board
. Why not also click through here to view our Harvest dance videos for the titles
My World Harvest
and also
Sing Harvest
which are full of inspiration and tips to make your school Harvest celebration a success.  
Written by Florence Robjohn and updated by Anna Edwards from the
 Out of the Ark Music Team
.
(First published September 2018, updated August 2019)

USED IT? LOG IT! Most schools have a CWCL licence from Christian Copyright Licensing Limited (CCLI) - more information can be found here. This licence grants permission to display song lyrics and music from Out of the Ark Music's Words on Screen™ Singchronize™ Player and CD ROMs, on any projection screen as well as download and share lyrics and music. Whenever you use our songs, please make note of your usage and then log your songs on your CCLI copy report, so that song writers and copyright holders are paid for their work.
Out of the Ark Music has been providing schools across the country – and world – with wonderful primary school musicals and primary school songs for nearly 30 years. Our Christmas musicals and nativity plays make children sparkle and shine, year after year, as they proudly perform their school Christmas play. Our extensive collection of fun and joyous Easter songs, harvest songs, school assembly songs, leavers songs and even space songs, fill schools with laughter and give students and teachers alike, a reason to sing every day of the week. We're glad you're supporting us in our dreams of creating the best music for schools around the globe. Read more about us here.
Click here to post a comment.