Inspire the imagination of your pupils with
a Stewart Henderson Poetry Workshop.
Stretching over 25 years, Stewart has extensive experience working with KS1/KS2 pupils in state and public schools across the United Kingdom. His workshops are incredibly fun and interactive – his ability to communicate with children and adapt his material to suit their needs and interests brings the pupils' imagination to life and makes each workshop a unique experience.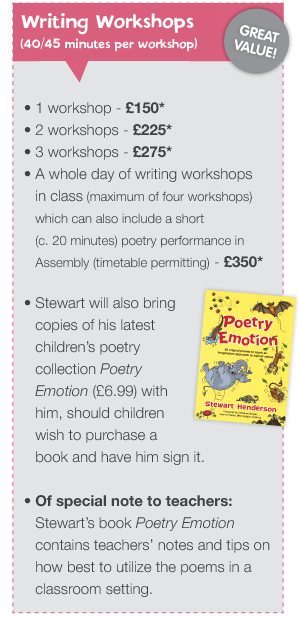 His many poetry performances at children's Literary Events such as The Edinburgh Book Festival, The Northern Children's Book Festival, Birmingham Young Readers and many others, have ensured that Stewart has developed the skills to excite young minds about poetry and offer them the motivation and inspiration to start writing themselves.
Stewart also has considerable practice and understanding in assisting children who have suffered trauma and loss to 'speak their stories' through poetry. He has worked with the Seasons for Growth programme which has initiated such important work in Scottish schools, and has developed similar material elsewhere in the UK.
If you are considering booking a day of Writing Workshops and Performances (or even a week of such applications – possibly involving other schools in your area) Stewart can offer a variety of 'packages' tailor-made to your school's requirements. If called for, these sessions can follow a particular design in theme – such as science, a history project, the natural world or other especial subjects – and, where necessary, Stewart will write material specifically to fit within a desired category.
For more information or to book a workshop, please email stewart.henderson@outoftheark.com

*All workshop packages are subject to the cost of 2nd class rail travel and overnight accommodation where necessary.

We are aware that some schools may be unable to finance the full cost of a workshop due to financial difficulties.  To help towards the cost a limited number of bursaries have been made available.  Schools can apply for these by contacting stewart.henderson@outoftheark.com.