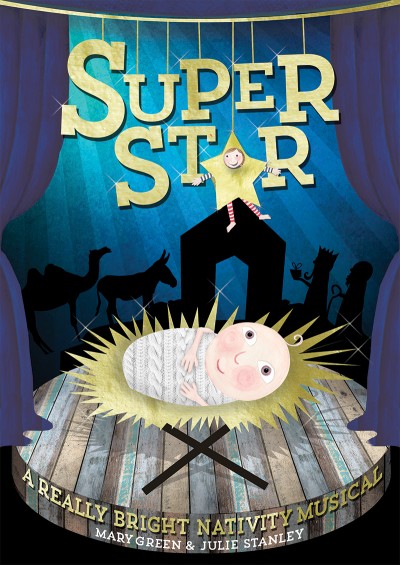 About Superstar
From the author of best-selling nativity

 The Magical Christmas Jigsaw
Adaptable script for large-group performances
Written with narration at the beginning of scenes so that scenes can be rehearsed separately
Available with  

Words on Screen™

 allowing you to display song lyrics on any whiteboard, computer screen, television or interactive touchscreen. The lyrics synchronize with the music as it plays making them easy to teach and easy to learn!
Each member of the school Celestial Choir is vying to dazzle music teacher Mr Marrz, hoping to be awarded a 'superstar' role in this year's nativity. To her surprise Stella - who often gets things wrong but always tries her very best – is picked to play the part of the Star of Bethlehem because she understands the heart of the Christmas message.

As the special performance unfolds, the children shine a light on the traditional nativity story and point to Jesus being the true superstar of Christmas.

With 8 upbeat songs and a fabulous script, Superstar is a dazzling nativity play for the primary age group. 

An Annual Performance Licence is required to perform this nativity.
Sample Script:
An editable script is available for this product when you purchase a package that includes an eSongbook.
Cast List:
View Cast List
View Staging notes

There are 64 parts in total, which can easily be increased by adding more stars, shepherds, angels, stable animals and courtiers and can easily be decreased as suggested below. There are 58 speaking parts, but these can easily be reduced (30 being the minimum) by using five of the stars as the five narrators (the rest of the stars could double up on parts and become some of the travellers); you could adapt the script and lose some of the travellers' lines; Mr Marrz could double up as Joseph; the three innkeepers could double up as three shepherds with the eight lines distributed between them; the angels' speaking parts could be reduced from four to two.
Running Time:
Total performance: 37 minutes approx
Total length of music: 15 minutes approx (excluding transition music)
Performance duration: 22 minutes approx
Solos/Parts:
Songs with Rounds, Part-Singing and Solos:
Superstar!
Please Can I Have A Room?
We're Not Washing Our Socks!
Alleluia
Shine!
Songs with Harmonies
Star Chorus
Please Can I Have A Room?
ISBN:
9781911430001 Book & CD / 9781911430018 Book & CD ROM
Licence Information
Annual Performance Licence Information - What You Need To Know
A current Annual Performance Licence is required to perform a musical or nativity to an audience (other than to pupils & staff), including an online audience, and irrespective of whether admission charges are made.
It is more cost effective to purchase an Annual Performance Licence as part of a complete product pack.
An Annual Performance Licence covers any number of performances of a particular musical or nativity within 12 months of the date of ordering. A separate Annual Performance Licence is required for each product title.
To renew your Annual Peformance Licence, log into your account if you have one and go to your My Licences section.
Find out more about what your Annual Performance Licence will legally cover you to do.

All of our eSongbooks come with a Single User Licence
This means you can install our Words on Screen™ software onto ONE computer only, or it can be streamed by a single user.
If you would like to install this software onto your network server and/or two or more computers, or allow multiple users to stream Words on Screen™ songs, this will be covered by your Annual Performance Licence which includes extended digital rights. For more information, click here.
The following items are available for this product:
Teacher's Book
Character List
Script with suggested staging directions
Suggestions for rehearsing, costumes, staging and props
Music score and song lyric sheets for 8 songs (Piano music score, melody and chords)
Licence and copyright details
Audio CD
Vocal tracks sung by children
Professional backing tracks
Transition tracks
Words on Screen™ eSongbook
An online Words on Screen™ product to stream or download
Extractable MP3s, printable lyrics, scores, scripts, & additional resources
Words on Screen™ versions of songs so that you can display song lyrics on any whiteboard, computer screen, television or interactive touchscreen. The lyrics synchronize with the music as it plays making them easy to teach and easy to learn
Flexibility to create an expandable library of Words on Screen™ song collections, nativities and musicals in your Out of the Ark online account
Enhanced operation features including 'double-click' to hear and teach a single line
Words on Screen™ user guide
Single-User licence (Please note a Performance Licence is still required to perform this musical)
Licence & copyright details
*For your convenience, we have provided an editable script in Word format for this nativity or musical. The purpose of the editable script is to allow you to adjust the allocation of speaking parts for smaller or larger cast sizes and/or to make minor changes to the text for staging purposes.
Rehearsal CDs
Vocal tracks sung by children
Professional backing tracks
Transition tracks
Available in packs of 5, 10 or 20
Fantastic!
This was such fun - catchy tunes, great dialogue and easy to put on for a small school. Clearly the writers understand the logistics of school productions as there was a lot of scope for optional roles so everyone could have a speaking part. Parents said it was our best show ever!
---
Amazing
I loved performing this play it really was my chance to shine!! In case you haven't guessed yet i played Stella. I really loved he fact that th beginning was auditions and the rest the play. The songs are good but I think a couple more solos wold make it even better !
---
Add Review