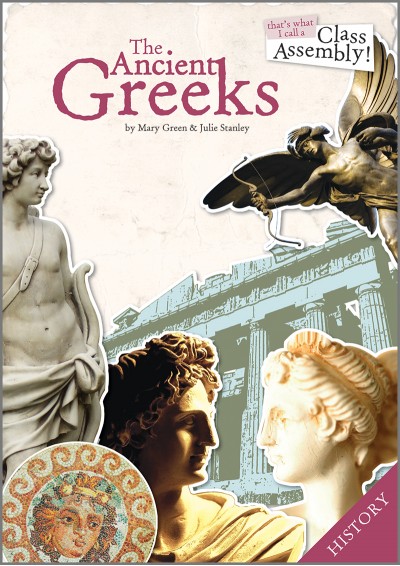 ---
It's Greek Day at school and everyone is involved - even Mrs Plato, the dinner lady. With the help of the Ancient Greek Teacher, the children discover ancient myths, legends and fables, take part in the original olympic games, perform Aesop's The Hare and the Tortoise and find out how Pheidippedes ran the first marathon.
Click here for more titles in the That's What I Call A Class Assembly! Series

Buy 3 Class Assembly Titles for ONLY £48. That's a massive saving £11.85!
Simply order online or call us on 020 8481 7200.
CURRENTLY OUT OF STOCK
About The Ancient Greeks
An action packed songbook, to help teach children some key themes about this intriguing era in history!

Pupils will be delighted to be taking part in lessons with such engaging material, leaving them wanting to perform the songs again and again. If you are performing this title as a class assembly, your class can teach others about The Ancient Greeks too. Be prepared for lots of laughter and cheers when this title is performed to the rest of the school and to parents!

This brand new series of books with enhanced CD has been written to support and reinforce what children are already learning in their history topics. Through performing the catchy, fact-based songs alongside the short play, children will find it easier to retain the information they have learnt. They can then showcase their work either in a school assembly or in their own classroom.

The Ancient Greeks includes Words on Screen™ Original songs on its enhanced CD.
Running Time:
20 minutes approx.
Words on Screen™ Original:
This product contains songs in our Words on Screen™ Original format (PC Only). Click here for more information.
Words on Screen™ Original System Requirements:
Click here for system requirements.
Licence Information
You are free to use the material in our That's What I Call A Class Assembly! series for all teaching purposes. The performance of musicals or songs to an audience and the reproduction of scripts, lyrics and music scores are subject to licensing requirements by law. However, when performing this title within a school setting, no licence is required as it is included within the purchase price. If you wish to perform this title on other premises, please contact customer services on 020 8481 7200.
The list of what's available cannot be viewed for this product.
FAB!
This resource is great. I am using it to link into all the Olympics work we are doing. Cross curricular resources are particularly useful. The kids love the songs!
---
Add Review