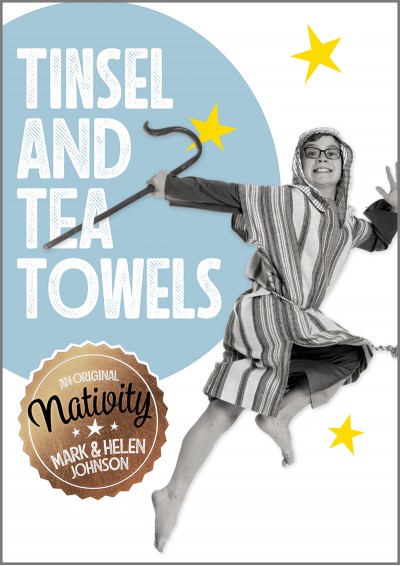 Try it for FREE with Sparkyard
SPEAKING PARTS
53 + 12 essential non-speaking parts
For more detailed information, click here.
---
One of our classic nativities, with a brilliant new script by Sue Langwade for 2023, Tinsel And Tea Towels is a true-to-life and genuinely funny musical
It's nearly the end of term and everyone is looking forward to yet another Hollywood-style nativity, thanks to the very generous funding of multi-millionaire superstar Phil McCoffers! When this funding is suddenly and unexpectedly withdrawn, it's up to the teachers to come up with the solution, and we are treated to a behind-the-scenes look at what you might expect to be going on as young children prepare for and re-enact the greatest story ever told. Apart from the actual 'tinsel and tea towels', we think we've provided everything you need to put on a really sparkling performance!
An Annual Performance Licence is required to perform this title. For more information, please click here.
About Tinsel And Tea Towels
2023 edition with a brilliant new script by Sue Langwade
A humorous, real-life look at putting on a nativity performance
Written by the writers of It's A Party! and Cinderella and Rockerfella
 A classic Out of the Ark nativity
Tinsel And Tea Towels has lots of additional resources to help you put on a great nativity, including recordings of the 9 classic songs, an easy-to-follow script and tons of staging suggestions to get you started! The book provides the script, piano music and lyrics together with character list and notes on staging, whilst the accompanying CD features all the songs professionally arranged, sung by the Out of the Ark Children's Choir. Backing tracks are also included for a really polished performance.

Available with a Words on Screen™ eSongbook allowing you to display song lyrics on any whiteboard, computer screen, television or interactive touchscreen. The lyrics synchronize with the music as it plays making them easy to teach and easy to learn!

An Annual Performance Licence is required to perform this nativity.
Other Recommended Titles
Sample Script:
An editable script is available for this product when you purchase a package that includes an eSongbook.
Cast List:
View character list
View Staging and props
One of the features of this particular nativity musical is the scope it provides to include a very large number of children, with up to 53 speaking parts if required (and some essential non-speaking parts, including at least three angels, one shepherd, three wise men and three attendants). Only a very small number of these demand more than a line or two each. It is also possible to rehearse several sections of the play independently with different classes taking responsibility for individual scenes. However, there are several characters who cross over between scenes. There are also lots of opportunities to include extra non-speaking children in each scene.
Click on the Staging and Props link above for comprehensive details on cast size.
Running Time:
45 minutes approx
ISBN:
9781911430599 Book & CD / 9781911430605 Book & CD ROM
Licence Information
Annual Performance Licence Information - What You Need To Know
A current Annual Performance Licence is required to perform a musical or nativity to an audience (other than to pupils & staff), including an online audience, and irrespective of whether admission charges are made.
It is more cost effective to purchase an Annual Performance Licence as part of a complete product pack.
An Annual Performance Licence covers any number of performances of a particular musical or nativity within 12 months of the date of ordering. A separate Annual Performance Licence is required for each product title.
To renew your Annual Peformance Licence, log into your account if you have one and go to your My Licences section.
Find out more about what your Annual Performance Licence will legally cover you to do.

All of our eSongbooks come with a Single User Licence
This means you can install our Words on Screen™ software onto ONE computer only, or it can be streamed by a single user.
If you would like to install this software onto your network server and/or two or more computers, or allow multiple users to stream Words on Screen™ songs, this will be covered by your Annual Performance Licence which includes extended digital rights. For more information, click here.
The following items are available for this product:
Words on Screen™ eSongbook
An online Words on Screen™ product to stream or download
Extractable MP3s, printable lyrics, scores, scripts (including editable script*) & additional resources
Words on Screen™ versions of songs so that you can display song lyrics on any whiteboard, computer screen, television or interactive touchscreen. The lyrics synchronize with the music as it plays making them easy to teach and easy to learn
Flexibility to create an expandable library of Words on Screen™ song collections, nativities and musicals in your Out of the Ark online account
Enhanced operation features including 'double-click' to hear and teach a single line
Words on Screen™ user guide
Single-User licence (Please note a Performance Licence is still required to perform this musical)
Licence & copyright details
*For your convenience, we have provided an editable script in Word format for this nativity or musical. The purpose of the editable script is to allow you to adjust the allocation of speaking parts for smaller or larger cast sizes and/or to make minor changes to the text for staging purposes.
Loved it!!!!
I did this play and I really enjoyed it !!!!! Best one I've done.
---
tinsel and tea towels
The tinsel and tea towel songs are brilliant you should do it for your Christmas play
---
yes
I think it is very good.
---
Fab
we are learing this at school rigth now really amazing !!! Everbodys loving it i just need to know how to listen to the music on it so i can pratice !
---
Wonderful songs and script
I was the coordinator of our school's production of this in November 2009. I was so impressed by the user-friendly resources, the quality of the music (which both children and adults loved) and the very suitable script. It was great to have lots of children involved with small speaking parts, as well as the "Inspectors" and "Teachers" who had the bigger parts. Everyone agreed it was the best musical we have ever done (and we have done several) and I am currently looking for another musical to do this year from "Out of the Ark Music".
---
---
Catchy songs
Some really catchy songs - FAB!
---
OUTSTANDING!'
Totally brilliant! Everyone LOVED it! Parents, teachers and children! The songs are catchy and fun to sing - I had many favourites! Songs are also easy to learn. Script was funny and also shared message of Christmas story. Would recommend it to all!
---
Add Review