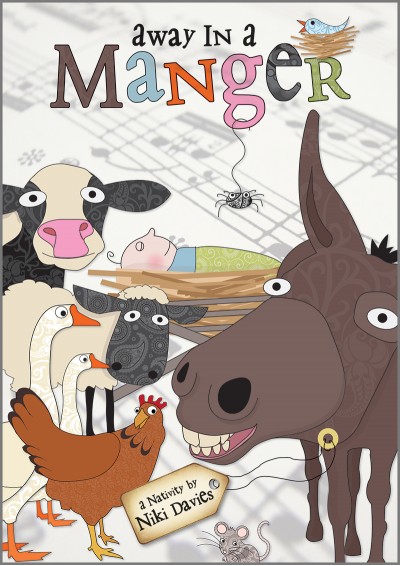 About Away In A Manger
From the same author as best-selling nativity Whoops-A-Daisy Angel
Curriculum links included, with ideas for extension work on the topics covered
Simple, easy to learn script that is ideal for 3-6 year olds
Maurice the mule is not happy! All he wants to do is munch away on some fresh hay and settle down for a peaceful night's sleep, but one by one he finds a hen, a mouse, a bird and a spider in his manger and he doesn't like sharing it with anyone!
Chasing them all away, Maurice tries to settle down to sleep when suddenly there is yet more commotion. Why is there a baby in his manger? And why have shepherds and kings come all this way to see him? Join Maurice and his friends as they try to puzzle out exactly what is going on in their busy stable!
Seven fantastically catchy songs and an adorable script make
Away in a Manger
a future classic
children's nativity play
.
Now available with a 
Words on Screen™ eSongbook
 allowing you to display song lyrics on any whiteboard, computer screen, television or interactive touchscreen. The lyrics synchronize with the music as it plays making them easy to teach and easy to learn!

An Annual Performance Licence is required to perform this nativity.
Sample Script:
An editable script is available for this product when you purchase a package that includes an eSongbook.
Cast List:
View cast list (PDF 74KB)
There are 19 speaking parts in this play and this is the least number of performers that are needed.
Whole school: Split the large narrator part into several speaking parts; have as many stable animals and shepherds as you like; include the four manger animals.
Running Time:
21 minutes approx
(Total length of music: 11 minutes approx)
Solos/Parts:
Song 6: Away In A Manger - solo for the first verse
Licence Information
Annual Performance Licence Information - What You Need To Know
A current Annual Performance Licence is required to perform a musical or nativity to an audience (other than to pupils & staff), including an online audience, and irrespective of whether admission charges are made.
It is more cost effective to purchase an Annual Performance Licence as part of a complete product pack.
An Annual Performance Licence covers any number of performances of a particular musical or nativity within 12 months of the date of ordering. A separate Annual Performance Licence is required for each product title.
To renew your Annual Peformance Licence, log into your account if you have one and go to your My Licences section.
Find out more about what your Annual Performance Licence will legally cover you to do.

All of our eSongbooks come with a Single User Licence
This means you can install our Words on Screen™ software onto ONE computer only, or it can be streamed by a single user.
If you would like to install this software onto your network server and/or two or more computers, or allow multiple users to stream Words on Screen™ songs, this will be covered by your Annual Performance Licence which includes extended digital rights. For more information, click here.
The following items are available for this product:
Teacher's Book
Cast list
Staging ideas
Curriculum links
Script
Music score and song lyric sheets for 7 songs (Piano music score, melody and chords)
Licence and copyright details
Audio CD
Vocal tracks sung by children
Professional backing tracks
Words on Screen™ eSongbook
An online Words on Screen™ product to stream or download
Extractable MP3s, printable lyrics, scores, scripts (including editable script*) & additional resources
Words on Screen™ versions of songs so that you can display song lyrics on any whiteboard, computer screen, television or interactive touchscreen. The lyrics synchronize with the music as it plays making them easy to teach and easy to learn
Flexibility to create an expandable library of Words on Screen™ song collections, nativities and musicals in your Out of the Ark online account
Enhanced operation features including 'double-click' to hear and teach a single line
Words on Screen™ user guide
Single-User licence (Please note a Performance Licence is still required to perform this musical)
Licence & copyright details
*For your convenience, we have provided an editable script in Word format for this nativity or musical. The purpose of the editable script is to allow you to adjust the allocation of speaking parts for smaller or larger cast sizes and/or to make minor changes to the text for staging purposes.
Rehearsal CDs
Vocal tracks sung by children
Professional backing tracks
Available in packs of 5, 10 or 20
This was amazing!
Brilliant play for our daycare children. It's very easy to use and the songs are so fun and easy for the children to learn. The parents told me they enjoyed watching and that it's a very cute play. We have used several of out of the ark plays and children,staff and parents have enjoyed every one. Definitely recommend for early years children.
---
Away In A Manger. Brilliant.
Well done on this amazingly easy to use nativity. We have just performed this last Sunday and it went off without a hitch. So easy to use, So much fun. The kids loved it, the adults loved it. We kept it really simple and brought animal masks and the kids loved being animals instead of angels for a change. Everyone commented on what a fresh fun look this was to the usual nativity. The music CD was so good to sing along to and the songs were so easy and catchy for the kids to learn. Highly highly recommend..
---
Add Review