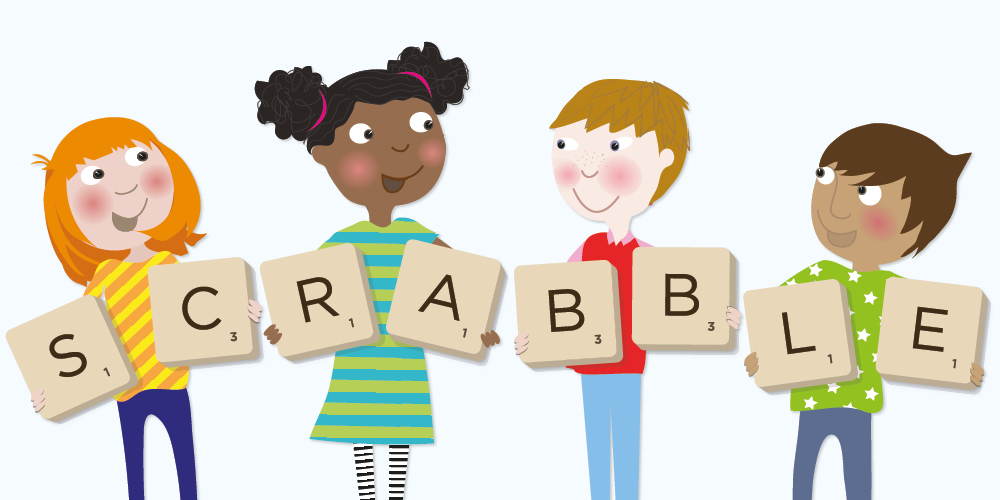 It's amazing how much fun you can have with Scrabble letters at home with the entire family.
If you don't have a version of the actual board game, you can play online for free
here
.  
Click here
to find some classroom ideas and downloadable resources that could be easily adapted to playing at home.
Here are 12 of our top ideas linked to Scrabble that you might enjoy trying out:
Because You're Worth It!
Write out your full name and then:
Work out how much you're worth by putting the value of the letter underneath each letter in your name and then adding all the numbers together. Try practising your mental maths to do this! (You can find out the letter values on Google).  
Get your friends or family to do their names too and see whose name is worth the most points.
See how many words you can make using just the letters in your name.
Re-arrange the letters of your name to make an anagram. For example, an anagram of William Shakespeare is 'I'll make a wise phrase'.
Try and research or invent some anagrams relevant to the meaning of the word or phrase. Here are a few:  listen = silent; conversation = voices rant on; the eyes = they see
Let's Start At The Very Beginning...
For very young children, make a large set of the following letters: a, e, i, o, u, t, c, m, p, n, s. Place a vowel on the floor or table and see how many three letter words they can make by adding consonants either side of it.
Spread the letters out around the room. In pairs, one person says a letter sound and the other has to run to the corresponding letter as quickly as possible. If there are more than two of you, you could make it a competition. Vary this by hopping, crawling or maybe tip-toeing to the letters.
Sing Give Yourself A P-A-T On The Back from The Niki Davies Book Of Lovely Literacy Songs - a great song for segmenting and blending letters.
 


If you have access to some sand or foam, use these to write letters in. Take turns 'writing' letters with your fingers on to each other's backs and trying to guess which letter is being written.
Put Your Whole Self In...
Have a go at making letter shapes with your body – some are easier than others! You can do this on the floor or standing up if you like a challenge!
Try working in pairs and recording a visual message to send to your friends, spelling out the words with your bodies. Decide on a signal to let your friends know when a word is complete. You could also try spelling out the letters with your fingers. It will be interesting to see if they get the right message, a bit like Chinese whispers!
What's In A Word?
Have a look around your home (and garden, if you have one) and find objects you can use to make letters and words  You can use anything from twigs and hair grips to playdoh and biscuits. Take photos of your creations and share them with your friends. If you have used something edible and tasty, be sure to eat your words!
For a whole heap of fantastic resources for literacy learning, click here.
Written by Sue Langwade – Guest Writer for Out of the Ark Music

USED IT? LOG IT! Most schools have a CWCL licence from Christian Copyright Licensing Limited (CCLI) - more information can be found here. This licence grants permission to display song lyrics and music from Out of the Ark Music's Words on Screen™ Singchronize™ Player and CD ROMs, on any projection screen as well as download and share lyrics and music. Whenever you use our songs, please make note of your usage and then log your songs on your CCLI copy report, so that song writers and copyright holders are paid for their work.
Out of the Ark Music has been providing schools across the country – and world – with wonderful primary school musicals and primary school songs for nearly 30 years. Our Christmas musicals and nativity plays make children sparkle and shine, year after year, as they proudly perform their school Christmas play. Our extensive collection of fun and joyous Easter songs, harvest songs, school assembly songs, leavers songs and even space songs, fill schools with laughter and give students and teachers alike, a reason to sing every day of the week. We're glad you're supporting us in our dreams of creating the best music for schools around the globe. Read more about us here.
Click here to post a comment.