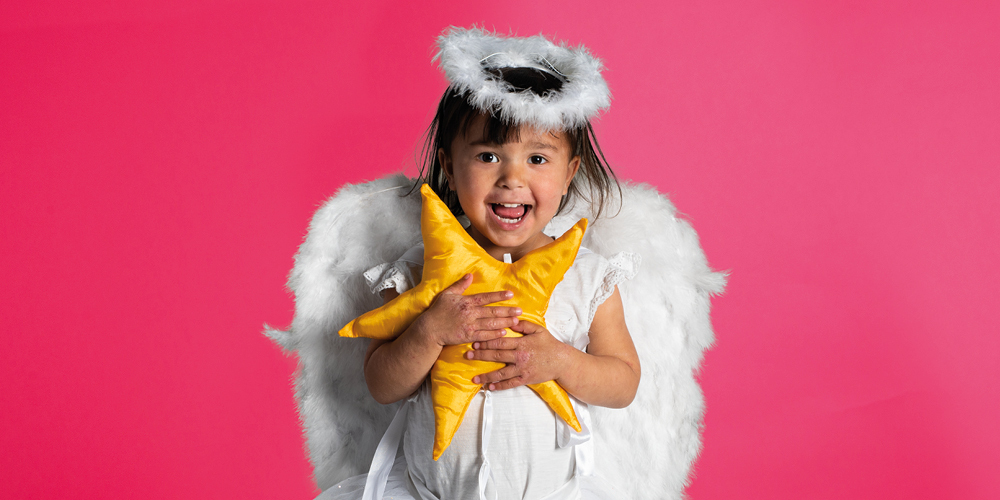 At Out of the Ark Music, we love nativities (we've published over 50 of them)! Every year, we love to see and hear about all the fantastic performances schools put on up and down the country. We feel really privileged to help schools reap the amazing benefits of this festive tradition.
But why should YOU do an Out of the Ark Music nativity this year? Let us tell you why…
1. They're great for pupil wellbeing and for learning life skills
Nativities are such a good opportunity for school communities to take pride in the communal effort they've put in. Singing, speaking and performing in front of an audience is something that children often first experience as part of the annual nativity. If this first experience is a positive one, then it can really be life-changing for them moving forward. The retelling of essentially the same nativity story through the years is a great way to link all the age-groups together and enable them to learn from one another: the younger children can be inspired by watching the older ones, and the older ones can enjoy supporting their younger counterparts.
Children seeing their grown-ups or friends in the audience with big smiles on their faces is a massive encouragement and can be a memory that sticks. Plus, the teamwork involved in putting on the production really helps build a sense of community spirit. Many schools and pupils missed out on the opportunity to perform a nativity last year, due to the pandemic, and so this year could be even more exciting and important than ever!
2. You can be confident it'll work
Did you know that our founders, Mark and Helen Johnson, wrote their first nativity in 1989? Ever since then our team have been writing, publishing and producing quality nativities for children and schools around the world.
In the UK alone we have over 18,000 schools as customers and throughout our 30+ years as a publisher, that's hundreds of thousands of children and performances! We even have staff who performed our nativities as children themselves. Our team includes experienced songwriters, editors and teachers, which means that each brand-new nativity we publish comes with proven knowledge and expertise.
3. You can have peace of mind with our COVID-19 Licence Guarantee
As always, if you want to perform any of our nativities, you'll need to purchase an Annual Performance Licence, but what happens if COVID leads to cancellations? Your licence cost is one thing you WON'T have to worry about. Our COVID-19 Licence Guarantee means that if your performance is cancelled through COVID, just give us a call and we will extend your licence for another 12 months at no extra cost.
Our feature-boosted licences also allow you to record, film and stream your performance online for family and friends if they are unable to attend. You can buy your performance licence now with confidence! Click here to read our top tips for filming your nativity.
4. You'll get lots of supporting resources, so it's (mostly) stress-free!
When you purchase one of our nativities, you're not just purchasing songs and a script (although, of course you get those!), we also provide you with a whole host of supporting resources – we know teachers have a lot on their plates and we want to make it as easy as possible for you to put on your nativity!
All of our nativities come with backing tracks and vocal tracks sung by a children's choir, so if you don't happen to have a pianist in your school, you can simply play the tracks that suit your needs. Backing tracks are great for medium and large groups, whereas the vocal tracks can give a little boost to smaller or less confident groups.
If you purchase a package that includes Words On Screen™, then you'll have access to a simple and user-friendly way to display lyrics from our songbooks, musicals and nativities on any whiteboard, computer screen or interactive touchscreen. You can learn more about Words on Screen™ here.
We'll also provide you with staging and costume ideas, a props and cast list, and some of our nativities also come with editable scripts and advice for increasing or decreasing cast sizes. And that's not all! Lots of our nativities also come with choreography ideas and craft videos. You can check exactly what's included on the product page for each individual nativity.
5. There's something for everyone!
Whether you're looking for something traditional or modern, for a big cast or a small one, for a whole school or just your early-years classes, we've got something to suit you. We have over 50 nativities for you to choose from, plus Christmas musicals and pantomimes too, so there really is something for everyone!
Here's a few quick links if you already know what you're looking for:
USED IT? LOG IT! Most schools have a CWCL licence from Christian Copyright Licensing Limited (CCLI) - more information can be found here. This licence grants permission to display song lyrics and music from Out of the Ark Music's Words on Screen™ Singchronize™ Player and CD ROMs, on any projection screen as well as download and share lyrics and music. Whenever you use our songs, please make note of your usage and then log your songs on your CCLI copy report, so that song writers and copyright holders are paid for their work.
Out of the Ark Music has been providing schools across the country – and world – with wonderful primary school musicals and primary school songs for nearly 30 years. Our Christmas musicals and nativity plays make children sparkle and shine, year after year, as they proudly perform their school Christmas play. Our extensive collection of fun and joyous Easter songs, harvest songs, school assembly songs, leavers songs and even space songs, fill schools with laughter and give students and teachers alike, a reason to sing every day of the week. We're glad you're supporting us in our dreams of creating the best music for schools around the globe. Read more about us here.
Click here to post a comment.