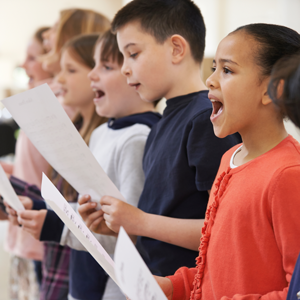 You might have read
our previous blog
about the huge benefits that singing in a group can bring you but singing together is arguably even more important for children than it is for adults. If you already have a thriving choir in your school, that's fab, but if not, we're here to help you start one!
Starting a choir from scratch might seem like a daunting task, but it really isn't as difficult as you might fear. Like any other project, though, a little planning can go a long way.
Here are our simple top-ten tips to help you get started:
Don't panic! Starting and running a choir will be a lot of fun and I promise that passion is worth a whole lot more than experience.
Enthusiasm is infectious: if you're keen and show it, others will soon catch the bug! Share your excitement about your choir with colleagues and pupils – you might be surprised at the support you receive.
Choose your repertoire carefully: children's voices are still developing and it's important to sing age-appropriate repertoire. Every song in the Out of the Ark catalogue has advice on age suitability, and the range and vocal flexibility required have been carefully thought through.
If you're not already familiar with our Words on Screen™ feature, it's a simply genius tool for teaching songs. You definitely don't need to play the piano and it's so easy to use that even your kids can help out with rehearsals!




 

It's a really good idea to keep your choir un-auditioned and open to all. Everyone can find their singing voice – sometimes the opportunity and a little encouragement from others is all they need!
Think about where and when you will hold rehearsals. To use Words on Screen™ you'll need a sound system and an interactive whiteboard or equivalent so that the kids can see the words. As far as possible try not to schedule your rehearsal at a time that clashes with sports matches. It's much easier for the kids if they don't have to choose between the things they love doing!
Warm up. Getting the voice and brain warmed up is vital if you want to make the most out of rehearsals. Check out our blog for some tips and ideas, or take a look at Sing™ Warm-ups for some really great warm-up songs (all with Words on Screen™, of course!).
Keep rehearsals snappy and varied. Aim for 30-45 minutes (including a warm-up), and work at a small selection of songs – something to suit all tastes!
Try recording your choir regularly so that the children can hear their own voices and see how they are progressing.
Set some goals: these need not be big (at least to start with), but children love performing and there's no doubt that choirs gel quicker and better if they have something to work towards. Whether singing in assembly, a full-blown concert or busking for charity, an upcoming performance can really provide energy and focus.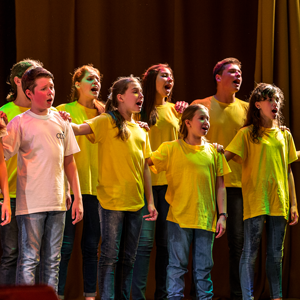 Finally, just get stuck in and enjoy! Go on, make a start today: a year from now you'll look back with pride on what you've managed to create. And once you have a core of reliable singers, make sure they talk to their friends about it! Before you know it you'll have a thriving singing community!
Check back here soon for more tips and specific advice on rehearsing and conducting, choosing repertoire and organising your first concert or performance. And, of course, we'd love to hear how you're getting on! Send us videos or recordings of your choir singing. Email
antony@outoftheark.com