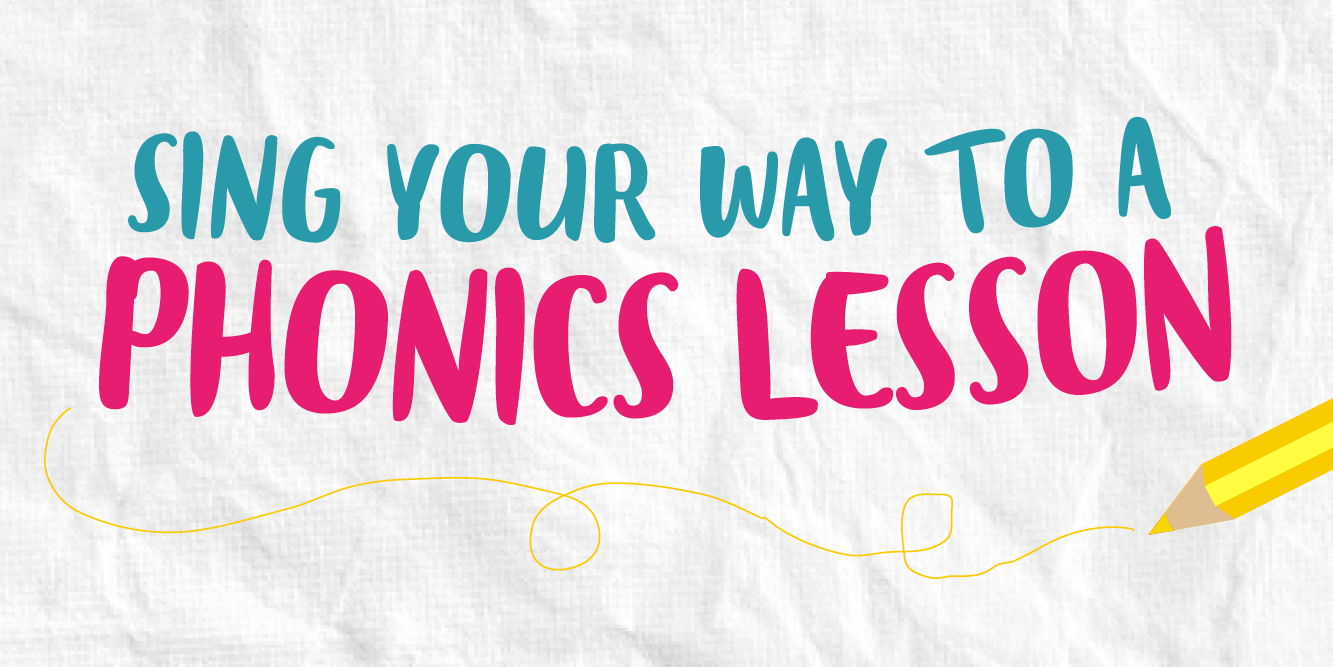 "Speech and music have a number of shared processing systems. Musical experiences, which enhance processing can therefore impact on the perception of language, which in turn impact on learning to read. Active engagement with music sharpens the brain's early encoding of linguistic sound."
Susan Hallam

Although the phonics lesson is firmly rooted in our busy school timetable, you may not have considered the role that music can play in ensuring your class can spot a split vowel digraph from a mile away!

Research shows active engagement in music has the potential to enrich learning in phonics and impacts positively on children's reading skills as a whole. Therefore, we teamed up with Nikki Lewis, writer of The Inn-spectors and Christmas With The Aliens to map out the ways in which you can sing your way through a fabulous phonics lesson.
 
Sing A Fabulous Phonics Lesson by Nikki Lewis
1.    Just Listen
Listening activities are absolutely key to tuning the brain and ear into phonics. However, we sometimes forget that if we want to develop listening skills, we have to practise! 
Try to give your class opportunities to listen and respond to a variety of music and creative sound sources. For example, how about moulding a piece of playdough as you listen to piece of music?  How does the music influence the way we do this? Every twist, stretch, pat or roll of the playdough communicates a response to the sounds we hear. 
2.    Be Listening Detectives!
Learning to discriminate between musical sounds is an important skill to be developed in young children and this will help them as they learn to hear and recognise differences in phonemes. 
The song 
We're Detectives
 from
My World: I Love Music
provides a fun context for practising these important sound discrimination skills. Once children have got to grips with the song structure, try inserting some different sounds for the class to detect!   
3.    Feel The Beat
Studies show that there is a strong connection between an ability to keep the beat and fluency in reading. Engaging children in whole body rhythmic activities such as dancing, marching or jumping to the beat is great fun but is wholly beneficial. A great song for getting children to do exactly this is 
March To The Beat 
from
My World: I Love Music
. My class love it- especially the "BOING" at the end!   
4.    Blending And Segmenting / Play With Songs!
Play with songs! For example, when teaching children to blend and segment, choose 
Sing A J.E.T.
 from 
The Niki Davies Book Of Lovely Literacy Songs
. 
The children will pick this up so quickly and are soon ready to play with the song, inserting their own real and pseudo (alien) words for the rest of the class to decode!  
5.    Sticky Songs!
Choose a sticky song! Songs are great for recalling literacy facts. 
It's Great When You Know The Alphabet
 from 
The Niki Davies Book Of Lovely Literacy Songs
is a class favourite and excellent warm up for a Phonics session! It's also great for dealing with the infamous letter 'LMNOP'!  
6.    Sing Out And In!
Songs not only help us to recall facts, but the rhyme, repetition and structure of a song itself can boost auditory memory and develop sequencing skills – all key ingredients to reading success. Cumulative songs such as 
The Marching Band 
from
My World: I Love Music
are great for this along with activities which encourage children to internalise rhythm and melody by using the "thinking voice".  My class have recently discovered 
That's The Way We're Put Together
 from
S!ng Warm-Ups, 
which really puts the thinking voice to the test, and they have lots of fun performing the actions!   
7.    How Do I Fit This In?
All these activities can be used as a warm up to a literacy session, or can be equally useful as a "brain break" within a busy school day. Most importantly, it's useful to think of music as an essential part of your reading environment. It is such a powerful tool in helping children become better readers, so it makes sense to invite it into your classroom!
For more literacy linked titles why not take a look at 
Pictures, Poems and Percussion
, 
This Is Me
or our award winning, 12 title 
Song & Story Series
.  
Find out more about our 
Workshop 4 – Fabulous Phonics
.  

USED IT? LOG IT! Most schools have a CWCL licence from Christian Copyright Licensing Limited (CCLI) - more information can be found here. This licence grants permission to display song lyrics and music from Out of the Ark Music's Words on Screen™ Singchronize™ Player and CD ROMs, on any projection screen as well as download and share lyrics and music. Whenever you use our songs, please make note of your usage and then log your songs on your CCLI copy report, so that song writers and copyright holders are paid for their work.
Out of the Ark Music has been providing schools across the country – and world – with wonderful primary school musicals and primary school songs for nearly 30 years. Our Christmas musicals and nativity plays make children sparkle and shine, year after year, as they proudly perform their school Christmas play. Our extensive collection of fun and joyous Easter songs, harvest songs, school assembly songs, leavers songs and even space songs, fill schools with laughter and give students and teachers alike, a reason to sing every day of the week. We're glad you're supporting us in our dreams of creating the best music for schools around the globe. Read more about us here.
Click here to post a comment.