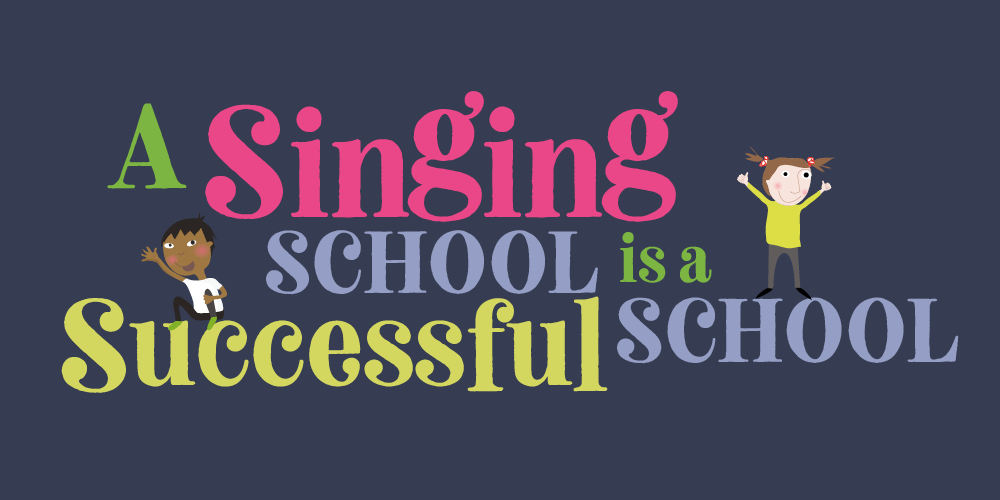 A Singing School Is A Successful School; a primary school singing intervention from Out of the Ark Music has resulted in a 10% increase in children's confidence and academic progress.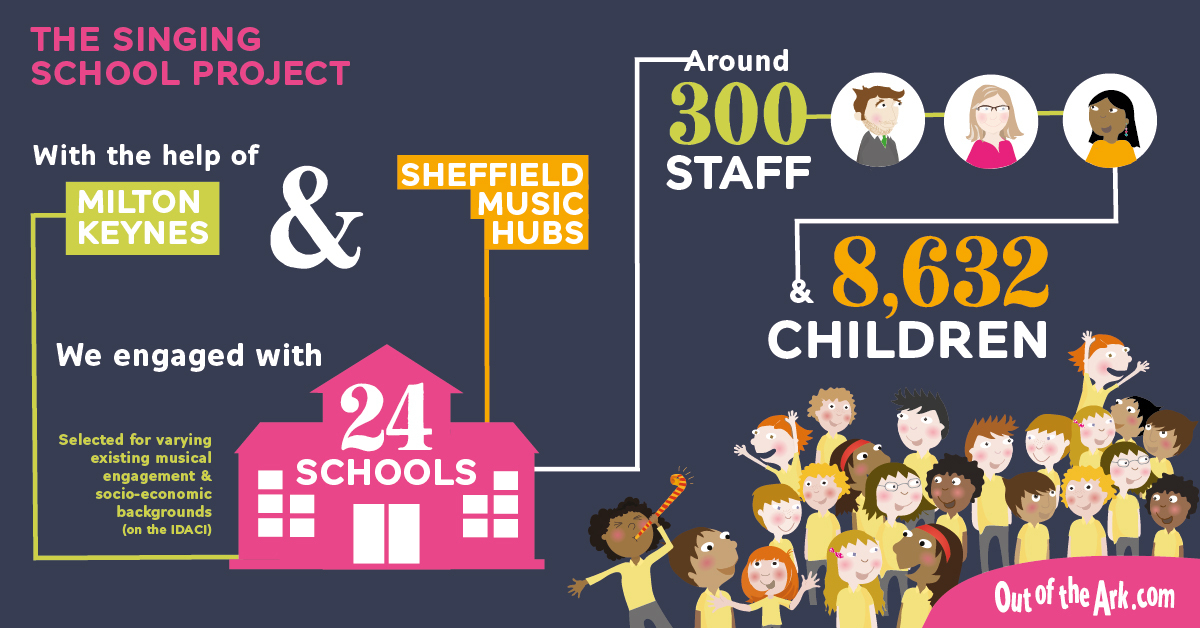 In 2017, in collaboration with
Professor Susan Hallam MBE
and the
Milton Keynes
and
Sheffield Music Hubs
, Out of the Ark Music conducted a major research project into the most effective ways of integrating music (and singing in particular) into the school curriculum. We worked with 24 primary schools, offering them simple training for all their staff alongside free, unlimited use of our entire catalogue of songs and all associated resources. As part of the project, we asked all schools to sing regularly together as a whole school community. Many chose to start their days with singing, and some ended the school day with a singing celebration. However they implemented their whole-school singing, all reported a positive impact on both children and staff.
Our aim was to measure the impact that fully integrating singing into the school curriculum could have on a range of measures, including well-being, social inclusion, pupil and teacher confidence, as well as academic attainment across general subjects and the music curriculum. Some of the results surprised even us!
Read on to learn some of the
key findings
from our research project. Even better, watch the
short documentary
about how the use of music across a wonderful school in Milton Keynes improved the confidence, self-esteem and positivity of students and staff alike.  
A Singing School Is A Successful School - Short Documentary
This short video documents what Caroline Haslett Primary School managed to achieve in just one term. With a little encouragement, the gifts and talents of the students and staff (and a whole lot of songs from Out of the Ark Music) took them a very long way…    
What did we find out?
Teachers reported an increase in singing across their schools following the implementation of the programme. 
There was a 22% increase in teachers who stated, 'I am confident about teaching music to my class'.
The children enjoyed singing more and there was greater belief that they were good at music. This was particularly the case for the boys.
Teachers indicated positive changes in their pupils in relation to

enjoying their music lessons;
enjoying singing;
being confident in music lessons;
having a well-developed range of strategies for composing;
having well-developed listening skills;
loving music; and
having positive attitudes towards music.
Over the course of the term, there was a 10% increase in students' confidence, self-esteem & getting on with others.
There were positive changes in a number of aspects of children's self-reported well-being. Teachers' assessments provided further support for this.
The greatest changes in enjoyment, motivation, desire to achieve, willingness to learn and concentration were for children classified as having lower levels of musical attainment.
Schools recorded an 11.3% increase in performance in maths. Teachers also indicated positive improvements in listening skills, phonics, reading fluently and spatial skills.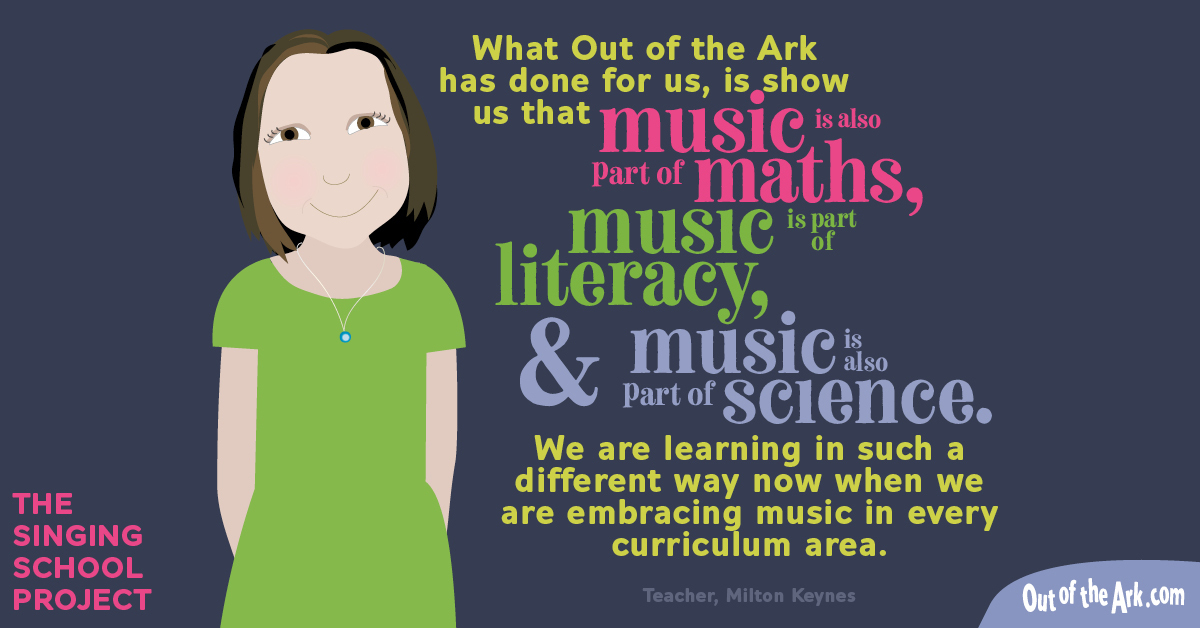 What do we think?
Music as a creative force in schools cannot be ignored. Its power to develop emotional intelligence and encourage creativity can and should be harnessed by all those who have responsibility for educating the young.  
It is not a case of "making space" in the school day, more a matter of making singing an integral part of what is already going on in schools. Neither is it something that should be considered the preserve of specialists to deliver. Our project has shown that, with the right resources, EVERYONE can harness the power of music.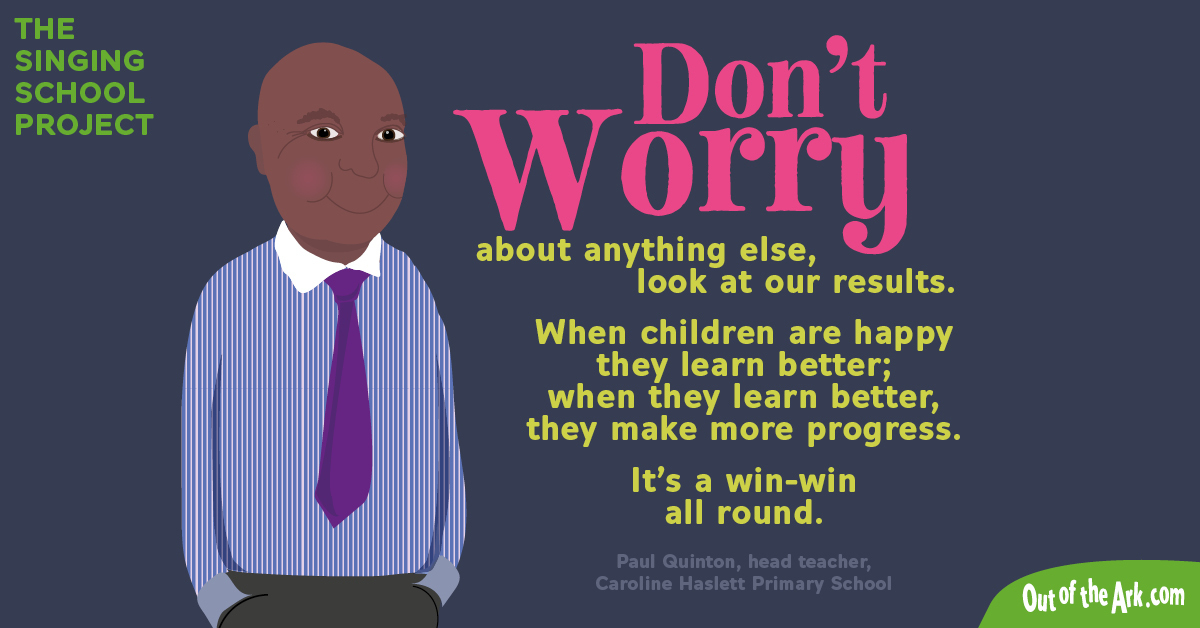 Visit our Singing School Research Project webpage to:
Read the Out of the Ark Music Summary Report – or download it here.
Read Professor Susan Hallam's Report – or download it here.

If you would like a printed copy of A Singing School Is A Successful School - Summary Report by Out of the Ark Music, please let us know on 020 8481 7200.

If you would like any additional information about our Singing School project, please contact Antony Copus, Head of Education Development at singingschool@outoftheark.com.

 
Written by Antony Copus FRSA, LRAM - Head Of Education Development, Out of the Ark Music Team.
 

USED IT? LOG IT! Most schools have a CWCL licence from Christian Copyright Licensing Limited (CCLI) - more information can be found here. This licence grants permission to display song lyrics and music from Out of the Ark Music's Words on Screen™ Singchronize™ Player and CD ROMs, on any projection screen as well as download and share lyrics and music. Whenever you use our songs, please make note of your usage and then log your songs on your CCLI copy report, so that song writers and copyright holders are paid for their work.
Out of the Ark Music has been providing schools across the country – and world – with wonderful primary school musicals and primary school songs for nearly 30 years. Our Christmas musicals and nativity plays make children sparkle and shine, year after year, as they proudly perform their school Christmas play. Our extensive collection of fun and joyous Easter songs, harvest songs, school assembly songs, leavers songs and even space songs, fill schools with laughter and give students and teachers alike, a reason to sing every day of the week. We're glad you're supporting us in our dreams of creating the best music for schools around the globe. Read more about us here.
Click here to post a comment.