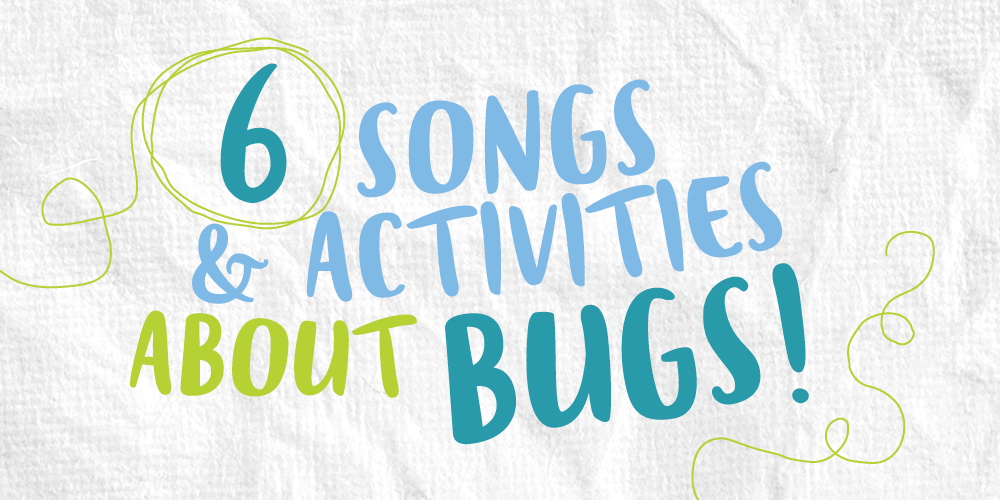 We're simply buggin' out over the official start of spring on Wednesday 20th March 2019. Just like an insect with six legs, we've selected six songs about bugs to get you buzzing for spring. This selection of songs is particularly great for Early Years, with catchy and easy-to-learn tracks specifically designed for younger voices. We've also created a few classroom resources for you to utilise as you and your students venture into the world of creepy crawlies!
Metre Worm – The Niki Davies Book Of Marvellous Maths Songs
Ages 3-7
Explore bugs in a maths lesson by singing Metre Worm. The worm in this song is unusually long! Whilst singing along to the playful melody of this pre-school song, hold a metre stick in front of your class and point out the different lengths of the worm as he grows bigger and longer throughout the song!
Here Come The Bees And The Butterflies – My World: Easter 
Ages 3-7
Springtime is so colourful, especially with black and yellow bees and multi-coloured butterflies flying about! Discuss with your class just how colourful spring is and ask them to think about what colours they see on their way into school. You could even point out the green leaves and tulips and daffodils that feature in Here Come The Bees And The Butterflies. Having discussed the colours of spring, download our Butterfly Colouring Sheet and have your class create a rainbow of beautiful butterflies for a classroom display.

 

Caterpillar – The Niki Davies Book Of Songs
For Spring And Summer 
Ages 3-7
Caterpillars are such wonderful bugs to learn about. Explore the life cycle of these creepy crawlies with our song Caterpillar which follows a very hungry caterpillar who chomps his way through a lovely, delicious green leaf. Why is he so hungry, and why does he need to eat so much food to get so much energy? Because he's preparing for one of the most magical transformations in the animal kingdom! Use our downloadable Caterpillar Counting Sheet to count the segments of a selection of caterpillars, all a different length.

My World: Easter also contains a wonderful song about a Hungry Little Caterpillar.
 
Out In The Garden – My World: Minibeasts 
Ages 4-7 
You can learn about a whole bunch of different bugs with this song! Look at the similarities and differences between bugs. Download our I Spy In The Garden classroom resources here and kick start discussions about beautiful bugs. Why do some bugs have spots and others have wings? Which bugs have both? If you have a school garden, venture outside with your young explorers and play a real-life game of I Spy. How many woodlice can you find? How many spotted ladybirds can you spot?
 
Spider Music – The Niki Davies Book Of
Splendid Science Songs 
Ages 3-7
The Niki Davies Book Of Splendid Science Songs is a wonderful book for Early Years education as it injects fun and energy into early science lessons. Spider Music explores the differences in musical styles in relation to the movements of various animals. Use this song as an introduction to learning about spiders. Download our Spider Web Maze here and have students work their way out of the spider trap!
 
Hey, Mister Bee – My World: Minibeasts
Ages 4-7
Bees are some of the most important bugs about. Use this song to learn about the figure-of-8 dance routine bees perform to indicate where there are fresh flowers with fresh juicy nectar.

If you love learning about bees, you'll be happy to hear about our bee-rilliant teaching resources available on our Bee Resources page. We created these teaching resources for you to use alongside putting on a performance of our wonderful musical for 5-9 year olds, The Bee Musical - find out more below. Don't worry if you're not able to put on the performance this year, the resources are FREE for all to use! View all Bee Resources here.

More about The Bee Musical
The Bee Musical
follows the story of Mr Waxworth and his hive's quest to convince the world about the importance of bee-ing a bee. With a fabulous script and nine terrific songs to get you buzzing and bee-bopping, you just won't bee-lieve how good this delightful and educational musical for 5-9 year olds is!
View our award-winning Niki Davies Collections For Younger Voices here
.
You can read more about
Niki Davies here
.
View the award-winning My World series here
.
Written by Antony Copus FRSA, LRAM - Head Of Education Development, Out of the Ark Music Team.
 

SING IT, LOG IT! Most schools have a CWCL licence from Christian Copyright Licensing Limited (CCLI) - more information can be found here. This licence grants permission to display song lyrics and music from Out of the Ark Music's Words on Screen™ Singchronize™ Player and CD ROMs, on any projection screen as well as download and share lyrics and music. Whenever you use our songs, please make note of your usage and then log your songs on your CCLI copy report, so that song writers and copyright holders are paid for their work.
Out of the Ark Music has been providing schools across the country – and world – with wonderful primary school musicals and primary school songs for nearly 30 years. Our Christmas musicals and nativity plays make children sparkle and shine, year after year, as they proudly perform their school Christmas play. Our extensive collection of fun and joyous Easter songs, harvest songs, school assembly songs, leavers songs and even space songs, fill schools with laughter and give students and teachers alike, a reason to sing every day of the week. We're glad you're supporting us in our dreams of creating the best music for schools around the globe. Read more about us here.