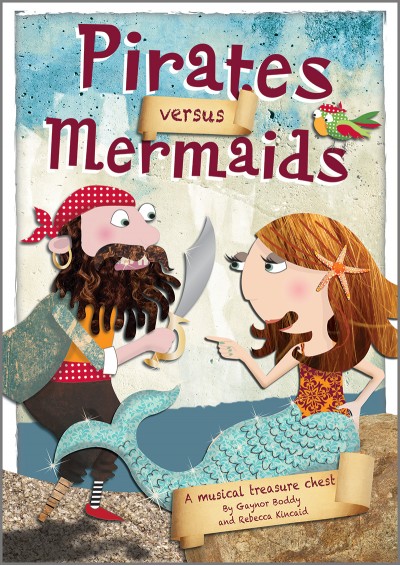 Try it for FREE with Sparkyard
For more detailed information, click here.
---
Heave-ho and away we go on a fantastic musical journey, where the seven seas just aren't big enough for our pirates and mermaids! Filled with catch-of-the-day fresh songs and an adventure-packed script, the pirates will show off their swaggers and the feisty mermaids will sparkle – so hoist the sail and come aboard! Available with Words on Screen™.
An Annual Performance Licence is required to perform this title. For more information, please click here.
About Pirates Versus Mermaids
Works as a whole school production, but for smaller productions most suited for ages 7-11 (years 3-6).
Words on Screen™ for easy rehearsing using highlighted lyrics synchronized with the music
From the authors of best-selling title A Midwife Crisis
Me Hearty High School is the most distinguished pirate school on the seven seas and the trainee pirates can't wait to graduate and become proper pirates. There is only one problem… none of them can swim! If they can't swim they will fail their 'Arrr' levels and then what will they do? The answer to their problem lies with the mermaids, but the pirates do not like the mermaids and the mermaids do not like the pirates - will they ever find a way to get along?
With seven fantastic songs and a hilarious script, join Captain Scarypants on a swashbuckling adventure with his band of brave pirates, a hungry crocodile, a crew of feisty mermaids and, of course, one insane parrot!
Available with Words on Screen™ allowing you to display song lyrics on any whiteboard, computer screen, television or interactive touchscreen. The lyrics synchronize with the music as it plays making them easy to teach and easy to learn!
An Annual Performance Licence is required to perform this musical.
Other Recommended Titles
Sample Script:
An editable script is available for this product when you purchase a package that includes an eSongbook.
Cast List:
View cast list and staging notes
Cast notes: There are 26 speaking parts with option to increase up to 58 as required.
For smaller groups, the least number of performers is 24. this would mean having only one narrator, the two announcers doubling up as the crocodile and delivery man and having just 7 pirates and 8 mermaids. The 'sea' would need to be created without the children's help.
Whole school: Have as many pirates and mermaids as you like; split the narration between lots of children; for more speaking parts than 26, split the pirate crew and mermaid crew lines between 21 and 17 children respectively, instead of 6, creating 58 speaking parts.
Running Time:
40 minutes approx.
(Total length of music: 11 minutes approx, excluding curtain-call music)
Solos/Parts:
Song 2: We Don't Like Mermaids - part singing
Song 3: Avast! Ahoy! - part singing
Song 4: I'm A Parrot - solo for the parrot
Song 5: Out Of Your League - optional harmony in second and third chorus
Song 6: Pool Party - part-singing
ISBN:
9781906988692 Book & CD / 9781906988708 Book & CD ROM
Licence Information
Annual Performance Licence Information - What You Need To Know
A current Annual Performance Licence is required to perform a musical or nativity to an audience (other than to pupils & staff), including an online audience, and irrespective of whether admission charges are made.
It is more cost effective to purchase an Annual Performance Licence as part of a complete product pack.
An Annual Performance Licence covers any number of performances of a particular musical or nativity within 12 months of the date of ordering. A separate Annual Performance Licence is required for each product title.
To renew your Annual Peformance Licence, log into your account if you have one and go to your My Licences section.
Find out more about what your Annual Performance Licence will legally cover you to do.

All of our eSongbooks come with a Single User Licence
This means you can install our Words on Screen™ software onto ONE computer only, or it can be streamed by a single user.
If you would like to install this software onto your network server and/or two or more computers, or allow multiple users to stream Words on Screen™ songs, this will be covered by your Annual Performance Licence which includes extended digital rights. For more information, click here.
The following items are available for this product:
Teacher's Book
Character list
Script with staging directions throughout
Suggestions for rehearsing, staging and props
Music score and song lyric sheets for 7 songs (Piano music score, melody and chords)
Music score for curtain-call
Licence and copyright details
Audio CD
Vocal tracks sung by children
Professional backing tracks
Curtain-call tracks
Words on Screen™ eSongbook
An online Words on Screen™ product to stream or download
Extractable MP3s, printable lyrics, scores, scripts, & additional resources
Words on Screen™ versions of songs so that you can display song lyrics on any whiteboard, computer screen, television or interactive touchscreen. The lyrics synchronize with the music as it plays making them easy to teach and easy to learn
Flexibility to create an expandable library of Words on Screen™ song collections, nativities and musicals in your Out of the Ark online account
Enhanced operation features including 'double-click' to hear and teach a single line
Words on Screen™ user guide
Single-User licence (Please note a Performance Licence is still required to perform this musical)
Licence & copyright details
*For your convenience, we have provided an editable script in Word format for this nativity or musical. The purpose of the editable script is to allow you to adjust the allocation of speaking parts for smaller or larger cast sizes and/or to make minor changes to the text for staging purposes.
Rehearsal CDs
Vocal tracks sung by children
Professional backing tracks
Curtain-call tracks
Available in packs of 5, 10 or 20
Best play in years
My year 2 children loved every second of it, from when we announced it to the very last bow, incredible
---
---
Fantastic! Highly recommended.
I had my school purchase this package and we performed it yesterday, December 2016! Absolutely amazing. Whole school participated with the speaking parts being allocated to the year 4, 5 and 6's and all classes presenting the songs from pre-primary through to year 6. Huge success, looking for next years already! Highly recommended
---
Excellent production
I put this on with my 5th Class and it was a huge success. The music is fantastic and easy to teach. My favourite has to be Pool Party !
---
Excellent for Year 2!
This is an excellent production. We performed it with 90 year 2 children and it was the best production ever! The children loved every single song and learnt the words very quickly. The humour in the script is perfect for years 2-4. Thank you for creating a wonderful play for this age group. If another one is created we will certainly be purchasing for next year!
---
love it
i love this but i would really like the songs on a cd thanks
---
This is a cleverly constructed show for Primary aged children.
I purchased this production to use with pupils aged 5yrs -8yrs. I was initially concerned that there might be too many words for the children to learn. However, this has not been the case, as the children were so enthusiastic about the show. They love the humour. It is pitched right at their level. Our Nursery/ Kindergarten are also going to take part. They have been incorporated with the pirates and mermaids and are also going to sing some of the songs. Sometimes when you purchase a script, the songs can be a bit flat: not so with this show. The pupils love the catchy tunes and, because of this, they learnt the song words very quickly. We have put up our own staging in our hall. The children are bringing in their own costumes (which are easy to put together). We don't have any scenery nor do we have many props - they aren't needed. This show can be performed successfully with very little. Most of the boys wanted to be pirates and the girls mermaids but we let them choose and we have a balance in each section. We are a small school where we like everyone to participate in what we do and this show has been a perfect platform.
---
Add Review