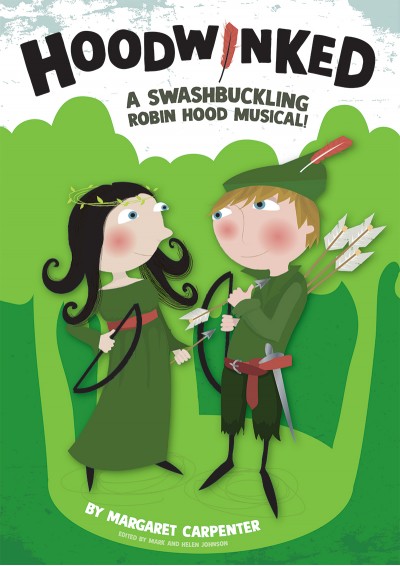 About Hoodwinked
My name is Robin of Locksley and they call me Robin Hood,
If you're looking for a musical, here's one that's REALLY good,
You'll meet my band of merry men - adventurers in the wood,
Ohhh ... Maid Marion's a delight, and Friar Tuck is a sight,
BUY THIS ONE - I think you should!
This modern
Robin Hood musical
is great fun to perform and will be enjoyed by children and parents alike.
Robin Hood
is back in town, along with Maid Marian, the Sheriff of Nottingham, Friar Tuck and Richard the Lionheart. Will he succeed in his plight to free the nation from the tyranny of the wicked Sheriff? Will King Richard return from the Crusades in time? And, will Maid Marian get her man?
A swashbuckling modern adaptation of the traditional
Robin Hood
story,
Hoodwinked
will have your audience 'booing', 'hissing' and 'cheering' with gusto.
Now available with a
Words on Screen™ eSongbook
 allowing you to display song lyrics on any whiteboard, computer screen, television or interactive touchscreen. The lyrics synchronize with the music as it plays making them easy to teach and easy to learn!
An Annual Performance Licence is required to perform this musical.
Sample Script:
An editable script is available for this product when you purchase a Premium package that includes an eSongbook.
Running Time:
60 minutes approx
Licence Information
Annual Performance Licence Information - What You Need To Know
A current Annual Performance Licence is required to perform a musical or nativity to an audience (other than to pupils & staff), including an online audience, and irrespective of whether admission charges are made.
It is more cost effective to purchase an Annual Performance Licence as part of a complete product pack.
An Annual Performance Licence covers any number of performances of a particular musical or nativity within 12 months of the date of ordering. A separate Annual Performance Licence is required for each product title.
To renew your Annual Peformance Licence, log into your account if you have one and go to your My Licences section.
Find out more about what your Annual Performance Licence will legally cover you to do.

All of our eSongbooks come with a Single User Licence
This means you can install our Words on Screen™ software onto ONE computer only, or it can be streamed by a single user.
If you would like to install this software onto your network server and/or two or more computers, or allow multiple users to stream Words on Screen™ songs, this will be covered by your Annual Performance Licence which includes extended digital rights. For more information, click here.
The following items are available for this product:
Teacher's Book
Cast list
Script
Music score and song lyric sheets for 10 songs (Piano music score, melody and chords)
Licence and copyright details
Audio CD
Vocal tracks sung by children
Professional backing tracks
Words on Screen™ eSongbook
An online Words on Screen™ product to stream or download
Extractable MP3s, printable lyrics, scores, scripts, (including editable script*) & additional resources
Words on Screen™ versions of songs so that you can display song lyrics on any whiteboard, computer screen, television or interactive touchscreen. The lyrics synchronize with the music as it plays making them easy to teach and easy to learn
Flexibility to create an expandable library of Words on Screen™ song collections, nativities and musicals in your Out of the Ark online account
Enhanced operation features including 'double-click' to hear and teach a single line
Words on Screen™ user guide
Single-User licence (Please note a Performance Licence is still required to perform this musical)
Licence & copyright details
*For your convenience, we have provided an editable script in Word format for this nativity or musical. The purpose of the editable script is to allow you to adjust the allocation of speaking parts for smaller or larger cast sizes and/or to make minor changes to the text for staging purposes.
Rehearsal CDs
Vocal tracks sung by children
Professional backing tracks
Available in packs of 5, 10 or 20
great!
THIS IS SOOOOOOOO FUN!!!!!!!!!!!!!!!!!!!!!!!!!!!!!!!!!!!!!!!!!!!!!!!! I GOT JESTER!!!!!!!!!!!!!!!!!!
---
Awesome :)
I got the part as Maid Marian and I can't wait until our play in July! I get a bit nervous singing but it's still fun!
---
LOVE,LOVE,LOVE IT!
I am doing this production in July for my year 6 leavers play and I auditioned and got the part of Maid Marian! Love all the songs especially my solo, and cant wait to perform it in the summer!
---
awesom!
I really like this play. it is funny and the parents really enjoyed listening to it.I was Maid Marion!!!
---
---
---
Wicked play!
This is such a cool play I'm choreographing the dances we've added for three of the songs including maid Marian's ladies so I have to be one not looking forward to the dress but other than that the best play we've done ever ever ever
---
Fab
My school did a production of this when I was in year 6 back in 2007 it was fantastic. It was really funny.
---
great
easy to read fun interactive great
---
epic
This play is epic especially cause' I got the part of maid marion
---
Great!!!
I did this back in 2006 and I was maid marion :)nThe songs are great and the script is good too - not too pantomimy and not too boring!!n LOOOVED ITTT!!!!!!
---
Quite challenging
As always the songs are great, there is a mix of slow and upbeat songs and those suitable for solos. We have put this together with lower KS2 and it has been hard, the jokes are lost on them a little and there are lots of short scenes which don't flow together that well.
---
Fun!
I'M PERFORMING THIS AS OUR Y6 LEAVERS CONCERT - THE JOKES MAY NEED A BIT OF EXPLAINING BUT ARE STILL FUNNY - THE SONGS ARE FUN, THE NARRATORS PART WAS SPLIT INTO 2 WHICK MAKES IT MORE FUN AND EASIER...
---
The Best!
Its amazing im maid marian and i love the solo for marians lament
---
So enjoyable!
I am running a drama club and we are using this play. The children love it and it is so funny. We love the songs and it is very easy for a teacher to implement so thanks so much!
---
Amazing!
I love Hoodwinked! All the songs are great especialy What A Man!nI got the part of Robin Hood (even though im a girl!) and I absolutly loved playing it! Go Hoodwinked!!!!
---
wicked
i did this when i was in year 4 and it was absolutley AMAZING! definetly one 2 buy
---
A great play
This is a really funny play with some excellent lead roles and plenty of opportunities to write kids in. The music is FAB. It has great solo, choral and round elements. It would be 5 star but for 'Are we happy' but you can skip this.nnThanks Out of the Ark for a great summer production.
---
overall a very good musical
I think that this play is a perfect length however, there are are only a few main parts and if you don't have a main part, you don't have much to say. A very funny script which is enjoyable to listen to.
---
good
i did this in my year 6 pantimime well im gonna and im villager 8 nand we r gonna do it on monday
---
Wow
This is a great play its fantastic espesially now i have the part of the sheriff i love how lively the songs are and how well thought the script is and can't wait for my leaving performance soon
---
PERFECT!!!!!!!!!!!!!!!!
Our school is doing it for our leavers and I have the part of maid marian how cool is that. I love Hoodwinked! It is sssssssssssssssssooooooooooooooo cool!!!!!!!!!!!!!!!!!!!!
---
GREAT!!!
Our school are doing it for their leavers production and i am so excited! i am going to try for maid marian so the little pieces of songs on this site are great for practicing at home!!!!
---
Awesome!!!!!!!!!!!!!!!!
My year group is doing it and I think it is really fun.I especially like the songs.I know them all off by heart.My favorite song is Maid Marian's Lament.I can even play it on the piano(I taught myself,sorry not trying to boast!)
---
fab
i got lady lucy and i cant wait for the performnce
---
brilliant
I think that hoodwinked is a great production and has a load of very Joyful SONGS it is a very lively show which draws the audience in.
---
Musicals Made Easy!
This is a wonderful musical, with a fun script and excellent songs. The children (Y2) loved every minute of it. The harmony in "What A Man" is beautiful, yet easy to teach/learn. I will be looking out for further Margeret Carpenter musicals. Thanks for a great show!
---
fantastic fantastic faaaaaaantastic
extremely well written music which makes singing three part harmony DEAD easy!!!!!! Very funny! AND performed by year 3 and 4 children only. We had so much fun- a big hit with every one.
---
AMAZING
I love it!!!!!nIt is a fun and exciting play!
---
excellent
i got lady mary and me and my friends love it
---
Great!
we have just started doing this at school for my y6 leavers performance and i have been given the part of maid marion. I have just been practicing my solo. I CANT WAIT FOR OUR JULY PERFORMANCE!!
---
Robin Hood
Our school are doing this and I've been picked to play Robin Hood, I couldn't believe it, i've starting learning my lines already and it sounds great!!nnI'm looking forward to the performance in July.nn
---
BRILLIANT
OUR SCHOOL ARE DOING IT ITS AMAZING!!!!!!!!!!!!!!!!!!!!!!!!!!!!!!!!!!!!!!!!!!!!!!!!!!!!!!!!!!!!!!!!!!!!!!!!!!!!!!!!!!!!!!!!!!!
---
really good
I think the songs are good in hoodwinkedn
---
Great
I got maid marian this is a fab play! My schools doing it!
---
Im the sheriff
we are doing hood wink at school and it is great and i got the part of the sheriff
---
great and funny
tis is a brilliant script buy it read it act it love it
---
Add Review