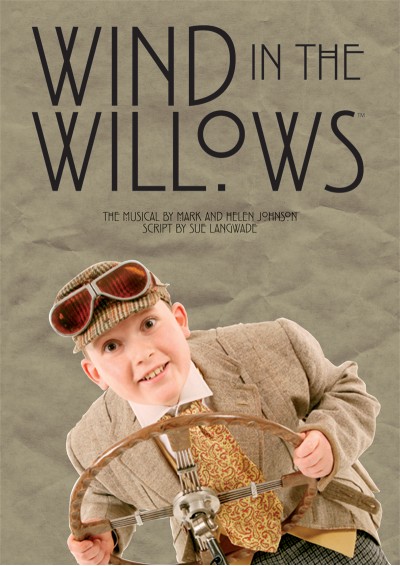 About Wind in the Willows
The lively and absorbing script by Sue Langwade allows for the inclusion of many minor characters as well as the traditional key players. 12 great new songs by Mark and Helen, with a Twenties flavour, bring this wonderful story to life.
Wind In The Willows™ is perfectly suited to the upper Primary age-range, lasting approximately 80 minutes with a single interval. There is plenty of scope for solos, part-singing, choreography and audience participation, the whole production being massive fun to learn and perform.
Available with 
Words on Screen™
 allowing you to display song lyrics on any whiteboard, computer screen, television or interactive touchscreen. The lyrics synchronize with the music as it plays making them easy to teach and easy to learn!
An Annual Performance Licence is required to perform this musical. 
Digital Backdrops
We have specially commissioned an artist to hand paint 11 stunning backdrops for you to use in your production of Wind in The Willows™. Each backdrop features a key moment in the story and is sure to make staging this wonderful musical just that little bit easier.
Each image is saved as a high resolution JPEG and can be projected onto a wall, projector screen or sheet using a standard projector connected to a computer. For ease of use, we have saved the images as a PowerPoint presentation. View examples of the backdrops below.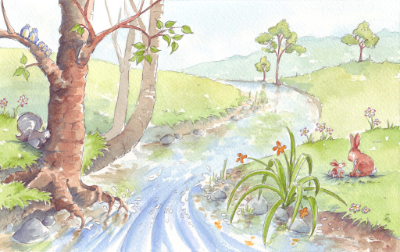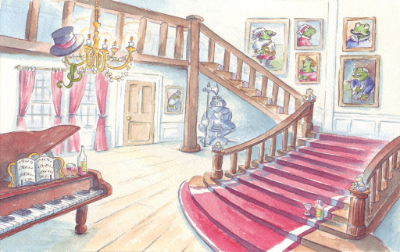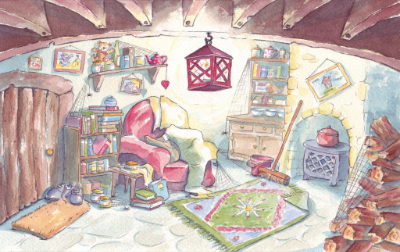 Backdrops include: Badger's House, Toad Hall Interior and Exterior, Moles House, River, Prison, Ratty's House and The Scary Woods.
Sample Script:
An editable script is available for this product when you purchase a package that includes an eSongbook.
Running Time:
80 minutes approx
Solos/Parts:
Songs with Part-Singing and Harmonies:
Bright Canary-Yellow Gypsy Caravan
Home Sweet Home
King Of The Road
We're The Stoats
Songs with Solos:
Messing About In Boats
Bright Canary-Yellow Gypsy Caravan
It Takes All Sorts To Make A World
Home Sweet Home
King Of The Road
Twenty Years
Cheer Up Toad!
The Chase-Chase
He Can't Be Stopped
ISBN:
9781901980851 Book & CD / 9781906988951 Book & CD ROM
Licence Information
Annual Performance Licence Information - What You Need To Know
A current Annual Performance Licence is required to perform a musical or nativity to an audience (other than to pupils & staff), including an online audience, and irrespective of whether admission charges are made.
It is more cost effective to purchase an Annual Performance Licence as part of a complete product pack.
An Annual Performance Licence covers any number of performances of a particular musical or nativity within 12 months of the date of ordering. A separate Annual Performance Licence is required for each product title.
To renew your Annual Peformance Licence, log into your account if you have one and go to your My Licences section.
Find out more about what your Annual Performance Licence will legally cover you to do.

All of our eSongbooks come with a Single User Licence
This means you can install our Words on Screen™ software onto ONE computer only, or it can be streamed by a single user.
If you would like to install this software onto your network server and/or two or more computers, or allow multiple users to stream Words on Screen™ songs, this will be covered by your Annual Performance Licence which includes extended digital rights. For more information, click here.
The following items are available for this product:
Teacher's Book
Teacher's Book with:
Synopsis
Cast list and casting tips
Staging
Suggested choreography and song performance tips
Suggested props
Music score and song lyrics for 12 songs (Piano music score, melody and chords)
Licence and copyright details
You will receive the script as a separate book with this title (see 
Separate Script
)
Separate Script
Separate script in 2 acts
Licence and copyright details
Double Audio CD
Vocals sung by children (CD 1)
Overture (CD 1)
Professional backing tracks (CD 2)
Sound effects (CD 2)
Scene change music (CD 2)
CD 2 (Standard Packs only) also includes Enhanced CD features (for use in a computer) including:
Lyric sheets (OHP masters in PDF format)
Printable script
Cast checklist
Poster (to advertise the show)
Tickets
A Words on Screen™ version of The Chase-Chase
Words on Screen™ eSongbook
An online Words on Screen™ product to stream or download
Extractable MP3s, printable lyrics, scores, scripts, (including editable script*) & additional resources
Access to 11 digital backdrops for use in your performance
Words on Screen™ versions of songs so that you can display song lyrics on any whiteboard, computer screen, television or interactive touchscreen. The lyrics synchronize with the music as it plays making them easy to teach and easy to learn
Flexibility to create an expandable library of Words on Screen™ song collections, nativities and musicals in your Out of the Ark online account
Enhanced operation features including 'double-click' to hear and teach a single line
Words on Screen™ user guide
Single-User licence (Please note a Performance Licence is still required to perform this musical)
Licence & copyright details
*For your convenience, we have provided an editable script in Word format for this nativity or musical. The purpose of the editable script is to allow you to adjust the allocation of speaking parts for smaller or larger cast sizes and/or to make minor changes to the text for staging purposes.
Rehearsal CDs
Vocal tracks sung by children
Professional backing tracks
Available in packs of 5, 10 or 20
Additional Scripts
Separate script in 2 acts
Licence and copyright details
Available in packs of 1, 3 or 5
Fabulous
Quite simply a fantastic play. Lots of parts, both major and minor, catchy songs and a really amusing script. My Y5/6 class absolutely loved it.
---
i am doing the show
i am doing the show and it is a great play to do
---
Emma riley
It was the best show I have ever been in lots of fun I was the train drive and had a solo so happy I did this play in 2008 and I a still rember it because amazing and all my friends did well and the main parts where really and funny and fun It was great to be a part of the cast euxton primrose hill Emma Riley
---
Excellent
I belong to a very modern school. This play was brilliant to take part in and I am so glad I got the part of Ratty! Before this play I had never sung in front of anyone- my mum had heard me once and said I had a great voice. But I hated singing. Ten when we started to rehearse the songs in school I warmed up to singing and it's alright now!
---
Wonderful Production
Over 90 children from Year 3 and 4 took part in our production of Wind in the Willows. The drama and music were exciting and interesting and meant that the children became fully immersed in the story and music. We are really proud of what we achieved and had enormous fun. We would recommend the musical to you without hesitation.
---
brilliant experience!
I loved the whole play from being chosen for(in my opinion) the best and most fun part of the play, RATTY to performing to hunting through my dressing up draw to hunt down a pair of ears! It as great fun to be one of the 4 leads because i got to say lots and really be recognised by the whole crowd! I did this in y6 as my end of year performance.
---
Best of the best
This play is funny and a classic at the same time . All the characters are amazing and the costume tips are very useful. The songs are very fun to sing and some make you want to dance. I guarantee you will enjoy this play from the very first page. But BEWARE it is really hard to let go of wind in the willows (i am a child writing this and everyone in my class enjoyed this play) .
---
THE BEST
the y 6 did it for their leavers asemmbly the absulute best wish my class were doing it but weve already done ours for this year
---
great play, excellent, catchy music!
I just produced this play at our school - we sold out 5 performances. Its a fresh play with excellent music - we did it with a cast of 102 children aged 8 to 12. They all loved it and are so sad that its all over! Songs like "life of luxury", "We are the Stoats" and "20 Years" are awesome! Well done to the writers.
---
great
i got the part of the clerk which is funny cos my last names clark!!!!!!!!!!!!!!!!!!!!!!!!!!!!!!!!!!!!!!!!!!!!!!!!!!!!!!! we r doin an end of year 6 production and it is next week! it is my first singing solo so i am scared!!!!!!!!
---
it was cool
i soooo want to do it again i was toad and i loved every thing about it
---
absolutely amazing!
i was a duck i loved it great shown
---
I LOVED THIS PLAY
In year 6, we did this production and I was Mr. Toad. At first my friends were mad at me because they also wanted to get my part. But then they got over it and we became friends again. They supported me and I got the hang out of the character. I really thank all my old friends and teachers for making my last year at primary school unforgetable. Thank you Ms. Haydock, Mrs. Newton and Ms. Murray! If you read this, I hope you remember me and recognise who this is! :D
---
We did a play on it
I got the part of toad for the end of year six production. I had fun and enjoyed performing in front of the people for 3 days.
---
Amazing Show!
We're a village am dram group and I run the Junior Section (5-15 years) - we performed 'Windy' to two packed houses this weekend to great applause and our enjoyment. Beautifully scripted with easily learnt and remembered songs plus exquisite digital backdrops. A fantastic complete resource which made producing the show (almost) stress free! Can't wait to try Alice!
---
GREAT PLAY!!!
I am doing my yr 6 production in school and the Wind in the Willows is so amazing! I got my top fifth part, the Chairman of the Bench of Magistrates and I'm really happy about it! I even managed to buy a judge's wig! Most of my friends at school really like this play too and I am looking forward to seeing my costume put together, the dress rehersal ( most of the school will probably laugh at my wig! ) and the final preformance. n nI would recommend this play with it's fabiolous songs including my favourites; "We're Stoats" and "Twenty Years" (the latter is good and I'm in it! ). Unfourtunatly we're not doing "Home Sweet Home" and "He Can't be Stopped".....
---
Cool
the songs are so cool
---
cool
that was the best play i have ever donen
---
absolutely fantastic - children thoroughly enjoyed it
I did this production with my class 3rd and4th and with help from 2nd and with 3 pupils from 5th(we're an Irish school)It was very hard work for me, but the enjoyment the pupils got from performing it for their parents was well worth it. The parents enjoyed it too and really enjoyed joining in with the "Chase Chase" song. Maybe I'll try another next year. We made all our own sets too so that helped with Visual Arts curriculum.
---
fabby
i thought the wind in the willows is a great play ni was a hedgehog and a delivery man lolnit was great fun and a great success
---
Excellent
Wind in the willows is an amazing play. I was Mr. Toad and I really enjoyed the singing the acting the dancing. I would like to thank Mark and Helen Jonhson and Sue Landwade for making such a wonderful musical.
---
I want to do it again
I was the river people with someone in year 3 and my absoloute best song was twenty yearsnnnnnnit was great i have to do it again
---
A brilliant show with catchy toe-tapping music that stays with you!
We have just finished our last performance of The Wind in the Willows. The children loved the songs and we were able to use the production to show off the many talents that our children have. Our parents thoroughly enjoyed it and the comments were very positive afterwards, with a lot of smiling faces as people left the hall. Longer than our usual productions but no-one really seemed to notice. The Infant school came to watch and sat motionless throughout, spellbound - praise indeed!
---
Excellent
i love this play it is one of the best plays ive seen
---
amazing
hi this is a great musical / play nnthanks alot
---
Cool
We are currently doing this show and the cast, teachers and choir are amazing.nI am Train Driver 1 and have to do a solo and I am SO NERVOUS
---
Superb
Amazing !!!!!!!!!!!!!!!!!!!!!!!!!!!!!nLove it my favourite book
---
An outstanding musical and some very proud children & staff!!
We have just finished our performances of this superb script & what a result!!! The children loved every minute of this wonderful musical & gave a performance to be proud of. The rave reviews are still coming in & it's the hot topic in the playground!!!!
---
A wonderful musical
Fantastic! Energetic! Fun! nnThe year 6 children loved being given the chance to sing solo and all 60 children managed a speaking part. The boys dancing the can can in army gear with bright boxer shorts over the top and feather boas will remain in my memory for many years to come.nnAll the children in the school loved this musical. Even our reception children knew the chorus to Twenty Years. Thank you for such a great musical. nnIt has even overtaken The Piper as my long standing favourite. nnI am not sure how we can follow it next year.
---
Just learning the songs was a great experience for our children
Over several years I have enjoyed teaching your songs to children in Broadhembury School. The highlight in the Summer term just ended was undoubtedly Wind in the Willows songs. Rarely have children enjoyed singing new songs as much as the songs from this new musical. On the school bus, waiting for lunch, at home until I think their parents knew the songs too! Not bad for a class of 21 chldren aged from 7-11years old.nnThe backing CDs with and without vocals were so good to work from and the extras you provided would, I feel sure, have been a real bonus for schools who were going for a full scale production. nnJust learning the songs was a great experience for our children and a lovely way for me to finish my final term before retirement. Of all the songs, the one my colleagues seemed to be most impressed by was The Yellow Gypsy Caravan, with its beautifully balanced part singing.nnThank you all so much. I have passed your catalogue on to my successor!nn
---
Excellent play
As a small village school we felt that this play would be a real challenge but it was a roaring success. The songs are very catchy and all the resources are included!! A bonus for a school with no real musicians. The parents and children are still buzzing from their performances. It needs a bit of careful stage menagement but we have all enjoyed the end result...Benny Hill theme to accompany the final fight scene was our little innovation!!
---
Add Review