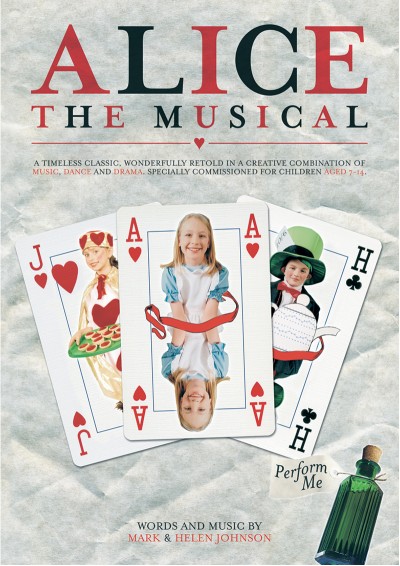 About Alice The Musical
This enchanting
Alice in Wonderland musical
offers opportunities for solos, unison and 2-3 part singing in a wide variety of musical styles. It features composition and improvisation activities that allow children to interact with the score and the script.
This
musical adaptation of Alice in Wonderland
for primary schools isn't just charming to watch; it's easy to coordinate, too. Our
Alice The Musical
packs include piano music, lyric sheets, casting tips, staging notes, song recordings and backing tracks.
An Annual Performance Licence is required to perform this musical. 
Available with
Words on Screen™
allowing you to display song lyrics on any whiteboard, computer screen, television or interactive touchscreen. The lyrics synchronize with the music as it plays making them easy to teach and easy to learn!
Sample Script:
An editable script is available for this product when you purchase a Premium package that includes an eSongbook.
Running Time:
90 minutes approx
Solos/Parts:
Songs with Part-Singing and Harmonies:
I Wish I Hadn't Cried So Much
Caucus Race
Mad As A Hatter
Croquet Song
Off With Her Head
Songs with Solos:
I'm Late!
Down, Down, Down
My Lovely Garden
I Wish I Hadn't Cried So Much
Mouse's Tale
What Will Become Of Me?
Who Are You?
Pig And Pepper
Wonderland
Mad As A Hatter!
The Royal Procession
Croquet Song
Lobster Dance
Beautiful Soup
Who Stole The Tarts?
Off With Her Head!
ISBN:
9780951911679 Book & CD / 9781906988869 Book & CD ROM
Licence Information
Annual Performance Licence Information - What You Need To Know
A current Annual Performance Licence is required to perform a musical or nativity to an audience (other than to pupils & staff), including an online audience, and irrespective of whether admission charges are made.
It is more cost effective to purchase an Annual Performance Licence as part of a complete product pack.
An Annual Performance Licence covers any number of performances of a particular musical or nativity within 12 months of the date of ordering. A separate Annual Performance Licence is required for each product title.
To renew your Annual Peformance Licence, log into your account if you have one and go to your My Licences section.
Find out more about what your Annual Performance Licence will legally cover you to do.

All of our eSongbooks come with a Single User Licence
This means you can install our Words on Screen™ software onto ONE computer only, or it can be streamed by a single user.
If you would like to install this software onto your network server and/or two or more computers, or allow multiple users to stream Words on Screen™ songs, this will be covered by your Annual Performance Licence which includes extended digital rights. For more information, click here.
Listen to Songs
| | |
| --- | --- |
| | Overture |
| | All In A Golden Afternoon |
| | I'm Late! |
| | Down, Down, Down |
| | My Lovely Garden |
| | I'm Late! (reprise) |
| | I Wish I Hadn't Cried So Much |
| | Caucus Race |
| | Mouse's Tale |
| | What Will Become Of Me? |
| | Who Are You? (Caterpillar's Song) |
| | Pig And Pepper |
| | Wonderland |
| | Mad As A Hatter! |
| | The Royal Procession |
| | Croquet Song |
| | Lobster Dance |
| | Beautiful Soup |
| | Who Stole The Tarts? |
| | Off With Her Head! |
| | Wonderland (reprise) |
Watch Videos
The following items are available for this product:
Teacher's Book
Teacher's Book with:
Cast list
Synopsis of acts 1 and 2
Guide to the use of the backing tracks
Music and dance - an overview
Suggested choreography
Staging, costumes and props
Lighting and sound
Music score and song lyric sheets for 18 songs (Piano music score, melody and chords)
Composition activities
Licence and copyright details
You will receive the script as a separate book with this title (see Separate Script)
Separate Script
Separate script in 2 acts
Licence and copyright details
Double Audio CD
Vocal tracks sung by children (CD 1)
Professional backing tracks (CD 2)
Words on Screen™ eSongbook
An online Words on Screen™ product to stream or download
Extractable MP3s, printable lyrics, scores, scripts, (including editable script*) & additional resources
Words on Screen™ versions of songs so that you can display song lyrics on any whiteboard, computer screen, television or interactive touchscreen. The lyrics synchronize with the music as it plays making them easy to teach and easy to learn
Flexibility to create an expandable library of Words on Screen™ song collections, nativities and musicals in your Out of the Ark online account
Enhanced operation features including 'double-click' to hear and teach a single line
Words on Screen™ user guide
Single-User licence (Please note a Performance Licence is still required to perform this musical)
Licence & copyright details
*For your convenience, we have provided an editable script in Word format for this nativity or musical. The purpose of the editable script is to allow you to adjust the allocation of speaking parts for smaller or larger cast sizes and/or to make minor changes to the text for staging purposes.
Rehearsal CDs
Vocal tracks sung by children
Professional backing tracks
Available in packs of 5, 10 or 20
Additional Scripts
Separate script in 2 acts
Licence and copyright details
Available in packs of 1, 3 or 5
we did this for our year 6 play!
we did this 10 years ago now for our year 6 production, and my brother then did it 3 years later at a different school. These songs have a special place in my heart. I was the Mock Turtle and he was a playing card. ❤
---
Amaizing
Best play ever my 4 favorite songs are who stole the tarts mad as a hatter caucus race. And mouses tale
---
One of the best end of year shows I have been involved in
This is the perfect end of year show for a quirky class. The characters, songs and storyline capture the imagination of every child (and audience member). The work the children produced alongside rehearsing and performing this show was of the highest quality. This is one of the best end of year shows I have been involved in.
---
Best play ever
This year we picked this play for our year 6 leavers play. I would really love to be Alice. We have only listened to a few songs so far but they all sound amazing. We have been told that there are going to be 2 Alice's and 2 Lewis Carrol's because they have so many lines and stage time. Overall this is an amazing play and I am so excited to find out what our parts are in 1 week!!!
---
I got the part I wanted!
I left a review about a month ago and today we found out our parts!! I am the Mad Hatter! I don't have that many lines but I have a very big song to sing. I am so excited but nervous!
---
Looks good
We are doing this as our p7 leavers concert. We listened to 3 songs today and I'm liking it so far. I want to be mad hatter! Only 4 stars because we have not started yet
---
Marvellous
This is a brilliant play we are doing this for Year 6 leavers but we have had to change the script around a bit because we thought there was a Tweedle-Dum and Dee we also skipped some songs and bits of script but it is a extremely good play.
---
wooooow
i love the play ive got four more days till thousands of people starts crouding in aahhh my aunt is doing make up and she is so good she did me as dormouse and she made me look the best with mad hatter and march hare the songs are amazing i love the caucause race and the alice solos are good and especilley act two its my favourite act
---
brilliant
I got the white rabbit and I luv my part its soooooooooooo cool and I get too sing a really fast song. thank you to mrs jhonson mr tingey miss lawn and steven yallo[p
---
Awesome
As we only have 27 children doing our play this year some people have to play multiple parts which is quite good and the songs are pretty easy to learn. I couldn't recommend a better play to do for our year six production!!
---
Catchy
This Musical is the best I've done providing I'm in Year 6 and yes my favourite is Down Down Down Also the script isn't a wreck so this Musical I would Kindly recommend it to anyone who wants to do a Leavers Consert or for any use. I also listen to my favorites on a bus or in a car. So 10/10
---
What a great production
I love alice the musical! It's good there are so many songs as I love singing and it's fun playing the mock turtle because he is a humerous part with lots of lines and two solo songs! I can't wait for our performance in July and I wish my colleagues (cast!) the best of luck!
---
incredible
I cannot wait to start doing this play! I so want to be the mad hatter!!!!
---
I was white rabbit
i did this play i was white rabbit and sang im late its great
---
Brilliant
I thoroughly enjoyed being musical director for the Year 5s and 6s production. The children really enjoyed the songs - and younger children in school have also been heard singing the Croquet Song and Beautiful Soup! Caucus Race was terrific - parents loved it. A great mix of songs altogether and lots of scope for creative parents to make great costumes & backdrops.
---
FANTABULOUS
We are doing the musical and I am Alice and so far it GREAT! In capitals
---
So Awesome
We are doing this production at our school and I really like it! I am the Cheshire Cat but why am I not on the character list? The songs are really good and I especially like pig and pepper! Our performance is on may 29 and I am so excited!
---
Cooll
am doing it for or yr 6 leavers concert the 2 year 6 classes have to split the part and i am alice in act one and this other girl is alice in act two
---
Brilliant!!!!!!!!!!!!!!!!!!!!!!!!!!!!!!!!!!
We are doing Alice the musical for our Year 6 leavers play and so far it is absolutley AMAZING!! I play Alice as well. We decided to have 3 Alices and im the last one but because im the one who wanted the most singing parts I have most of the songs I love the Mad Hatter song the best. Overall 5 stars
---
BEST EVER!!!!!!!!!!!!!!!!!!!!!!!!!!!!!!!!!!!!!!!!!!!!!!!!!!!!!!!!!!!!!!!!!!!!!!!!!!!!!!!!!!!!!!!!!!!!!!!!!!!!!!!!!!!!!!!!!!!!!!!!!!!!!!!!!!!!!!!!!!!!!!!!!!!!!!!!!!!!!!!!!!!!!!!!!!!
This production/musical is the best ever! The songs are so good but so easy to learn! The script is amazing and doesnt need any changes. nHowever, there are a few things that let this play down. The script was very hard to understand, even when you have made changes. Also, parts in the play, like the doormouse (the part that I have), have very little lines. I found this very upsetting to think that Lewis Carrol and Alice have so many lines, where I only got two lines!nOverall, I reckon that this play would be suitable for year 6 leavers (like myself) and would recommed it.
---
SO AWESOME!!
I am a year 6 and we are doing this this year and it so AWESOME!!! :)
---
cool crazy
this play is mad ! (in a good way ) i would recommend having 2 alices as there are sooooo many lines and alot of people might want this part. Unfortunately alice in the second half doesnt have as many songs or lines though.
---
Cool
I auditioned for the white rabbit but i didn't get it, still, i'm the doormouse, who doesn't have many lines. My teacher might give me a solo and add some lines for me and the boy who's playing the cook. nOn the whole, quite a good play! There had to be 6 Lewis Carrolls and three Alice's because they had so many lines! nI think this is a good play for year six leavers, like me.
---
awesome
i played the queen of hearts i didnt like my song but i really loved down down down
---
Excellent
I was alice for the 1st part its really good and i remmebrred all the words!
---
Superb
I did this at my school and played Lewis Carrol. We did change the script a little, but it was good all the same.
---
Marvellous
At my school we are doing this version of alice the musical, so far i have enjoyed it so much, i am the mad hatter and i love my part. overall this script is marvellous and really reccomend it.
---
amazing
I love this play.I am alice in 2nd part of this play and i cant wait till am prefoming it in two weeks.THUMBS UP CANT WAIT:)
---
Amazing
I'm in year 6 and this is our play amazing songs really funny and I'm the caterpillar xxxx
---
BRILL!!
I was alice in first half of this play and i loved it! The songs were amazing! It was a really fun and great play to do!
---
Amazing
hello dad!!!! i love this thing and please check your reviews for this!!!!!!!
---
The best production I have ever seen!
I did this muscial with my year 6 class as our end of year leavers' production. It was amazing. The children absolutely loved it. I would thoroughly recommend it, particularly for this age group. The songs are infectious, the script easy to learn and very funny. The suggestions for scenes and props really, really helpful. The incredible comments from the audience were along the lines of "the best production I have ever seen" and "an absolutely stunning performance!" Buy it now!!! You won't regret it!!
---
Excellent fun
This is a fantastic version, I watched it this evening at my son's school and my 4 year old daughter loved it especially the White Rabbit and Mad Hatter's songs. It's got all the humour and wackiness you'd expect, brilliant! The songs are so catchy, you'll be singing them for weeks to come...
---
GREAT
Im the mad hatter and i absoloutley LOVED this!
---
Superb
My son was in this last week as part of the chorus line and I have to say how absolutely fantastic this play was. I have to take my hat off to the young lady (year 6) who played Alice and also the lad who was mad hatter! If ever there has been such a funny play which even the youngest audience could appreciate. Well done to the production team and a wonderful cast.
---
Perfect!
An absolutely perfect year 6 musical- they loved it! The songs are superb.
---
brilliant
We have been practising for are play and we are doing really well and we are peforming it in 2 weeks ooh! Im in the jury! yeah! cant wait and I think this will turn out to be a good concert Big thanke to the out of the ark music! thumbs up! so get this and you will have a great concert (my last concert!)
---
I like this book
This book is really good.My school are doing this for a play and I'm the Cheshire Cat.
---
WOW
Alice is a really great play.nIt has been preformed twice at the school and it was GREAT. nIt has awesome music and a great opportunity for solos.
---
---
Brill
After attending a Work Placement, as part of my decision to attend a Teacher Training course, I found that this Musical was a perfect end to the school year. I would recommend this to anybody who wants to perform Alice as part of either a class or choir assembly or performance.nnWell done.
---
miss miller is the best
I love the play and thank you to miss miller that i was the mock turtle
---
An amazing play with tons of fun and humour
An extremely fun play to put on with songs I will never forget.My favourite is Caucus Race but I will always rember Wonderland. Thanks Mr.Cross for choosing such an amazing play.
---
brilliant
my school is doing this play and when i read through it i thought i am so lucky to be doing this play especially with the people round me who love me thnk you mr cross im the mock turtle yyyeeeeeeeeeeeeyyyyyyyyyyyyyyy!!!!!!!!!!!nbut i still wish i was alice
---
alice
I think alice is cool and fun my rating out of a 100 would be 100
---
how good it is
i just want to tell you how good you are and i am glad you created this play
---
Fantastic!
I recently enjoyed my job as Musical Director of a primary school's adaptation of 'Alice the Musical'. I found that the piano accompaniments were very pliable and that where more appropriate, the backing tracks were very fitting. Absolutely wonderful and original songs and script kept the audience upbeat and entertained throughout! Well done again 'Out of the Ark'.
---
so cool
it was a great play to do at school it was so much fun i got the part of lory who is a parrot my costume was pink and orange i loved it and everyone looked so cool.
---
SCHOOL MUSICAL
i have done this play at school it is soooo cool
---
Add Review