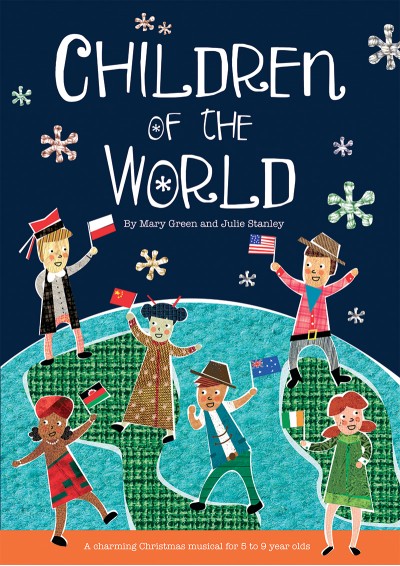 About Children Of The World
Written by the same authors as best-selling nativity The Magical Christmas Jigsaw
Cleverly designed script with the flexibility to rehearse scenes within individual classes or groups, which can be brought together in one or two final rehearsals
Scope for solos and part-singing if required
Discover a little bit about Christmas around the globe with
Children of the World
.
Every year, Gabriel and the angels celebrate the birth of Jesus by bringing children from around the world to visit the manger. Travelling from as far afield as China, Malawi, Poland and Australia, each group is finally brought to the stable where they tell of their special Christmas customs, singing songs and presenting gifts.
This charming
Christmas musical
is ideal if you want to involve the reception class in a production with older children.
Now available with a
Words on Screen™ eSongbook
 allowing you to display song lyrics on any whiteboard, computer screen, television or interactive touchscreen. The lyrics synchronize with the music as it plays making them easy to teach and easy to learn!
An Annual Performance Licence is required to perform this nativity.
Sample Script:
An editable script is available for this product when you purchase a package that includes an eSongbook.
Running Time:
40 minutes approx
(Total length of music: 17 minutes approx)
Solos/Parts:
Song 2: Alleluia - solo part for the angel
Song 3: Little Star - optional solo included
Song 6: Kuyimba - solo and harmony verses
Licence Information
Annual Performance Licence Information - What You Need To Know
A current Annual Performance Licence is required to perform a musical or nativity to an audience (other than to pupils & staff), including an online audience, and irrespective of whether admission charges are made.
It is more cost effective to purchase an Annual Performance Licence as part of a complete product pack.
An Annual Performance Licence covers any number of performances of a particular musical or nativity within 12 months of the date of ordering. A separate Annual Performance Licence is required for each product title.
To renew your Annual Peformance Licence, log into your account if you have one and go to your My Licences section.
Find out more about what your Annual Performance Licence will legally cover you to do.

All of our eSongbooks come with a Single User Licence
This means you can install our Words on Screen™ software onto ONE computer only, or it can be streamed by a single user.
If you would like to install this software onto your network server and/or two or more computers, or allow multiple users to stream Words on Screen™ songs, this will be covered by your Annual Performance Licence which includes extended digital rights. For more information, click here.
The following items are available for this product:
Teacher's Book
Synopsis of the story
Staging, rehearsal and song information
Information on christmas traditions in 6 countries
Cast list
Costume suggestions
Script
Music score and song lyric sheets for 9 songs (Piano music score, melody and chords)
Licence and copyright details
Audio CD
Vocal tracks sung by children
Professional backing tracks
Words on Screen™ eSongbook
An online Words on Screen™ product to stream or download
Extractable MP3s, printable lyrics, scores, scripts (including editable script*) & additional resources
Words on Screen™ versions of songs so that you can display song lyrics on any whiteboard, computer screen, television or interactive touchscreen. The lyrics synchronize with the music as it plays making them easy to teach and easy to learn
Flexibility to create an expandable library of Words on Screen™ song collections, nativities and musicals in your Out of the Ark online account
Enhanced operation features including 'double-click' to hear and teach a single line
Words on Screen™ user guide
Single-User licence (Please note a Performance Licence is still required to perform this musical)
Licence & copyright details
*For your convenience, we have provided an editable script in Word format for this nativity or musical. The purpose of the editable script is to allow you to adjust the allocation of speaking parts for smaller or larger cast sizes and/or to make minor changes to the text for staging purposes.
Rehearsal CDs
Vocal tracks sung by children
Professional backing tracks
Available in packs of 5, 10 or 20
a little bit different
We wanted to do something a little bit different from a straightforward Nativity for 2020 as we were doing a virtual rather than a live performance. This worked really well and split easily for different bubbles to perform. The children enjoyed learning about Christmas around the world and the songs are lovely. Out of the Ark never fail to impress.
---
Fabulous
The children at my school really enjoyed performing this play. I would thoughlly recommend this. The children got to learn about all the different countries and how they celebrate Christmas. We even made links with Australia to find out how they celebrate Christmas. Out of the Ark are fantastic company to deal with.
---
Amazing fun
I did this in school it is so great the storyline is clear and the little ones were so cute in gabriel calling
---
A Great Musical
I did this musical 2 years ago with over 200 Prep - Year 3 students. All the Year 3 students got the speaking parts to "celebrate" their last year in junior primary. Each class also got their own country/song which made it really easy to teach, practice and put together. It ticked all the boxes, great story, great song variety, great finale song, easy to put together. Would love more like it.
---
Best Christmas Show
I saw my niece perform in this show with her school this year. It is a brilliant musical with beautiful songs and wonderful dances, plus it is very interesting and informative. I felt like I learnt a lot watching it and I'm sure the children did too. The kids loved performing it and the audience really enjoyed watching. It really is the best Christmas show I have seen performed.
---
One of the best!
We performed this Nativity last year with 3 KS1 classes. It was probably the best Nativity play I have ever seen/performed and really suited our multicultural school. More like this one please! So far, nothing has grabbed us in the same way.
---
fab
i did this over1 year ago it was geat
---
done in school
i done this play in school last year
---
The best yet
We performed this with 160 year 1/2 children it was fantastic. Children, staff and parents enjoyed it. All songs were great, we performed some fantastic dances to all the songs. For once it wasn't twee and I enjoyed every minute of the preparations. Please, please can we have more like this. I am looking for this years Nativity but so far nothing has come close to 'Children of the World.' I would highly recommend it.n15/10/2011
---
Amazing! Can we have more of this style - please?
We had over 170 children performing this from Primary 1 to 7. The children,staff and parents loved it, especially Kuyimba and the final song Children of the World. The format allowed each class to work on their own section as part of the curriculum then come together for a few rehearsals a few weeks before Christmas. The pupils are hoping to do something similar next year so if there was one with separate sections we'd definitely buy it. Have recommended it to several schools for next year. The songs range from simple for the infants to trickier for the older pupils. Thoroughly enjoyed using it.
---
Great
Really good songs, capturing the essence of the musical style of each country without being too cheesy and obvious. We used it for KS1 and Reception, but it would be just as appropriate for KS2.
---
Fantastic
Our Reception and Key Stage 1 children thoroughly enjoyed learning the songs and performing this musical. We had to adapt the speaking parts and we omitted the Malawi and Irish songs because we felt that they were a bit more challenging for younger children. Our audience was very appreciative - not a dry eye in the house!! Thank you Mary and Julie!
---
the best
very good we did it at on a year 5 and 6 day trip at a theater it was splendid on day.we even got some pople to wacth us .well done polam hall school!!!!!!!!!!!!!!!!!!
---
---
Add Review