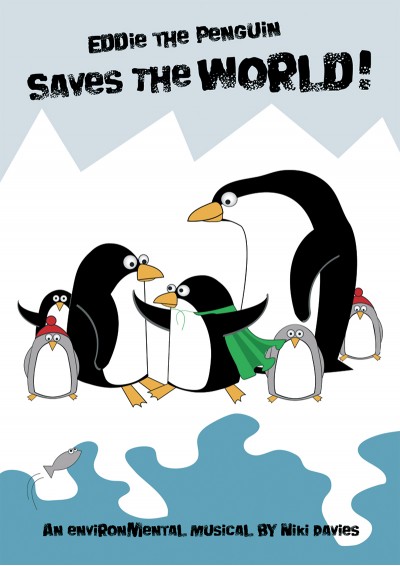 About Eddie The Penguin Saves The World!
A must for any school investigating ecological and environmental issues,
Eddie the Penguin Saves the World!
is a fantastic new musical about
protecting the environment
.
Eddie the penguin
discovers that the world he lives in is changing and that the ice is melting. He decides to take his family to find a new home at the North Pole, where he meets Peggy the polar bear and discovers that human beings are causing the ice to melt. Eddie goes on a mission to save the planet and let the world know how they can change things for the better.
The
Eddie the Penguin Saves the World! songbook
can be used in conjunction with the script or alone as a purely educational resource. Curriculum links are provided for all the key issues.  
Available with Words on Screen™ allowing you to display song lyrics on any whiteboard, computer screen, television or interactive touchscreen. The lyrics synchronize with the music as it plays making them easy to teach and easy to learn!
An Annual Performance Licence is required to perform this musical.
Sample Script:
An editable script is available for this product when you purchase a package that includes an eSongbook.
Running Time:
40 minutes approx
ISBN:
9781901980929 Book & CD / 9781911430117 Book & CD ROM
Licence Information
Annual Performance Licence Information - What You Need To Know
A current Annual Performance Licence is required to perform a musical or nativity to an audience (other than to pupils & staff), including an online audience, and irrespective of whether admission charges are made.
It is more cost effective to purchase an Annual Performance Licence as part of a complete product pack.
An Annual Performance Licence covers any number of performances of a particular musical or nativity within 12 months of the date of ordering. A separate Annual Performance Licence is required for each product title.
To renew your Annual Peformance Licence, log into your account if you have one and go to your My Licences section.
Find out more about what your Annual Performance Licence will legally cover you to do.

All of our eSongbooks come with a Single User Licence
This means you can install our Words on Screen™ software onto ONE computer only, or it can be streamed by a single user.
If you would like to install this software onto your network server and/or two or more computers, or allow multiple users to stream Words on Screen™ songs, this will be covered by your Annual Performance Licence which includes extended digital rights. For more information, click here.
The following items are available for this product:
Teacher's Book
Cast list and staging
Ideas for extension work for each song
Script and song lyrics
Music score for 10 songs (Piano music score, melody and chords)
Licence and copyright details
Audio CD
Vocal tracks sung by children
Professional backing tracks
Words on Screen™ eSongbook
An online Words on Screen™ product to stream or download
Extractable MP3s, printable lyrics, scores, scripts* & additional resources
Words on Screen™ versions of songs so that you can display song lyrics on any whiteboard, computer screen, television or interactive touchscreen. The lyrics synchronize with the music as it plays making them easy to teach and easy to learn
Flexibility to create an expandable library of Words on Screen™ song collections, nativities and musicals in your Out of the Ark online account
Enhanced operation features including 'double-click' to hear and teach a single line
Words on Screen™ user guide
Single-User licence (Please note a Performance Licence is still required to perform this musical)
Licence & copyright details
*For your convenience, we have provided an editable script in Word format for this nativity or musical. The purpose of the editable script is to allow you to adjust the allocation of speaking parts for smaller or larger cast sizes and/or to make minor changes to the text for staging purposes.
Rehearsal CDs
Vocal tracks sung by children
Professional backing tracks
Available in packs of 5, 10 or 20
Wow
This is amazing. I knew about emperor penguins and a few other types but not these highly evolved talking penguins who address complex scientific problems. Why did Al Gore not tell us about these amazing birds?
---
Excellent resource
I have used Eddie the Penguiin for three years now at infant level and it has proved to be one of my best resources to date! I use it every January starting off with an Antarctic theme and leading into recycling ect . The possiblies for integration are vast and the children absolutely love it! This year I am teaching children with autism and the catchy songs hold their attention for record amounts of time- I could not recommend this musical more!!
---
Highly recommended
I ran this play last year with year 1 and 2 children. It was so simple to organise with a lovely story line, songs and characters. A huge success
---
fab songs
We put this on with 60 year 1 children. We were able to split the script so there was a part for everyone, even if it was non-speaking. The songs were really catchy and easy to learn.
---
A huge hit!
We put this production on for end of year with 200 year 1-6 children - 60 main cast and the rest in the chorus. It worked so well because it was so simple, with plenty of scope to adapt lines, add extra music, sound effects etc. The children just loved the songs so much and couldn't stop singing them. It really is the music that made it so much fun to work on. Thank you Niki Davies!
---
Easy to 'dress', great songs, lots for all to do.
A great choice for an eco school. Lots of scope to personalize it. The songs are lovely and meaningful and the penguins to 'die for' wow. Can't go wrong with this one. High rating. Well done.
---
brilliant!
Did this as an end of Year 2 producion. The children really enjoyed it as did their parents and the rest of our school. The music was really catchy and the story was thought provoking and educational in a fun way. Thank you!
---
Superb - perfect for any time of year!
Our Year 1 & 2's staged this musical at the beginning of April and was a fabulous success! The parents loved it, there was hardly any effort required for costumes and the songs are so adorable to hear! nnA real winner - fantastic!nn10 out of 10 - 5 stars for sure!
---
Easy to stage and great fun too
Every Christmas we need to stage a musical for 60 year 2 & 3 pupils. ...and every year we wonder how we're going to do it! nnEddie fitted the bill perfectly. The children loved learning the songs and following the progress of Eddie and the other penguins as they carried their vital message about preserving the environment around the world. The script was highly flexible and allowed us to give each child a speaking part. nnWe give it 5 stars!
---
Add Review