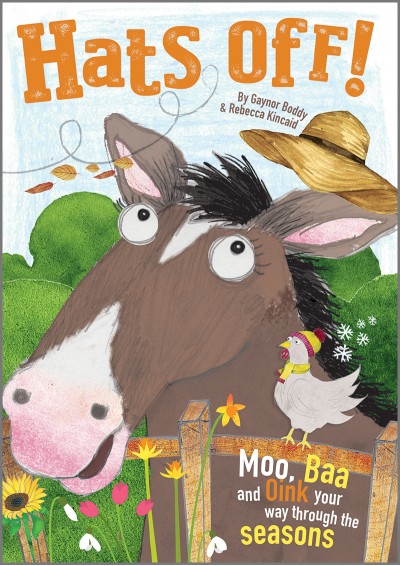 Hats Off!
Four Seasons In One Musical
Ages: 3-7
In Stock
Try it for FREE with Sparkyard
For more detailed information, click here.
---
Welcome to our farm! Mind your step, though - it's a busy, bustly place. There's lots of noise, there are lots of comings and goings and lots of farmyard folk - animals included. This fun and educational musical takes us on a tour through the changing seasons of the year as Apple the pony tries to find a hat suitable for the weather. So, let's moo, baa and oink our way through the seasons with this adorable musical, suitable for 3-7 year olds. With a simple script full of loveable characters and 7 fun, catchy songs, Hats Off! is the perfect production for Early Years and Key Stage 1. Available with Words on Screen™.
An Annual Performance Licence is required to perform this title. For more information, please click here.
About Hats Off!
Set on the farm, this fun and vibrant musical takes us through the changing seasons of the year
Simple, adaptable script, plus character list, and staging suggestions
Curriculum links and teaching ideas to build on the topics of the seasons, animals, farms, nature and exercise
From the authors of best-selling musical Pirates Versus Mermaids and There's A Sunflower In My Supper
Words on Screen™ for rehearsing using highlighted lyrics synchronized with the music
Apple the pony is very confused. She has found a lovely hat, but cannot seem to find the right season to wear it in. Everyone is relying on Einstein the cow to work it out, but will Goat eat it first? Join the chilly chickens, Buster the howling puppy, the crazy party pigs and all the other animals as they take us through their favourite seasons in this exciting musical.

With a humorous script full of small speaking parts and larger-than-life characters, and seven catchy, fun songs, this is the perfect infant production for any time of the year.
 
An Annual Performance Licence is required to perform this musical.
Sample Script:
An editable script is available for this product when you purchase a package that includes an eSongbook.
Running Time:
30 minutes approx
(Total length of music: 11 minutes approx)
ISBN:
9781911430421 Book & CD / 9781911430414 Book & CD ROM
Licence Information
Annual Performance Licence Information - What You Need To Know
A current Annual Performance Licence is required to perform a musical or nativity to an audience (other than to pupils & staff), including an online audience, and irrespective of whether admission charges are made.
It is more cost effective to purchase an Annual Performance Licence as part of a complete product pack.
An Annual Performance Licence covers any number of performances of a particular musical or nativity within 12 months of the date of ordering. A separate Annual Performance Licence is required for each product title.
To renew your Annual Peformance Licence, log into your account if you have one and go to your My Licences section.
Find out more about what your Annual Performance Licence will legally cover you to do.

All of our eSongbooks come with a Single User Licence
This means you can install our Words on Screen™ software onto ONE computer only, or it can be streamed by a single user.
If you would like to install this software onto your network server and/or two or more computers, or allow multiple users to stream Words on Screen™ songs, this will be covered by your Annual Performance Licence which includes extended digital rights. For more information, click here.
The following items are available for this product:
Teacher's Book
Character list
Costumes and prop suggestions
Staging and percussion notes
Curriculum links with fabulously fun ideas to embed curriculum learning
Script and song lyrics
Music scores for 7 songs and snowflake music (Piano music score, melody and chords)
Licence and copyright details
Audio CD
Vocal tracks sung by children
Professional backing tracks
Snowflake Music
Words on Screen™ eSongbook
An online Words on Screen™ product to stream or download
Extractable MP3s, printable lyrics, scores, scripts, (including editable script*) & additional resources
Words on Screen™ versions of songs so that you can display song lyrics on any whiteboard, computer screen, television or interactive touchscreen. The lyrics synchronize with the music as it plays making them easy to teach and easy to learn
Flexibility to create an expandable library of Words on Screen™ song collections, nativities and musicals in your Out of the Ark online account
Enhanced operation features including 'double-click' to hear and teach a single line
Words on Screen™ user guide
Single-User licence (Please note a Performance Licence is still required to perform this musical)
Licence & copyright details
*For your convenience, we have provided an editable script in Word format for this nativity or musical. The purpose of the editable script is to allow you to adjust the allocation of speaking parts for smaller or larger cast sizes and/or to make minor changes to the text for staging purposes.
Rehearsal CDs
Vocal tracks sung by children
Professional backing tracks
Available in packs of 5, 10 or 20
There are not yet any reviews for this product.
---
Add Review